| | |
| --- | --- |
| Minamiza (Ky˘to) | |

Dates
1 ~ 25 November 2015
Kichirei Kaomise K˘gy˘
Annual Festive Face-Showing Performances
MatinÚe
Evening
Casting

Living National Treasure Kataoka Nizaemon, Living National Treasure Sakata T˘jűr˘, Matsumoto Haku˘, Matsumoto K˘shir˘, Ichikawa Somegor˘, Nakamura Ganjir˘, Kataoka Takatar˘, Kataoka Ainosuke, Kataoka Hidetar˘, Ichikawa Sadanji, Nakamura Kazutar˘, Band˘ Takesabur˘, Ichikawa Komaz˘, ďtani Tomoemon, Nakamura Kikaku, Kataoka Shinnosuke, Kataoka Ichiz˘, Kamimura Kichiya, Sawamura S˘nosuke, Matsumoto Kingo, ďtani Hirotar˘, Ichikawa Otora, Kataoka Matsunosuke, Nakamura Jűjir˘

Comments

The Minamiza reopens in a newly-refurbished structure! The opening program is a kaomise with Matsumoto Haku˘ II, his son Matsumoto K˘shir˘ X and his grandson Ichikawa Somegor˘ VIII celebrating their shűmei in this prestigious theater.
| | |
| --- | --- |
| Kabukiza (T˘ky˘) | |
Dates
2 ~ 26 November 2018
Kichirei Kaomise ďkabuki
Annual Festive Face-Showing Grand Kabuki
MatinÚe

Oedo Miyage

Sato Moy˘ Azami no Ironui (Izayoi Seishin)

Evening

Fumi Uri

Casting

Living National Treasure Onoe Kikugor˘, Living National Treasure Nakamura Kichiemon, Living National Treasure Nakamura T˘z˘, Nakamura Jakuemon, Nakamura Tokiz˘, Ichikawa Ennosuke, Onoe Sh˘roku, Nakamura Karoku, Nakamura Matagor˘, Ichikawa Danz˘, Ichikawa Monnosuke, Band˘ Kamez˘, Ichikawa Emisabur˘, Ichikawa Emiya, Ichikawa Juen, Band˘ Minosuke, Nakamura Baishi, Nakamura Kichinoj˘, Nakamura Kash˘, Nakamura Hayato, Nakamura Tanenosuke, Onoe Ukon

Comments

The traditional November kaomise programs at the Kabukiza.
| | |
| --- | --- |
| National Theatre (T˘ky˘) | |
Dates
3 ~ 26 November 2018
Program
Casting

Nakamura Baigyoku, Nakamura Kaishun, Band˘ Yajűr˘, Band˘ Rakuzen, Ichikawa Udanji, Band˘ Hikosabur˘, Ichikawa Sai'nyű, Ichimura Kakitsu, Band˘ Shűch˘, Ichikawa Omez˘, Nakamura Matsue, ďtani Keiz˘, Arashi Kitsusabur˘, Nakamura Kamenoj˘, Ichikawa Ukon

Comments

Revival at the National Theatre of Kawatake Mokuami's drama "Ten'ichib˘":

Na mo Takashi ďoka Sabaki: tales of wise magistrates are common in Asia and if China has Judge Dee, Japan has ďoka Tadasuke, Lord of Echizen. They became popular as k˘dan storytelling and have long been a staple of television. In the late 19th century, the success of these stories as k˘dan inspired Kabuki versions, including this one, written by Kawatake Mokuami (the original title was "ďgi By˘shi ďoka Seidan"). In remote Wakayama prefecture, there is an old wet nurse. Her daughter fell in love with the Sh˘gun Yoshimune and bore his child. The mother and child soon died, but the old wet nurse has a sword and document signed by the Sh˘gun. An evil priest (Ichikawa Udanji) learns her secret, kills her and takes the sword and document. He goes to Edo and poses as the son of Yoshimune under the name Ten'ichib˘. He gathers an army of out of work samurai and collects money from supporters, all eager for advantage when Ten'ichib˘ becomes Sh˘gun. Finally, the wise magistrate ďoka (Nakamura Baigyoku) meets him and stops his plot which seemed unstoppable.

Source: National Theatre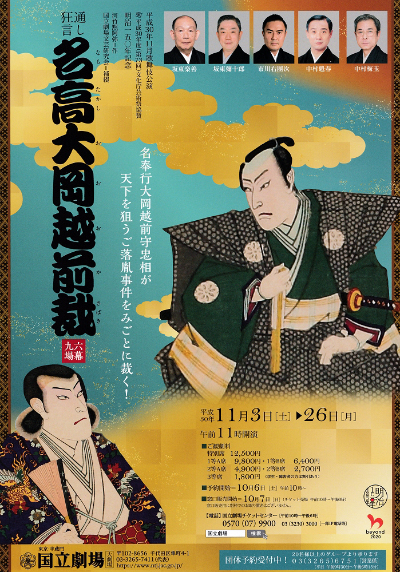 Heisei Nakamuraza (T˘ky˘)
Dates
1 ~ 26 November 2018
MatinÚe

Genpei Nunobiki no Taki
(Sanemori Monogatari)

Evening

Iya Sakae Shibai no Nigiwai

Bukaku Goj˘bashi

Casting

Nakamura Kankur˘, Nakamura Shichinosuke, Nakamura Shikan, Nakamura Senjaku, Kataoka Kamez˘, Nakamura Kotar˘, Band˘ Shingo, Nakamura Baika, Ichikawa Fukutar˘, Nakamura Toranosuke, Nakamura Tsurumatsu, Nakamura Kantar˘, Nakamura Ch˘zabur˘

Comments

The Heisei Nakamuraza is back in T˘ky˘ in Asakusa. These two programs commemorate the 6th anniversary (7th memorial services) of the passing away of the Heisei star Nakamura Kanzabur˘ XVIII.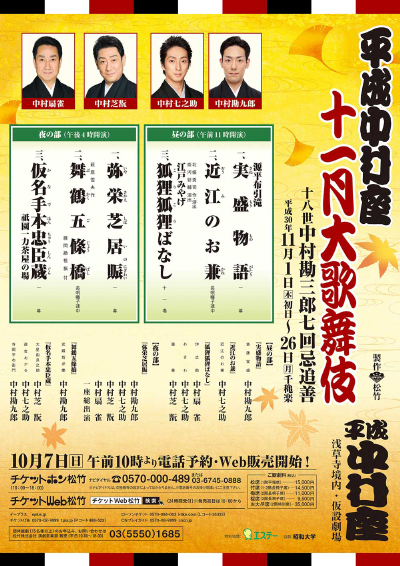 | | |
| --- | --- |
| Hakataza (Fukuoka) | |

Dates
3 ~ 27 November 2018
Jűichigatsu Hanagata Kabuki
November Young Actors Kabuki
Program

Arashi no Yoru ni

Casting

Nakamura Shid˘, Onoe Matsuya, Nakamura Kinnosuke, Ichimura Manjir˘, Kawarasaki Gonjűr˘, Nakamura Mantar˘, Nakamura Yonekichi, Ichimura Takematsu, Ichimura Kitsutar˘

Comments

The newly-created Kabuki drama "Arashi no Yoru ni", which was based on Kimura Yűichi's famous series of illustrated child books "Arashi no Yoru ni" (in English "One Stormy Night") and which was premiered in September 2015 in Ky˘to at the Minamiza [more details], is staged for the first time in Fukuoka at the Hakataza with almost the same casting.

Arashi no Yoru ni: it is a series of picture books written by Kimura Yűichi. The first edition was published in 1994. As many people wanted to read a sequel to the story, it lasted to the seventh volume and became a best seller. More than 3,000,000 books have been sold. It became so popular that it has been turned into a game and made into plays. In 2005, it was made into an animated movie (the voice for the main character Gabu was supplied by Nakamura Shid˘) by Sugii Gisabur˘, an esteemed movie producer in the animation industry. The main character Gabu is played by Nakamura Shid˘ but also in various genres. On the night of a storm, a wolf Gabu (Nakamura Shid˘) and a goat Mei (Onoe Matsuya) encounters in a mountain hut in pitch darkness by chance. They talk through night not knowing their identity and become friends. They determine their password as 'On the night of a storm' and promise to meet again. They are shocked when they meet again, but they nurture friendship keeping it secret to their each group. But their friendship is at last known to both groups and meets with violent opposition. The two are pushed to the edge ...

Source: Sh˘chiku Kabuki Official Website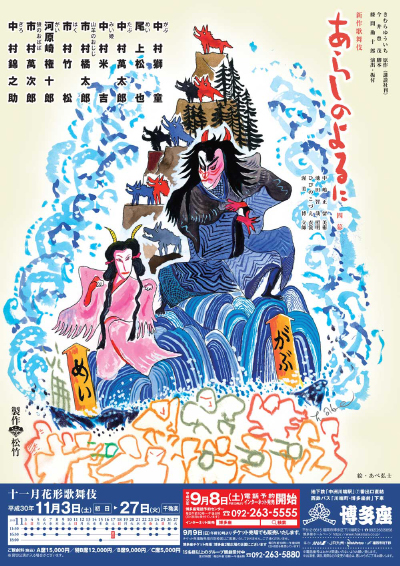 | | |
| --- | --- |
| Yachiyoza (Yamaga) | |

Dates
30 October ~ 04 November 2018
Band˘ Tamasabur˘ Eiz˘ x Buy˘ K˘en
Band˘ Tamasabur˘ Image and Dance Performances
Program
Casting

Living National Treasure Band˘ Tamasabur˘

Comments

A special Buy˘ program starring the amazing Living National Treasure onnagata Band˘ Tamasabur˘ in Yamaga at the Yachiyoza, a traditional wooden-built theater. There will be a mix of video projection (with video sequences coming from the high-quality Shinema Kabuki, "Cinema Kabuki") and real dancing on stage.

K˘j˘: the close relationship between the actors and the audience is shown by stage announcements, usually lavish ceremonies to commemorate various important events. This month at the Yachiyoza, it is a stage speech done by Living National Treasure Band˘ Tamasabur˘.
Kagami Jishi: one of the most important dances for onnagata female role specialists and is an audience favorite. The maidservant Yayoi performs an auspicious lion dance for the Sh˘gun in his opulent palace, but she gradually finds herself under the control of the lion spirit. In the second half of the dance, the lion spirit itself appears and performs its crazed dance among peonies and fluttering butterflies. Starring Living National Treasure Band˘ Tamasabur˘ as both Yayoi and the spirit of the lion.
Fuji Musume: the spirit of wisteria blossoms dances of love in the form of a beautiful young maiden. One of Kabuki's most famous and colorful dances, it will feature the dancing skills of Living National Treasure Band˘ Tamasabur˘.

Sources: Sh˘chiku Kabuki Official Website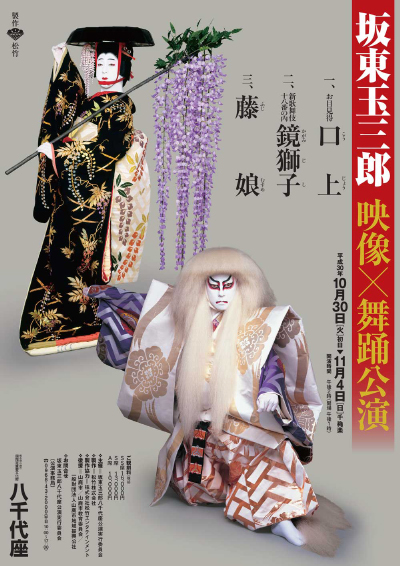 Classics Tour
Dates
5 ~ 30 November 2018 (Koten he no Izanai)
Invitation to the Classics
Program

Hibiki

Goaisatsu

Casting

Ichikawa Ebiz˘, Ichikawa Kudanji, ďtani Hiromatsu, Ichikawa Fukutar˘

Comments

The second leg (November) of the Fall Tour of Ichikawa Ebiz˘ with performances in 14 cities. The first number in the program is not a Kabuki dance-drama but a performance of taiko drum. The second item is a greetings stage talk ("Goaisatsu") done by Ichikawa Ebiz˘.

Komori: a young girl (Ichikawa Fukutar˘) runs onto stage chasing after a bird that has stolen the abura-age (deep fried t˘fu) she just bought. The girl is babysitting and begins to daydream as she tries to calm the crying baby strapped to her back. Dancing to a tune based on what was popular at the time, she plays doll shop, sings of love and romance and finally describes what life was like in her hometown.
Sanja Matsuri: a vigorous dance starring Ichikawa Kudanji and ďtani Hiromatsu. It is based on dolls at the Sanja festival showing the founding of the temple at Asakusa when two fishermen found a golden image of the Kannon in their nets. In this case, the holy spirits that they encounter are two spheres with the characters for "good" and "evil" on them, and the spirits possess the two and animate them into a lively dance.
Jayanagi: an extremely rare play from the original Kabuki Jűhachiban. High on holy Mt. K˘ya, there is a willow tree that attracts the vengeful spirits of jealous women which possesses a passing traveler. Starring Ichikawa Ebiz˘ in the roles of Suketar˘ of Tanba Province (in reality the spirit of the willow tree) and the powerful warrior Kong˘maru in the oshimodoshi grand finale.

Sources: Earphone Guide Website or Sh˘chiku Kabuki Official Website