Stage name:
| | |
| --- | --- |
| Ichikawa Emisabur˘ III | |
Real name: Fukui K˘ji
Guild: Omodakaya
Line number: SANDAIME (III)
Birthday: 6 May 1970
Connections:
Master: Ichikawa En'˘ II (Ichikawa Ennosuke III)
Career:
May 1986: he makes his first appearance on stage at the Chűnichi Theatre (Nagoya), receiving the name of Ichikawa Emisabur˘ III and playing in the Super Kabuki play "Yamato Takeru".
March 1994: Emisabur˘ becomes heyago of the star Ichikawa Ennosuke III and plays at the ďsaka Shinkabukiza in the drama "Jűnitoki Chűshingura".
January 1995: Emisabur˘ takes part in the 14th Kabuki performances at the Asakusa K˘kaid˘ to celebrate the 100th anniversary of the Sh˘chiku Company [more details].
July 1998: Emisabur˘ becomes nadai and plays the role of Shizuka Gozen in the "Shi-no-Kiri" scene of the classic "Yoshitsune Senbon Zakura", which is staged at the Kabukiza.
December 2000: premiere at the Kabukiza of "Kaka Saiyűki", Ichikawa Ennosuke III's version of Kawatake Shinshichi III's 1878 drama "Tsűzoku Saiyűki" (Kaka is the haimy˘ of Ichikawa Ennosuke III); Emisabur˘ plays the role of the queen of the Sairy˘ Province, in reality the spirit of a giant spider [casting].
October 2003: revival at the National Theatre with the Omodakaya guild of Nagawa Kamesuke I's drama "Hade Kurabe Ise Monogatari"; Emisabur˘ plays the roles of Princess Izutsu and Shinobu [casting].
January 2008: revival at the Shinbashi Enbuj˘ of "Narukami Fud˘ Kitayama Zakura", which celebrates the 1070th anniversary of the Narita-san Temple, where the Deity Fud˘ My˘˘ is worshipped; Emisabur˘ plays the role of the koshimoto Makiginu [casting].
Comments:
Ichikawa Emisabur˘ III is a young and popular onnagata actor of the Omodakaya guild.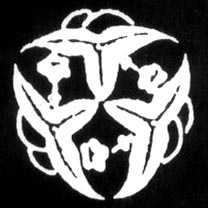 The mon of Ichikawa Emisabur˘ III
The Ichikawa Emisabur˘ line of actors