Stage names:
| | |
| --- | --- |
| Ichikawa Emiya II | |
Real name: Izumiyama Takao
Dance Name: Fujima Murasaki
Guild: Omodakaya
Line number: NIDAIME (II)
Birthday: 14 April 1959
Connections:
Master: Ichikawa En'ô II (Ichikawa Ennosuke III)
Career:
April 1979: he makes his first appearance on stage at the Meijiza, playing in "Ejima Ikushima".
March 1980: he graduates from the Actors Training Center of the National Theatre (fifth graduation).
February 1982: he joins the troupe led by Ichikawa Ennosuke III and plays at the Misonoza (Nagoya) in the drama "Date no Jûyaku".
April 1987: Emiya takes part in the revival at the Meijiza of the play "Jûni Hitoe Komachi Zakura", which includes the famous Tokiwazu-based dance-drama "Tsumoru Koi Yuki no seki no To" [more details].
February 1990: he becomes heyago of the star Ichikawa Ennosuke III.
January 1995: Emiya takes part in the 14th Kabuki performances at the Asakusa Kôkaidô to celebrate the 100th anniversary of the Shôchiku Company [more details].
July 1998: Emiya becomes nadai and plays the role of Shizuka Gozen in the first act of the classic "Yoshitsune Senbon Zakura", which is performed at the Kabukiza.
December 2000: premiere at the Kabukiza of "Kaka Saiyûki", Ichikawa Ennosuke III's version of Kawatake Shinshichi III's 1878 drama "Tsûzoku Saiyûki" (Kaka is the haimyô of Ichikawa Ennosuke III); Emiya plays the role of the Priest Sanzô [casting].
October 2003: revival at the National Theatre with the Omodakaya guild of Nagawa Kamesuke I's drama "Hade Kurabe Ise Monogatari"; Emiya plays the roles of Akinobu's sister Takako (later Nijô no Kisaki) and Katsura Kingo (in reality Fuchibe no Harundo) [casting].
Comments:
Ichikawa Emiya II is a young and popular onnagata/nimaime actor of the Omodakaya guild.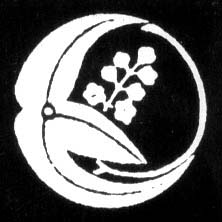 The mon of Ichikawa Emiya II
The Ichikawa Emiya line of actors