| | |
| --- | --- |
| Kabukiza (T˘ky˘) | |
Dates
3 ~ 27 January 2009 (Kotobuki Hatsuharu ďkabuki)
Kabukiza Sayonara K˘en
MatinÚe

Iwau Haru Shiki Sanbas˘

Heike Nyogo no Shima (Shunkan)

Sato Moy˘ Azami no Ironui (Izayoi Seishin)

Evening
Casting

Nakamura Kichiemon, Onoe Kikugor˘, Nakamura Kanzabur˘, Band˘ Tamasabur˘, Matsumoto K˘shir˘, Nakamura Tokiz˘, Nakamura Shibajaku, Nakamura Tomijűr˘, Nakamura Baigyoku, Nakamura Kaishun, Nakamura Kinnosuke, Onoe Kikunosuke, Band˘ Hikosabur˘, Onoe Sh˘roku, Ichikawa Somegor˘, Nakamura Karoku, Nakamura Kash˘, Nakamura T˘z˘, Band˘ Yajűr˘, Nakamura Baishi

Comments

January 2009 is an important month for the Kabukiza, which starts its series of 16 Kabukiza Sayonara K˘en (Kabukiza Farewell Performances), which will be held up to April 2010. The year starts with an amazing program, full of all-times favourites:

Source: Earphone Guide website
| | |
| --- | --- |
| Sh˘chikuza (ďsaka) | |
Dates
3 ~ 27 January 2009 (Kotobuki Hatsuharu ďkabuki)
MatinÚe
Evening

Reigen Kameyama Hoko
(Kameyama no Adauchi)

Casting

Sakata T˘jűr˘, Kataoka Nizaemon, Kataoka Gat˘, Nakamura Kanjaku, Nakamura Senjaku, Kataoka Hidetar˘, Ichikawa Danshir˘, Band˘ Takesabur˘, Kataoka Ainosuke, Kataoka Takatar˘, Kataoka Shinnosuke, Band˘ Shinsha, Kamimura Kichiya

Comments

Source: Earphone Guide website
| | |
| --- | --- |
| National Theatre (T˘ky˘) | |
Dates
3 ~ 27 January 2009 (Hatsuharu ďkabuki)
Program

Tokaeri no Matsu

Ikiji Kurabe Hadena Nakach˘

Casting

Ichikawa Danjűr˘, Nakamura Shikan, Band˘ Mitsugor˘, Nakamura Hashinosuke, Nakamura Fukusuke

Comments

This new year program starts with the rare revival of "Z˘hiki", a bombastic play in the aragoto style which belongs to the Kabuki Jűhachiban.

Z˘hiki: in aragoto, the masculine rough style of acting which is typical to the Ichikawa Danjűr˘ line of actors, there is an acting style called Hikiaigoto in which two brave men compete their power by pulling a thing each other. "Z˘hiki" is a drama which belongs to hikiaigoto and at the same time, is one of the Eighteen Favorite Plays of the Ichikawa Family, a selection of eighteen plays which Ichikawa Ebiz˘ V (Danjűr˘ VII) selected as specialty of his line of actors. In this play, a big, powerful hero fights against a wicked man and they both pull at an elephant. The wish of driving away an evil spirit is considered to be realized by activity of the hero in aragoto. It is said that to see it brings happiness for a year, therefore perfect for a program in January. Ichikawa Danjűr˘ comes back to stage after half a year of absence and plays the role for the first time which he has wished to play.
Tokaeri no Matsu: pine tree is thought to be a happy tree in Japan and has an alias tokaeri (which means "to repeat ten times") after a legend that it blooms once in 100 years that is ten times in 1000 years. This is a koto music piece originally celebrating the enthronement of the Sh˘wa Emperor in 1928, which has an elegant melody, words of various kinds of pine trees and whose title has a meaning to celebrate longevity. Celebrating the beginning of the 20th year from the enthronement of the present Emperor (the Heisei Emperor), it will be performed for the first time as Kabuki dance by Living National Treasure Nakamura Shikan, koto by top rate koto musician Yamase Sh˘in with new direction and arrangement.
Ikiji Kurabe Hadena Nakach˘: this work describes how Yogor˘, the boss of steeplejacks in Yamazaki-ch˘ saves his master Komeya Ch˘kichi from difficult situation with the help of Namp˘ Yohei, a samurai in Shimousa Yawata, and how both Yohei and Yogor˘ try to keep courtesan Miyako to their own. Authored by Katsu Hy˘z˘ (later, Tsuruya Nanboku IV) and Segawa Jok˘ II, it was well received in premiere in the 1st lunar month of 1802. A precious masterpiece which has never been published will be arranged after a playbook in handwriting. Starring Band˘ Mitsugor˘, Nakamura Fukusuke and Nakamura Hashinosuke.

Source: Earphone Guide website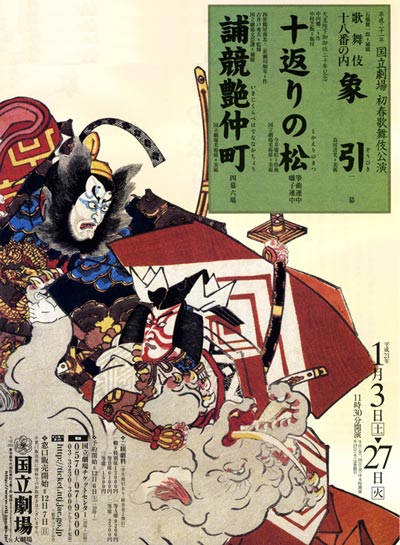 | | |
| --- | --- |
| Shinbashi Enbuj˘ (T˘ky˘) | |
Dates
3 ~ 27 January 2009 (Hatsuharu Hanagata Kabuki)
MatinÚe

Evening

Koi Bikyaku Yamato ďrai (Fűin Giri)

Benten Musume Meo no Shiranami

Casting

Ichikawa Ebiz˘, Ichikawa Ukon, Nakamura Shid˘, Ichikawa Sadanji, Ichikawa Monnosuke, Ichikawa Danjir˘, Ichikawa Emisabur˘, Ichikawa Emiya, Ichikawa Shun'en, Ichikawa En'ya, Ichikawa Juen

Comments

Second edition of a New Year Program at the Shinbashi Enbuj˘ starring the heir of the Naritaya guild, Ichikawa Ebiz˘. This month he will perform major roles like Igami no Gonta and Benten Koz˘ in "Sushiya" and "Shiranami Gonin Otoko". He will also revive the drama "Nanatsu Men", do a nirami no mie during the k˘j˘, perform a fireman boss role in the short dance "Omatsuri" and play a second role, Aoto Saemon Fujitsuna, in the last scene of "Shiranami Gonin Otoko". Quite a tough challenge for such a dynamic actor!
| | |
| --- | --- |
| Minamiza (Ky˘to) | |

Dates
3 ~ 22 January 2009 (Zenshinza K˘en)
Program

Izumo no Okuni

Casting

Arashi Keishi, Segawa Kikunoj˘, Yamazaki Tatsusabur˘

Comments

This is not a Kabuki drama but a modern play about the legendary woman, who created Kabuki. The script is based on the eponymous novel, who was written by Ariyoshi Sawako. This novel was translated in English by James R. Brandon and published in 1994 under the title "The kabuki dancer". the role of Okuni is not performed by an onnagata but the Zenshinza actress Tsumakura Kazuko.
| | |
| --- | --- |
| Zenshinza Gekij˘ (Kichij˘ji) | |
| | |
| --- | --- |
| Dates | 3 ~ 12 January 2009 |
| Program | Futatsu Ch˘ch˘ Yuki no Kowakare |
| Casting | Kawarasaki Kunitar˘, Fujikawa Yanosuke, Arashi Hironari, Anegawa Shinnosuke |
| Comments | "Futatsu Ch˘ch˘ Yuki no Kowakare" was a Rakugo story created by San'yűtei Ench˘, the father of "Botan D˘r˘", "Bunshichi Mottoi" or "Shibahama no Kawazaifu". It is adapted to the stage for the first time this month. The play is divided into 3 acts; the first act is a Rakugo performance done by Hayashiya Sh˘jaku. The second and third act are Kabuki. It is about Ch˘kichi, the son of Yaoya Ch˘bŕ, who was placed with the Yamazakiya shop. Along with another servant named Ch˘gor˘, he has the bad habit to steal things. The bant˘ Gonkur˘, who is aware of these petty thefts, prefer to hold his tongue and not report it to the master. Unfortunately for all, Yogor˘, the young heir of the Yamazakiya is desperately in needs of money for the redemption of the courtesan Azuma. The huge sum (100 ry˘) is stolen within the Yamazakiya shop and Gonkur˘ accuses Ch˘kichi, who had no other choice than killing the bant˘ and run away to Northern Japan. The third act is about the return of Ch˘kichi in Edo and his meeting with his parents Ch˘bŕ and Omitsu, which explains the second part of the title Yuki no Kowakare, "separation with a child in the snow". The first part of this title, Futatsu Ch˘ch˘, is an allusion to the famous play "Futatsu Ch˘ch˘ Kuruwa Nikki", which was about the two sum˘tori Ch˘gor˘ and Ch˘kichi. Futatsu Ch˘ch˘ means in fact "the Two Ch˘", Ch˘gor˘ and Ch˘kichi. The courtesan Azuma and her lover Yamazakiya Yogor˘ are also two roles which belong to the "Futatsu Ch˘ch˘ Kuruwa Nikki" world. Featuring Fujikawa Yanosuke (Ch˘bŕ, Gonkur˘), Arashi Hironari (Ch˘kichi) and Kawarasaki Kunitar˘ (Yamazakiya Yogor˘, Azuma, Omitsu). |