| | |
| --- | --- |
| Kabukiza (T˘ky˘) | |
Dates
1 ~ 25 October 2018
Jűgatsu ďkabuki
October Grand Kabuki
MatinÚe

Sannin Kichisa Tomoe no Shiranami
(ďkawabata K˘shinzuka)

Evening

Yoshitsune Senbon Zakura (Yoshinoyama)

Casting

Living National Treasure Band˘ Tamasabur˘, Living National Treasure Kataoka Nizaemon, Matsumoto Haku˘, Nakamura Kankur˘, Nakamura Shichinosuke, Nakamura Senjaku, Band˘ Yajűr˘, Nakamura Kinnosuke, Nakamura Karoku, Nakamura Matagor˘, Kataoka Hidetar˘, Ichikawa Komaz˘, Nakamura Shid˘, Band˘ Minosuke, Matsumoto Haku˘, Ichimura Manjir˘, Band˘ Takesabur˘, Kataoka Kamez˘, Sawamura S˘nosuke, Matsumoto Kingo, Nakamura Kotar˘, Nakamura Kash˘, Ichimura Takematsu, ďtani Hirotar˘, Nakamura Tanenosuke, Nakamura Hayato, Kataoka Sennosuke, Nakamura Tamatar˘, Nakamura Tsurumatsu, Nakamura Kichinoj˘, Band˘ Kamez˘, Kataoka Matsunosuke, Arashi Kitsusabur˘

Comments

The Kabukiza commemorates the 6th anniversary (7th memorial services) of the passing away of the Heisei star Nakamura Kanzabur˘ XVIII.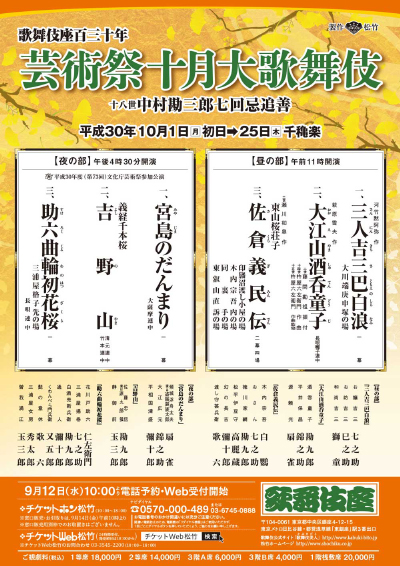 | | |
| --- | --- |
| National Theatre (T˘ky˘) | |
Dates
1 ~ 25 October 2018
Program

Casting

Living National Treasure Nakamura T˘z˘, Nakamura Shikan, Kataoka Takatar˘, Nakamura Kikaku, Nakamura Matsue, Nakamura Hashinosuke, Nakamura Fukunosuke, Nakamura Baika, Band˘ Shingo

Comments

Chikamatsu Monzaemon's drama "Heike Nyogo no Shima" is staged as a t˘shi ky˘gen at the National Theatre. The "Shikina no Ura" act was staged for the last time in October 1995 (only revival since the end of WWII). The other rarely-staged act, "Rokuhara Kiyomori Yakata", was staged three times, always at the National Theatre: April 1967, October 1995 and October 2007.

Heike Nyogo no Shima: Taira no Kiyomori (Nakamura Shikan), the dictator in the 12th century, exiles the priest Shunkan (Nakamura Shikan) and two noblemen to Kikai-ga-Shima for plotting against him. He takes Shunkanĺs wife Azumaya (Kataoka Takatar˘) to his mansion and compels her to serve him, but she preserves her chastity by committing suicide. A boat arrives in the island with the envoys of Kiyomori. A pardon is given to Shunkanĺs fellow conspirators, but Shunkan is only saved by an additional pardon given by Kiyomori's compassionate son. Even so, he gives up his place on the boat to freedom so his companion's new wife Chidori can accompany her husband back to the capital. The boat leaves and Shunkan is left watching it disappear in the distance, knowing he will be left on the island forever. As the boat arrives at Shikina Bay, a roofed pleasure boat Cloistered Emperor Goshirakawa (Living National Treasure Nakamura T˘z˘) and Kiyomori are on board passes by. Kiyomori plots to make Goshirakawa drown, pretending to visit Itsukushima Shrine. Chidori tries to rescue Goshirakawa but is killed by Kiyomori. In time, the spirits of Azumaya and Chidori who resent cold-hearted Kiyomori haunt him.

Source: National Theatre
| | |
| --- | --- |
| Misonoza (Nagoya) | |
Dates
1 ~ 25 October 2018
Kichirei Kaomise
Annual Festive Face-Showing Program
MatinÚe

Yoshitsune Senbon Zakura
(Torii Mae)

Nozarashi Gosuke

Evening

Yowa Nasake Ukina no Yokogushi (Kirare Yosa)

Casting

Living National Treasure Onoe Kikugor˘, Nakamura Tokiz˘, Nakamura Baigyoku, Nakamura Kaishun, Onoe Sh˘roku, Ichikawa Sadanji, Ichikawa Danz˘, Band˘ Rakuzen, Band˘ Hikosabur˘, Band˘ Kamez˘, Band˘ Shűch˘, Kawarasaki Gonjűr˘, Nakamura Baishi, Ichimura Kitsutar˘, Nakamura Mantar˘, Onoe Ukon

Comments

The classic October kaomise programs in Nagoya. For the first time at the Misonoza since its reopening in April 2018. This is the 49th kaomise in Nagoya.
| | |
| --- | --- |
| Sh˘chikuza (ďsaka) | |
Dates
2 ~ 26 October 2018
Jűgatsu ďkabuki
October Grand Kabuki
MatinÚe

Kami no Megumi Wag˘ no Torikumi
(Megumi no Kenka)

Tamaya Seishichi

Evening
Casting

Living National Treasure Sakata T˘jűr˘, Ichikawa Ebiz˘, Ichikawa Ennosuke, Nakamura Jakuemon, Nakamura Ganjir˘, Ichikawa Udanji, Ichikawa Sai'nyű, Ichikawa Ukon, ďtani Tomoemon, Kataoka Ichiz˘, Ichimura Kakitsu, Ichikawa Monnosuke, Ichikawa Emisabur˘, Ichikawa Emiya, Ichikawa Omez˘, Ichikawa Kudanji, Nakamura Jűjir˘, Nakamura Yonekichi, ďtani Hiromatsu, Ichikawa Otora, Ichikawa K˘tar˘

Comments

Ichikawa Udanji III and Ichikawa Sai'nyű II celebrate their shűmei in ďsaka at the Sh˘chikuza.
| | |
| --- | --- |
| Eirakukan (Toyooka) | |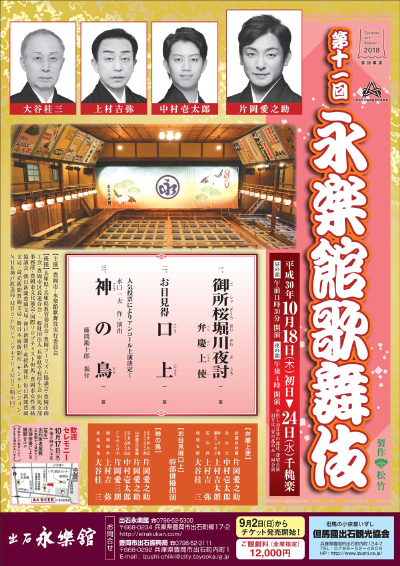 | | |
| --- | --- |
| Yachiyoza (Yamaga) | |

Dates
30 October ~ 04 November 2018
Band˘ Tamasabur˘ Eiz˘ x Buy˘ K˘en
Band˘ Tamasabur˘ Image and Dance Performances
Program
Casting

Living National Treasure Band˘ Tamasabur˘

Comments

A special Buy˘ program starring the amazing Living National Treasure onnagata Band˘ Tamasabur˘ in Yamaga at the Yachiyoza, a traditional wooden-built theater. There is a mix of video projection (with video sequences coming from the high-quality Shinema Kabuki, "Cinema Kabuki") and real dancing on stage.

K˘j˘: the close relationship between the actors and the audience is shown by stage announcements, usually lavish ceremonies to commemorate various important events. This month at the Yachiyoza, it is a stage speech done by Living National Treasure Band˘ Tamasabur˘.
Kagami Jishi: one of the most important dances for onnagata female role specialists and is an audience favorite. The maidservant Yayoi performs an auspicious lion dance for the Sh˘gun in his opulent palace, but she gradually finds herself under the control of the lion spirit. In the second half of the dance, the lion spirit itself appears and performs its crazed dance among peonies and fluttering butterflies. Starring Living National Treasure Band˘ Tamasabur˘ as both Yayoi and the spirit of the lion.
Fuji Musume: the spirit of wisteria blossoms dances of love in the form of a beautiful young maiden. One of Kabuki's most famous and colorful dances, it will feature the dancing skills of Living National Treasure Band˘ Tamasabur˘.

Sources: Sh˘chiku Kabuki Official Website
| | |
| --- | --- |
| National Bunraku Theatre (ďsaka) | |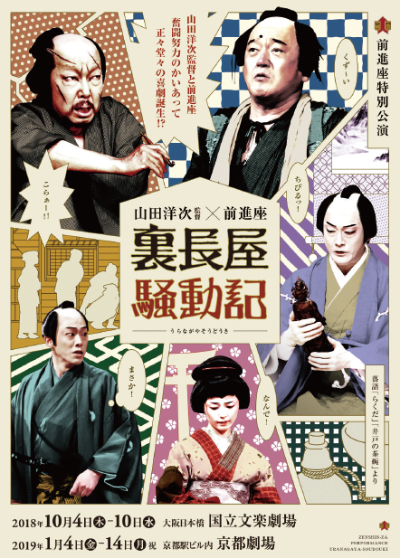 Daisen Park (Sakai)
Dates
13 October 2018
Kataoka Ainosuke Tokubetsu K˘en
Kataoka Ainosuke Special Performance
Program

T˘ku

Nasu Monogatari

Casting
Comments

A special Kabuki performance on a temporary stage built at the Daisen Park in the city of Sakai. This is the 37th edition of the World Heritage Theater, theater performances in world heritage sites in Japan. Mozu Kofungun, the Mozu Tombs in Sakai. The first item in this program is a talk about the event. The second item is a Ky˘gen dance-drama performed by the ky˘genshi Shigeyama Ippei. The third and last item is the famous Kabuki dance "Yoshinoyama".
| | |
| --- | --- |
| Shibuya-ku Bunka S˘g˘ Center ďwada (T˘ky˘) | |