Stage names:
| | |
| --- | --- |
| Kataoka Sennosuke | |
Real name: Kataoka Masahiro
Guild: Matsushimaya
Birthday: 1 March 2000
Connections:
Great-grandfather: Kataoka Nizaemon XIII
Grandfather: Kataoka Nizaemon XV
Father: Kataoka Takatar˘
Career:
July 2003: first stage appearance (omemie), in ďsaka at the Sh˘chikuza where he played the role of a little bonze in the dance "Meoto D˘j˘ji".
November 2004: debut on stage (hatsubutai) at the Kabukiza, where he received the name of Kataoka Sennosuke and plays the role of the young fireman Senkichi in the dance-drama "Matsu no Sakae Iwau Shimadai", a special version of "Omatsuri" with 3 generations of the Matsushimaya guild; Sennosuke's grandfather Kataoka Nizaemon XV and Sennosuke's father Kataoka Takatar˘ played the roles of the firemen boss Matsukichi and the geisha Takachiyo.
Comments:
Kataoka Sennosuke is the young heir of the Matsushimaya guild.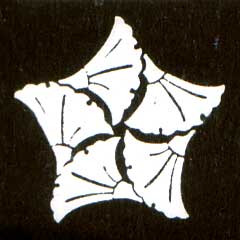 The mon of Kataoka Sennosuke