Stage names:
Band˘ Takesabur˘ V
Band˘ Shinsha III
Onoe Sasatar˘ I
Dancer Name: Yamamura Taikaku
Real name: Okazaki Sh˘ji
Guild: Otowaya
Line number: GODAIME (V)
Birthday: 4 August 1932
Connections:
Adoptive father: Onoe Kikujir˘ IV
Disciples: Band˘ Takenosuke III, Band˘ Takeyuki
Career:
April 1949: he makes his first appearance on stage at the Nakaza in ďsaka, where he receives the name of Onoe Sasatar˘ I.
September 1959: Onoe Sasatar˘ I takes the name of Band˘ Shinsha III at the ďsaka Shinkabukiza, playing in the dramas "Kagotsurube" and "Minowa no Shinjű".
1967: Shinsha is adopted by the actor Onoe Kikujir˘ IV.
March 1967: Band˘ Shinsha III takes the name of Band˘ Takesabur˘ V at the Asahiza (ďsaka), playing the roles of Koganosuke and Okatsu in the dramas "Yoshinogawa" and "Terutora Haizen".
August 1980: revival at the National Theatre of Namiki Sh˘z˘ I's drama "Yadonashi Danshichi Shigure no Karakasa"; Takesabur˘ plays the role of the actor Arashi Sangor˘ [casting].
24 July 1981: his adoptive father Onoe Kikujir˘ IV dies.
September 1999: revival at the Minamiza of Katsu Genz˘ III's drama "Ogasawara S˘d˘"; Takesabur˘ plays the role of Ogasawara Buzen-no-Kami [casting].
June 2009: Takesabur˘ celebrates his coming 77th birthday at the Sh˘chikuza; his kiju kinen performance is a program made up of "Meibutsu Kenka Jaya", "Arima no Neko" and "D˘tonbori Kabuki no Nigiwai".
November 2010: 3rd Kabuki program with Kataoka Ainosuke as zagashira at the Eirakukan, a renovated traditional theater built in the city of Toyooka (prefecture of Hy˘go) [more details].
June 2012: Takesabur˘ plays at the Shinbashi Enbuj˘ the roles of Asuka and Owari no Kuniz˘ in "Kawatsura H˘gen Yakata" and "Yamato Takeru", in a special program which celebrates the shűmei of both Ichikawa En'˘ II and Ichikawa Ennosuke IV, the hatsubutai of both Ichikawa Chűsha IX and Ichikawa Danko V and commemorates the 49th anniversary (50th memorial service) of late Ichikawa En'˘ I and Ichikawa Danshir˘ III.
Comments:
Band˘ Takesabur˘ V is one of the few onnagata actor trained in the great tradition of the Kamigata Kabuki. He is amazing in the roles of cruel stepmothers.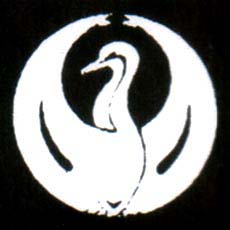 The mon of Band˘ Takesabur˘ V
The Band˘ Shinsha line of actors
The Band˘ Takesabur˘ line of actors