Stage names:
| | |
| --- | --- |
| Ichikawa Omez˘ VI | |
| Ichikawa Otora VI | |
Real name: Arakawa Kinji
Guild: Takinoya
Line number: ROKUDAIME (VI)
Birthday: 9 October 1967
Connections:
Great-grandfather: Ichikawa Monnosuke VI
Grandfather: Ichikawa Sadanji III
Father: Ichikawa Sadanji IV
Son: Ichikawa Otora VII
Career:
January 1973: first appearance on stage at the Kabukiza in the play "Sakaya".
February 1974: he receives the name of Ichikawa Otora VI at the Kabukiza by playing the roles of Umekichi and Michimaro in the plays "Tanuki" and "T˘daiki".
May 2003: Ichikawa Otora VI takes at the Kabukiza the name of Ichikawa Omez˘ VI by playing the roles of Dejiri Seibŕ, Narita Gor˘ and a bonze in the dramas "Kiwametsuki Banzuiin Ch˘bŕ", "Shibaraku" and "Kappore". His son makes his first stage appearance, receiving the name of Ichikawa Otora VII and playing the roles of Ch˘bŕ's son Ch˘matsu and the little apprentice Ch˘matsu in the plays "Kiwametsuki Banzuiin Ch˘bŕ" and "Kamiyui Shinza".
November 2005: t˘shi ky˘gen revival at the National Theatre of the drama "Ehon Taik˘ki"; Omez˘ plays the role of Sat˘ Masakiyo [casting].
August 2009: 2nd Kabuki program with Kataoka Ainosuke as zagashira at the Eirakukan, a renovated traditional theater built in the city of Toyooka (prefecture of Hy˘go) [more details].
Comments:
Ichikawa Omez˘ VI is a young and promising tachiyaku, excelling in aragoto roles.
[More data in Japanese]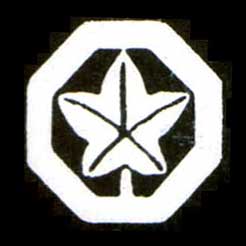 The mon of Ichikawa Omez˘ VI
The Ichikawa Otora line of actors
The Ichikawa Omez˘ line of actors