Stage names:
| | |
| --- | --- |
| Nakamura Kotar˘ VI | |
Real name: Nakamura Yűta
Guild: Narikomaya
Line number: ROKUDAIME (VI)
Birthday: 23 December 1993
Connections:
Great-great-grandfather: Nakamura Utaemon V
Great-grandfather: Nakamura Fukusuke V
Grandfather: Nakamura Shikan VII
Father: Nakamura Fukusuke IX
Career:
November 1999: first stage appearance (omemie), in T˘ky˘ at the Kabukiza where he plays the role of the Goddess Kannon in the drama "Tsubosaka Reigenki".
September 2000: debut on stage (hatsubutai) at the Kabukiza, where he receives the name of Nakamura Kotar˘ VI, playing in the dances "Ky˘ganoko Musume D˘j˘ji" and "Kiku Biyori Kioi no Wakakoma".
Comments:
Nakamura Kotar˘ VI is a young heir of the Narikomaya guild. He will take the name of Nakamura Fukusuke X at the Kabukiza in a near future.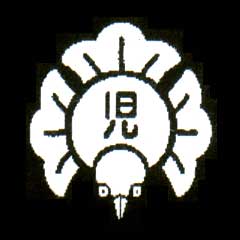 The mon of Nakamura Kotar˘ VI
The Nakamura Kotar˘ line of actors