Stage names:
| | |
| --- | --- |
| Nakamura Yonekichi V | |
Real name: Ogawa Shûhei
Guilds: Harimaya (from September 2010), Yorozuya (up to August 2010)
Line number: GODAIME (V)
Birthday: 8 March 1993
Connections:
Great-great-great-grandfather: Nakamura Karoku I
Great-great-grandfather: Nakamura Karoku III
Great-grandfather: Nakamura Tokizô III
Grandfather: Nakamura Kashô II
Father: Nakamura Karoku V
Brother: Nakamura Ryûnosuke
Career:
July 2000: debut on stage (hatsubutai) at the Kabukiza, where he received the name of Nakamura Yonekichi V and played the role of Ochi Buemon's son Bunosuke in the drama "Uwajima Sôdô".
July 2001: Yonekichi played at the Kabukiza the role of Sannigoroshichi's son Goroichi in the drama "Gosan no Kiri"; the role of Sannigoroshichi was played by Yonekichi's father Nakamura Karoku V.
November 2015: revival at the National Theatre of the drama "Shinrei Yaguchi no Watashi" (tôshi kyôgen in 4 acts); Yonekichi played the role of Yoshimine's lover Utena [more details|casting].
March 2017: "Igagoe Dôchû Sugoroku" was staged as a tôshi kyôgen at the National Theatre. The core of this revival was "Okazaki". The third act, commonly called "Engakuji", which was staged for the last time in February 1931 at the Meijiza, was revived as well; Yonekichi played the role of Kôbê's musume Osode [more details | casting].
Comments:
Nakamura Yonekichi V is a promising young actor of the Harimaya guild.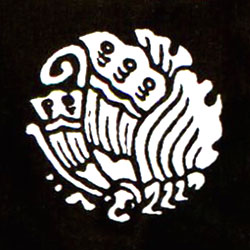 The mon of Nakamura Yonekichi V
The Nakamura Yonekichi line of actors