Stage names:
| | |
| --- | --- |
| Nakamura Tanenosuke | |
Real name: Ogawa Akihisa
Guilds: Harimaya (from September 2010), Yorozuya (up to August 2010)
Birthday: 22 February 1993
Connections:
Great-great-great-grandfather: Nakamura Karoku I
Great-great-grandfather: Nakamura Karoku III
Great-grandfather: Nakamura Tokiz˘ III
Grandfather: Nakamura Kash˘ II
Father: Nakamura Matagor˘ III
Brother: Nakamura Kash˘ IV
Career:
October 1998: first stage appearance (omemie), in T˘ky˘ at the National Theatre in the drama "Sakura Giminden".
February 1999: debut on stage (hatsubutai) at the Kabukiza, where he received the name of Nakamura Tanenosuke and played the role of Takatsuna's son Kosabur˘ in the drama "Moritsuna Jin'ya"; the roles of Sasaki Takatsuna and Kosabur˘'s cousin Koshir˘ were played by Nakamura Kichiemon and Tanenosuke's brother Nakamura Tanetar˘.
February 2000: special kodomo shibai dance program to end the evening program at the Kabukiza; Tanenosuke played the role of a young man in the dance "Omatsuri".
September 2011: his father Nakamura Kash˘ III and his brother Nakamura Tanetar˘ IV took the names of Nakamura Matagor˘ III and Nakamura Kash˘ IV at the Shinbashi Enbuj˘; Tanenosuke played the roles of a fireman boss and Uheita in "Kioi Jishi" and "Ishikawa Goemon" [more details].
November 2012: 5th Kabuki program with Kataoka Ainosuke as zagashira at the Eirakukan, a renovated traditional theater built in the city of Toyooka (prefecture of Hy˘go) [more details].
November 2015: revival at the National Theatre of the drama "Shinrei Yaguchi no Watashi" (t˘shi ky˘gen in 4 acts); Tanenosuke played the role of Rokuz˘ [more details|casting].
March 2017: "Igagoe D˘chű Sugoroku" was staged as a t˘shi ky˘gen at the National Theatre. The core of this revival was "Okazaki". The third act, commonly called "Engakuji", which was staged for the last time in February 1931 at the Meijiza, was revived as well; Tanenosuke played the roles of Inagaki Hanshichir˘ and Ishidome Busuke [more details | casting].
Comments:
Nakamura Tanenosuke is a promising young actor of the Harimaya guild.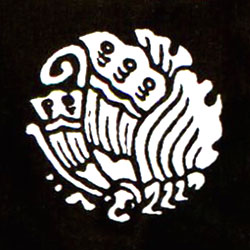 The mon of Nakamura Tanenosuke