Stage names:
| | |
| --- | --- |
| Ôtani Hiromatsu II | |
Real name: Aoki Takanori
Guild: Akashiya
Line number: NIDAIME (II)
Birthday: 21 July 1993
Connections:
Great-great-grandfather: Nakamura Sagisuke II
Great-grandfathers: Ôtani Tomoemon VI, Matsumoto Kôshirô VII
Grandfather: Nakamura Jakuemon IV
Father: Ôtani Tomoemon VIII
Brother: Ôtani Hirotarô III
Career:
May 1998: first stage appearance (omemie), at the Kabukiza where he performs in the drama "Edo Sodachi Omatsuri Sashichi".
January 2003: debut on stage (hatsubutai) at the Kabukiza, where he receives the name of Ôtani Hiromatsu II and plays the role of a kamuro in the drama "Sukeroku Yukari no Edo Zakura".
Comments:
Ôtani Hiromatsu II is a young and promising actor of the Akashiya guild.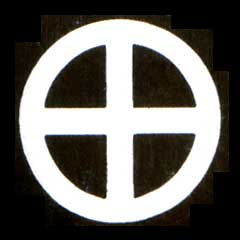 The mon of Ôtani Hiromatsu II
The Ôtani Hiromatsu line of actors