Stage names:
| | |
| --- | --- |
| Band˘ Minosuke&nbspII | |
Real name: Morita Mitsuhisa
Guild: Yamatoya
Line number: NIDAIME (II)
Birthday: 16 September 1989
Connections:
Great-great-grandfather: Band˘ Shűch˘ II
Great-grandfathers: Band˘ Shűch˘ III, Band˘ Mitsugor˘ VIII
Grandfather: Band˘ Mitsugor˘ IX
Father: Band˘ Mitsugor˘ X
Career:
September 1991: first stage appearance (omemie), at the Kabukiza where he performs the role of Karako in the dance "Kairaishi", which celebrates the 16th anniversary (17th memorial service) of the passing away of Band˘ Mitsugor˘ VIII.
November 1995: debut on stage (hatsubutai) at the Kabukiza, where he receives the name of Band˘ Minosuke&nbspII and plays the roles of Shigez˘ and a little monkey in the drama "Ranpei Monogurui" and the dance "Utsubo Zaru".
1 April 1999: his grandfather Band˘ Mitsugor˘ IX dies.
January 2009: revival at the National Theatre of "Z˘hiki", a bombastic play in the aragoto style which belongs to the Kabuki Jűhachiban; Minosuke plays the role of Aoimaru [casting].
21 February 2015: his father Band˘ Mitsugor˘ X dies.
Comments:
Band˘ Minosuke&nbspII is a young promising actor of the Yamatoya guild. He is also the drummer of an amateur Rock Band named ZERO click.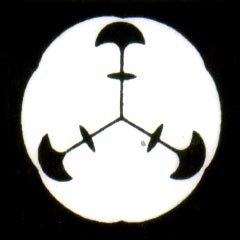 The mon of Band˘ Minosuke&nbspII
The Band˘ Minosuke line of actors