| | |
| --- | --- |
| Kabukiza (T˘ky˘) | |
Dates
2 ~ 26 July 2016 (Shichigatsu Hanagata Kabuki)
July Young Actors Kabuki
MatinÚe

Yanagikage Sawa no Hotarubi

Ryűsei

Evening

Arakawa no Sakichi

Kotohoide Mimasu Kagekiyo

Casting

Ichikawa Ebiz˘, Ichikawa Ennosuke, Ichikawa Sadanji, Ichikawa Chűsha, Nakamura T˘z˘, Ichikawa Ukon, Ichimura Kakitsu, Ichikawa Unosuke, Kataoka Ichiz˘, Ichimura Manjir˘, Ichikawa Omez˘, Ichikawa Monnosuke, Ichikawa Emiya, Ichikawa Emisabur˘, Ichikawa En'ya, Ichikawa Juen, Ichikawa Kudanji, Band˘ Kamesabur˘, Band˘ Minosuke, Sawamura Yoshijir˘, ďtani Keiz˘, Nakamura Yonekichi, Nakamura Takanosuke, Onoe Ukon

Comments

The zagashira for these two July Young Actors Kabuki programs is Ichikawa Ebiz˘ and the main performing troupe will be the Omodakaya under the command of Ichikawa Ennosuke. Ichikawa Sadanji and Nakamura T˘z˘ are also guest stars. A lighter version of "Kotohoide Mimasu Kagekiyo", which was premiered in January 2014 at the Shinbashi Enbuj˘ [more details], is made up of two spectacular dramas, "Kamahige" and "Kagekiyo", which belongs to the Kabuki Jűhachiban collection.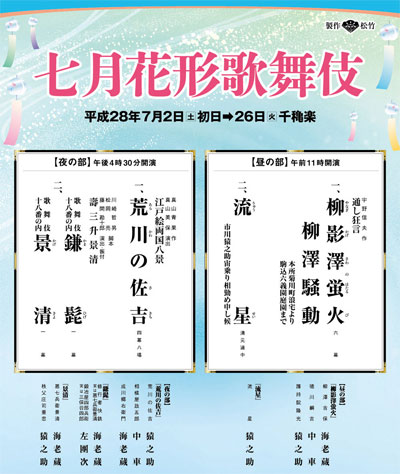 | | |
| --- | --- |
| Sh˘chikuza (ďsaka) | |
Dates
3 ~ 27 July 2016 (Kansai Kabuki o Ai Suru Kai Shichigatsu ďkabuki)
The 25th Kansai Kabuki Lovers Society July Grand Kabuki
MatinÚe

Kosan Kingor˘

Yűgiri Nagori no Sh˘gatsu

Yowa Nasake Ukina no Yokogushi (Kirare Yosa)

Evening
Casting

Living National Treasure Sakata T˘jűr˘, Living National Treasure Kataoka Nizaemon, Nakamura Jakuemon, Nakamura Ganjir˘, Nakamura Baigyoku, Nakamura Hashinosuke, Kataoka Takatar˘, Nakamura Kinnosuke, Kataoka Hidetar˘, ďtani Tomoemon, Ichikawa Danz˘, Nakamura Karoku, Band˘ Takesabur˘, Kamimura Kichiya, Nakamura Kikaku, Nakamura Kotar˘, Kataoka Matsunosuke, Nakamura Jűjir˘, ďtani Hirotar˘, ďtani Hiromatsu, Nakamura Tanenosuke, Nakamura Muneo

Comments

25th edition of the Kansai Kabuki Lovers Society July Grand Kabuki in ďsaka. Nakamura Jakuemon V celebrates his shűmei in ďsaka at the Sh˘chikuza.
| | |
| --- | --- |
| National Theatre (T˘ky˘) | |
Dates
3 ~ 24 July 2016 (Shichigatsu Kabuki Kansh˘ Ky˘shitsu)
July Kabuki Appreciation Class
Program

Kabuki no Mikata

Casting

Nakamura Kaishun, Band˘ Yajűr˘, Band˘ Shűch˘, Nakamura Matsue, Nakamura Kamenoj˘

Comments

Educational program at the National Theatre called Kabuki Kansh˘ Ky˘shitu ("Kabuki Appreciation Class"). This is a very interesting formula for the beginners because there is lively presentation of Kabuki (or some aspects of the art like music, stage tricks or fighting scenes) on stage, followed by the drama "Yanagi".

Kabuki no Mikata: literally how to view Kabuki. A lively presentation of some aspects of the art of Kabuki.
Yanagi: some hunters are about to cut down a willow tree to recover a trapped falcon when a man named Heitar˘ (Band˘ Yajűr˘) deftly frees the falcon, rescuing both the bird and the tree. Some years later, the retired emperor is suffering great headaches and a fortune teller has revealed that the same willow tree should be cut down and used to build a temple. As Heitar˘ and his family hear the sounds of the tree being cut down, Heitar˘'s wife (Nakamura Kaishun) suddenly collapses in agony. In fact, she is the spirit of the willow tree that has taken human form and become Heitar˘ĺs wife in gratitude as he has saved her.

Source: Earphone Guide website
Kabuki Tour in the central provinces
Dates
30 June ~ 24 July 2016 (Sh˘chiku ďkabuki)
Sh˘chiku Grand Kabuki
Program

Kabuki no Mikata

Fumi Uri

Casting

Nakamura Tokiz˘, Onoe Sh˘roku, Band˘ Kametoshi, Nakamura Baishi, Nakamura Mantar˘

Comments

The usual July Grand Kabuki Tour in the central provinces!

Kabuki no Mikata: literally how to view Kabuki. A lively presentation of some aspects of the art of Kabuki.
Narukami: one of the most popular and universally appealing plays in the Kabuki Jűhachiban collection of plays featuring the bombastic aragoto style of acting. The holy man Narukami (Onoe Sh˘roku) is angry at the Imperial Court and has taken refuge in the mountains where he has imprisoned inside a waterfall the dragon that brings rain, bringing a severe drought to the country. Princess Taema (Nakamura Baishi) is sent by the Imperial Court to try to seduce Narukami, destroying his magical powers and release the rain. When he finds that he has been betrayed, anger transforms Narukami into a Thunder God.
Fumi Uri: in the early Edo period (the early 17th century), peddlers would go around during the first few weeks of the new year with letters tied to a branch of plum blossoms. These letters were a kind of charm to bring wealth and romantic good fortune. In this particular dance, the highlight is a performance by the peddler (Nakamura Tokiz˘) who recounts a humorous story of a fight between high ranking courtesans that threw the brothel district into an uproar

(from the pamphlet of "The Nishikawa School of Japanese Classical Dance Nihon Buy˘ in its San Francisco Premiere Performance")

.
Sanja Matsuri: a vigorous dance starring Band˘ Kametoshi and Nakamura Mantar˘. It is based on dolls at the Sanja festival showing the founding of the temple at Asakusa when two fishermen found a golden image of the Kannon in their nets. In this case, the holy spirits that they encounter are two spheres with the characters for "good" and "evil" on them, and the spirits possess the two and animate them into a lively dance.

Sources: Earphone Guide Website or Sh˘chiku Kabuki Official Website
Matsumoto Performing Arts Centre (Matsumoto)
Dates
11 ~ 17 July 2016 (Shinshű Matsumoto ďkabuki)
Shinshű Matsumoto Grand Kabuki
Program
Casting

Nakamura Kankur˘, Nakamura Shichinosuke, Nakamura Senjaku, Nakamura Shid˘, Kataoka Kamez˘, Nakamura Tsurumatsu, Sasano Takashi, Manako Keiji, ďmori Hiroshi

Comments

5th edition in the city of Matsumoto (first time in July 2008; second time in July 2010; third time in July 2012; fourth time in July 2014) of a Kabuki program, which is called Shinshű Matsumoto ďkabuki (Shinshű is an old name for the province of Nagano, whose main city is Matsumoto). Same program as the 15th edition of the Cocoon Kabuki in T˘ky˘:

Yotsuya Kaidan: this play is a famous ghost story and at the same time a story written as the microcosms of human society under the historical background that the warrior class is falling down. Tamiya Iemon (Nakamura Shid˘), a masterless samurai and ex-retainer of the En'ya family, asks his father-in-law Yotsuya Samon to allow his wife Oiwa (Nakamura Senjaku) to come back to him whom Samon took back to his house. But as he sees his wish not accepted and himself blamed for embezzling public money in the past, he kills Samon with his sword. Naosuke (Nakamura Kankur˘) who fell in love with Oiwa's sister Osode (Nakamura Shichinosuke) bears a grudge against Osode's husband Yomoshichi (Nakamura Senjaku) and murders him cruelly. Oiwa and Osode hurry to the place where Samon and Yomoshichi were murdered. Iemon promises Oiwa to avenge her father while Naosuke promises Osode to avenge her husband. A few months later as Oiwa is doing poorly after childbirth, Iemon is tired of his poverty and becomes bitter to her. At the moment a medicine and a present for their child's birth is sent from Iemon's neighbor It˘ Kihŕ (Sasano Takashi). As Iemon visits It˘ to express his gratitude, Ito Kihŕ's granddaughter Oume (Nakamura Tsurumatsu) pines for Iemon and Kihŕ appeals to him to marry Oume. As Kihŕ is a retainer of K˘ family, the enemy of the En'ya family, Iemon once declines the offer, but finally agrees to marry her. Taking the medicine from It˘ not knowing it is a poison Oiwa's face becomes disfigured. Finally Oiwa knows the truth and dies having a grudge. Osode who has lived with Naosuke as a provisional couple finally gives herself to him. Her husband Yomoshichi who should have died earlier appears there. Oiwa's spirit torments Iemon while Naosuke and Osode fall by the irony of fate. What will become of them in the end?

Source: Sh˘chiku Kabuki Official Website
| | |
| --- | --- |
| Kintetsu Art Kan (ďsaka) | |

Dates
29 July ~ 1 August 2015 (Sora no Kai)
Program

Ise Sangű Kami no Nigiwai

Casting

Kataoka Matsujűr˘, Kataoka Senjir˘, Kataoka Senju

Comments

The 2nd gala of the Sora no Kai, in ďsaka at the Kintetsu Art Kan, which stars Kataoka Matsujűr˘, Kataoka Senjir˘ and Kataoka Senju, 3 disciples of the Matsushimaya guild. Sora no Kai literally means "Sky Association". "Ise Sangű Kami no Nigiwai", based on a famous Kamigata rakugo story, is a newly-created drama. It is staged under the supervision of Kataoka Hidetar˘ and the dance master Yamamura Tomogor˘ III. These performances are entitled Abeno Kabuki (Abeno is the name of a famous district in ďsaka).
| | |
| --- | --- |
| Cerulean Tower N˘ Theater (T˘ky˘) | |
| | |
| --- | --- |
| Dates | 13 ~ 15 July 2016 |
| Program | Shinsetsu Buaku |
| Casting | Onoe Matsuya, Miyake Sukenori, Miyake Chikanari, Ichikawa Tsutanosuke, Onoe Otoichir˘, Sawamura Kuniya |
| Comments | The 8th gala program called Idomu (Challenge) for the young actor Onoe Matsuya. The first item is performed by Onoe Matsuya. The third item is a newly-revised version of the Ky˘gen drama "Bukaku" and it stars Onoe Matsuya and the two ky˘genshi Miyake Sukenori and Miyake Chikanari. |