Real name: Yamanaka Fujihiko
Guild: Kinokuniya
Line number: GODAIME (V)
Birthday: 8 August 1946
Connections:
Father: Sawamura Shozan III
Brothers: Sawamura Tanosuke VI, Sawamura Rokur˘
Career:
March 1967: he makes his first appearance on stage at the Kabukiza, where he receives the name of Sawamura Yoshijir˘ V and plays the role of Kimura Okaemon in the play "Kanadehon Chűshingura".
December 1968: his father Sawamura Shozan III dies.
1998: Yoshijir˘ becomes nadai.
October 2015: production at the National Theatre of "Ise Ondo Koi no Netaba" in a t˘shi ky˘gen production (3 acts; 8 scenes) with the revival of the rarely-staged "Daidaik˘" act; Yoshijir˘ plays the role of Aidamaya Kitaroku, in reality Tokushima Iwaji [more details|casting].
Comments:
Sawamura Yoshijir˘ V is a supporting tachiyaku actor of the Kinokuniya guild.
[more data in Japanese]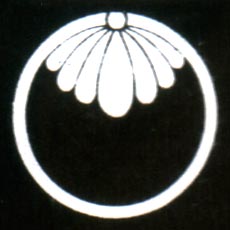 The mon of Sawamura Yoshijir˘ V
The Sawamura Yoshijir˘ line of actors