| | |
| --- | --- |
| Shinbashi Enbuj˘ (T˘ky˘) | |
Dates
2 ~ 26 July 2012 (Shichigatsu ďkabuki)
July Grand Kabuki
MatinÚe

Yamato Takeru

Evening

Sh˘gun Edo o Saru

Casting

Ichikawa Ennosuke, Ichikawa En'˘, Ichikawa Danjűr˘, Ichikawa Ebiz˘, Ichikawa Danshir˘, Band˘ Takesabur˘, Band˘ Yajűr˘, Ichikawa Chűsha, Ichikawa Danko, Ichikawa Monnosuke, Ichikawa Ukon, Ichikawa Tsukinosuke, Ichikawa Emisabur˘, Ichikawa Emiya, Ichikawa Shun'en, Ichikawa En'ya, Ichikawa Juen, Ichikawa K˘tar˘

Comments

Second month of the great 2 shűmei / 2 hatsubutai for 3 generations of Omodakaya actors! Ichikawa En'˘ II and Ichikawa Ennosuke IV celebrate their shűmei. Ichikawa Ennosuke III's son Ichikawa Chűsha IX and Ichikawa Ennosuke III's grandson Ichikawa Danko V celebrate their hatsubutai.
| | |
| --- | --- |
| Sh˘chikuza (ďsaka) | |
Dates
3 ~ 27 July 2012 (Kansai Kabuki o Ai Suru Kai Shichigatsu ďkabuki)
The 21st Kansai Kabuki Lovers Society July Grand Kabuki
MatinÚe

Futatsu Ch˘ch˘ Kuruwa Nikki (Hikimado)

Arakawa no Sakichi

Evening

Casting

Nakamura Kichiemon, Kataoka Nizaemon, Nakamura Baigyoku, Kataoka Gat˘, Nakamura Shibajaku, Nakamura Kaishun, Nakamura Matagor˘, Nakamura Kash˘, Kataoka Takatar˘, Nakamura Kinnosuke, Nakamura Karoku, Nakamura T˘z˘, Ichikawa Somegor˘, Sawamura Yoshijir˘, Nakamura Matsue, Kataoka Shinnosuke, ďtani Keiz˘, Nakamura Kichinosuke, Nakamura Tanenosuke, Nakamura Yonekichi, Nakamura Hayato

Comments

21st edition of the Kansai Kabuki Lovers Society July Grand Kabuki in ďsaka. Nakamura Matagor˘ III and his son Nakamura Kash˘ IV celebrate their shűmei at the Sh˘chikuza!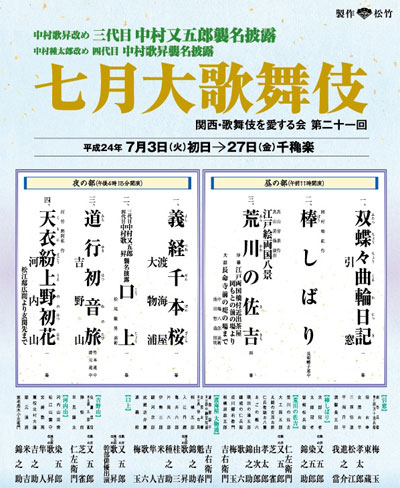 | | |
| --- | --- |
| Shibuya Bunkamura Theatre Cocoon (T˘ky˘) | |

Dates
15 June ~ 7 July 2012
Program

Tennichib˘

Casting

Nakamura Kankur˘, Nakamura Shichinosuke, Nakamura Shid˘, Ichimura Manjir˘, Kataoka Kamez˘, Band˘ Minosuke, Band˘ Shingo

Comments

13th edition of the original Cocoon Kabuki performance, which recreates the atmosphere of the Edo koshibai and brings the actors closer to the audience.

Tennichib˘: Cocoon Kabuki began in 1994 in the bustling district of Shibuya, enrapturing the audience and continuously evolving since its first presentation. The thirteenth project is based on a work by Kawatake Mokuami (1816~1893) who is known as one of the greatest Kabuki playwright of the Tokugawa Period (1603~1867). Since its premiere 150 years ago, the play is rewritten by the modern popular Japanese scriptwriter Kud˘ Kankur˘ and directed by the original founder of Cocoon Kabuki, Kushida Kazuyoshi. The story is centered on H˘saku, later to be known as Tennichib˘ (Nakamura Kankur˘), who heads towards Kamakura posing as the illegitimate child of the Sh˘gun Yoritomo. During this journey, he encounters a thief, Jirai Tar˘ (Nakamura Shid˘) and his wife Oroku (Nakamura Shichinosuke) and thus the story unfolds his fateful destiny. Full of hopes and dreams and aiming to be conquerors, the young characters battle their way through. This production features core members of the new generation of Kabuki actors: Nakamura Kankur˘ returns to Cocoon Kabuki under his newly inherited stage name, with co-stars Nakamura Shichinosuke and Nakamura Shid˘. A unique collaboration across diverse theatrical genres, this performance will be another epic addition to the repertoire of Kabuki presented at Cocoon Kabuki.

Source: Sh˘chiku Kabuki Official Website website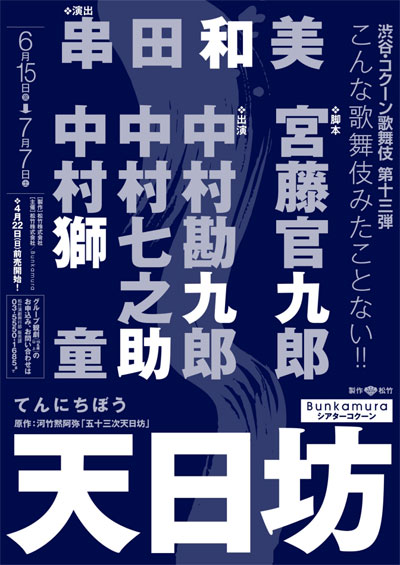 | | |
| --- | --- |
| National Theatre (T˘ky˘) | |
Dates
3 ~ 24 July 2012 (Shichigatsu Kabuki Kansh˘ Ky˘shitsu)
Program

Kabuki no Mikata

Casting

Kataoka Ainosuke, Kataoka Hidetar˘, Kataoka Ichiz˘, ďtani Tomoemon, Ichikawa Komaz˘, Band˘ Shűch˘, Matsumoto Kingo, Sawamura S˘nosuke, ďtani Hirotar˘, ďtani Hiromatsu

Comments

Educational program at the National Theatre called Kabuki Kansh˘ Ky˘shitu ("Kabuki Appreciation Class"). This is a very interesting formula for the beginners because there is lively presentation of Kabuki (or some aspects of the art like music, stage tricks or fighting scenes) on stage, followed by the bombastic drama "Kenuki".

Kenuki: in this play, which retains the light, festive atmosphere of early-period Kabuki, a princess has a mysterious ailment that makes her hair stand on end, an ailment that prevents her from carrying out her long-awaited marriage. Kumedera Danj˘ comes from the groom's household to investigate and finds a plot to take over the household when his tweezers float in mid-air. Kataoka Ainosuke stars in a play that features the bombastic aragoto style of acting. Featuring also Kataoka Hidetar˘ and ďtani Tomoemon as the koshimoto Makiginu and Ono no Harumichi.

Source: Earphone Guide website
Matsumoto Performing Arts Centre (Matsumoto)
Dates
12 ~ 18 July 2012 (Shinshű Matsumoto ďkabuki)
Shinshű Matsumoto Grand Kabuki
Program

Tennichib˘

Casting

Nakamura Kankur˘, Nakamura Shichinosuke, Nakamura Shid˘, Ichimura Manjir˘, Kataoka Kamez˘, Band˘ Minosuke, Band˘ Shingo

Comments

3rd edition in the city of Matsumoto (first time in July 2008; second time in July 2010) of a Kabuki program, which is called Shinshű Matsumoto ďkabuki (Shinshű is an old name for the province of Nagano, whose main city is Matsumoto). Same program as the 13th edition of the Cocoon Kabuki in T˘ky˘:

Tennichib˘: "Tennichib˘" is based on a work by Kawatake Mokuami (1816~1893) who is known as one of the greatest Kabuki playwright of the Tokugawa Period (1603~1867). Since its premiere 150 years ago, the play is rewritten by the modern popular Japanese scriptwriter Kud˘ Kankur˘ and directed by the original founder of Cocoon Kabuki, Kushida Kazuyoshi. The story is centered on H˘saku, later to be known as Tennichib˘ (Nakamura Kankur˘), who heads towards Kamakura posing as the illegitimate child of the Sh˘gun Yoritomo. During this journey, he encounters a thief, Jirai Tar˘ (Nakamura Shid˘) and his wife Oroku (Nakamura Shichinosuke) and thus the story unfolds his fateful destiny. Full of hopes and dreams and aiming to be conquerors, the young characters battle their way through. This production features core members of the new generation of Kabuki actors: Nakamura Kankur˘ returns to Theatre Cocoon under his newly inherited stage name, with co-stars Nakamura Shichinosuke and Nakamura Shid˘.

Source: Sh˘chiku Kabuki Official Website website
Kabuki Tour in the central provinces
Dates
30 June ~ 1 July 2012
Program

Omemie Goaisatsu

Yűgiri Nagori no Sh˘gatsu

Casting

Sakata T˘jűr˘, Nakamura Kanjaku, Nakamura Senjaku, Nakamura Kikaku, Nakamura Kazutar˘, Arashi Kitsusabur˘, Nakamura Jűjir˘

Comments

The Chikamatsuza tour in the central provinces to celebrate the 30th anniversary of this troupe!

Goaisatsu: the close relationship between the actors and the audience is shown by this goaisatsu (literally greetings) k˘j˘, lavish ceremonies to commemorate various important events. In this case, the goaisatsu is performed by Living National Treasure Sakata T˘jűr˘ as an extension in the central provinces of his 2005/2006 shűmei. This is also a good opportunity to celebrate the 30th anniversary of the Chikamatsuza troupe.
Yűgiri Nagori no Sh˘gatsu: the roots of this play go back to the earliest days of Kabuki. The young lover Fujiya Izaemon has been disowned by his family for loving a courtesan and now has nothing but a paper kimono. This role is a classic example of wagoto, the gentle style of acting that was popular in the Kansai region. Sakata T˘jűr˘ stars as Izaemon, a role that is a specialty of his family's Kansai acting style. His lover ďgiya Yűgiri, the fabulous courtesan who falls ill pining away with love for him is played by Nakamura Senjaku. This particular version of the play was originally written by Chikamatsu Monzaemon and shows Izaemon with the ghost of Yűgiri. But since the original script has long been lost, this month features a newly written version of the story. Sakata T˘jűr˘ IV will also wear a real paper kimono, the trademark of Sakata T˘jűr˘ I.
Sonezaki Shinjű: a young merchant named Tokubŕ has long been in love with the courtesan Ohatsu and is diligently trying to buy out her contract. But he is swindled out of his money by someone he considered a friend. Then he is beaten and humiliated in the precincts of the Ikutama shrine. He sneaks into the teahouse where Ohatsu is and she hides him under the veranda. At this point, Tokubŕ's "friend" comes and calls him a criminal. Ohatsu fiercely defends Tokubŕ and asks whether he is prepared to defend his honor by committing love suicide. Silently, from under the veranda, he holds her bare foot and draws it across his neck. The journey to the forest where they commit love suicide is like a dream, half-way between this world and the next and has some of the most famous lines in Japanese theatre: "Farewell to this world and to this night, farewell. To what should we who go to our deaths be likened? We are like the frost on the road leading to the graveyard, vanishing with each step". Starring Nakamura Kanjaku and his son Nakamura Kazutar˘ in the roles of Tokubŕ and Ohatsu.

Source: Earphone Guide website
Kabuki Tour in the Eastern Provinces
Dates
30 June ~ 1 July 2012
Program

Casting

Onoe Kikugor˘, Nakamura Tokiz˘, Onoe Kikunosuke, Ichikawa Danz˘, Onoe Sh˘roku, Kawarasaki Gonjűr˘, Band˘ Kamesabur˘, Band˘ Kametoshi, Nakamura Baishi, Onoe Ukon, Nakamura Mantar˘

Comments
| | |
| --- | --- |
| Asakusa K˘kaid˘ (T˘ky˘) | |

Dates
29 July 2012 (Sen no Kai)
1st Sennosuke Association Performance
Program

Rokkasen Sugata no Irodori (Kisen)

Casting

Kataoka Takatar˘, Kataoka Sennosuke, Nakamura Kankur˘, Fujima Kanjűr˘

Comments

First edition of the Sen no Kai, a 1-day gala program of the Support Association for Kataoka Sennosuke, the youngest heir of the Matsushimaya guild. Guest stars will be Sen's father Kataoka Takatar˘, Nakamura Kankur˘ and the dance master Fujima Kanjűr˘ VIII:

Kusazuri:
(the Tug-of-War Over the Armor)
A short dance in the oldest style of Kabuki, leisurely and full of humor, combining the charm of an onnagata female role specialist with the larger-than-life heroism of the bombastic aragoto style of acting. Kobayashi no Asahina stops the powerful, but rash, warrior Soga no Gor˘ from rushing to a fight by pulling on the set of armor he is carrying. Starring Nakamura Kankur˘ and Kataoka Sennosuke as Asaina and Gor˘.
Kisen: "Kisen" is part of a series of dances showing the six poetic geniuses of ancient Japan. The five male poets are all shown as being in love with the sixth, Ono no Komachi, one of the most famous beauties of Japan. The other dances are set in ancient Japan, but this dance suddenly jumps to the Edo period where the poet-priest Kisen wanders intoxicated by the beauties of the cherry blossoms and of Okaji, a tea stand waitress. Starring Fujima Kanjűr˘ as Kisen and Kataoka Takatar˘ as Okaji.
Tomo Yakko: a samurai footman rushes after his master in the pleasure quarters, but loses sight of him. He dances with pride in his master and enjoys his dance so much that he begins emphasizing it with vigorous foot stamping. Starring Kataoka Sennosuke in the role of the yakko.

Sources: Earphone Guide Website or Sh˘chiku Kabuki Official Website