| | |
| --- | --- |
| Kabukiza (T˘ky˘) | |
Dates
31 October ~ 1 November 2022
Jűsandaime Ichikawa Danjűr˘ Hakuen Shűmei Hir˘ Kinen ~
Kabukiza Tokubestu K˘en
Ichikawa Danjűr˘ XIII Hakuen Name-Taking Announcement Celebration ~
Kabukiza Special Performances
Program

Kamiuta

Kaoyose Teuchi Shiki

Casting

Ichikawa Danjűr˘, Living National Treasure Kataoka Nizaemon, Living National Treasure Band˘ Tamasabur˘, Kanze Kiyokazu, Kanze Tetsunoj˘

Comments

Ichikawa Ebiz˘ XI takes the name of Ichikawa Danjűr˘ XIII in T˘ky˘ at the Kabukiza in a 2-day special program. The first item is a N˘ dance-drama performed by the N˘ masters Kanze Kiyokazu (the 26th s˘ke of the Kanze School) and Kanze Tetsunoj˘ IX. The second item is a hand-clapping ceremony to celebrate the shűmei of the new Danjűr˘.

Kanjinch˘: probably the most popular Kabuki play today, it includes dance, comedy and the heart-warming pathos of a band of heroes during their last days. Disguised as a band of traveling priests the fugitive general Yoshitsune and his small band of retainers are stopped at a road barrier. They escape only through the quick thinking of the head retainer, a warrior priest named Musashib˘ Benkei, who improvises the text of an elaborate imperial decree. Having escaped danger Benkei and the others describe their days of glory and hardships on the road to escape in a moving dance. This program stars Ichikawa Danjűr˘ in the role of Benkei, with Living National Treasure Band˘ Tamasabur˘ and Living National Treasure Kataoka Nizaemon as Yoshitsune and the barrier keeper Togashi.

Sources: Earphone Guide Website or Sh˘chiku Kabuki Official Website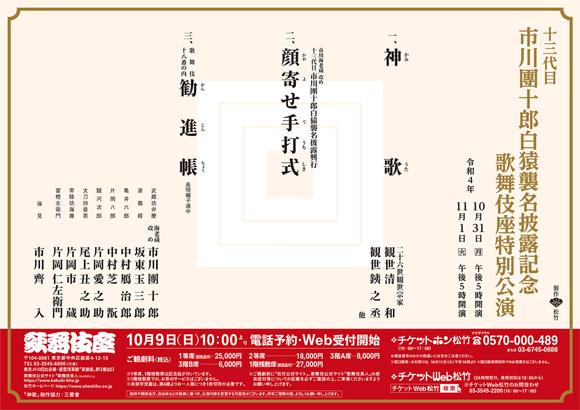 Dates
7 ~ 28 November 2022
Kichirei Kaomise ďkabuki
Annual Festive Face-Showing Grand Kabuki
MatinÚe

Iwau Narita Kobiki no Nigiwai

Evening
Casting

Ichikawa Danjűr˘, Ichikawa Shinnosuke, Living National Treasure Onoe Kikugor˘, Living National Treasure Kataoka Nizaemon, Living National Treasure Band˘ Tamasabur˘, Living National Treasure Nakamura Baigyoku, Living National Treasure Nakamura T˘z˘, Matsumoto Haku˘, Nakamura Jakuemon, Onoe Kikunosuke, Nakamura Tokiz˘, Nakamura Fukusuke, Nakamura Kaishun, Matsumoto K˘shir˘, Ichikawa Ennosuke, Nakamura Ganjir˘, Kataoka Takatar˘, Onoe Sh˘roku, Nakamura Kinnosuke, Ichikawa Sadanji, Nakamura Matagor˘, Nakamura Baishi, Ichikawa Udanji, Nakamura Kotar˘, Band˘ Minosuke, Ichikawa Monnosuke, ďtani Tomoemon, Band˘ Rakuzen, Ichikawa Sai'nyű, Kataoka Ichiz˘, Band˘ Hikosabur˘, Band˘ Kamez˘, Ichikawa Komaz˘, Kawarasaki Gonjűr˘, Ichimura Kakitsu, Matsumoto Kingo, Ichikawa Omez˘, Ichikawa En'ya, Ichikawa Juen, Ichikawa Emisabur˘, Ichikawa Seiko, ďtani Hirotar˘, ďtani Hiromatsu, Nakamura Kangyoku, Nakamura Mantar˘, Nakamura Tanenosuke, Nakamura Takanosuke, Ichikawa Otora, Ichikawa Somegor˘, Nakamura Tamatar˘, Onoe Sakon, Ichikawa Danko, Ichikawa Kudanji, Kataoka Matsunosuke, Nakamura Kichinoj˘

Comments

Ichikawa Ebiz˘ XI takes the name of Ichikawa Danjűr˘ XIII in T˘ky˘ at the Kabukiza. It is also the hatsubutai for his son Ichikawa Shinnosuke VIII. This is the first month of a 2-month shűmei for the Naritaya guild, in November and December 2022.

Sources: Earphone Guide Website or Sh˘chiku Kabuki Official Website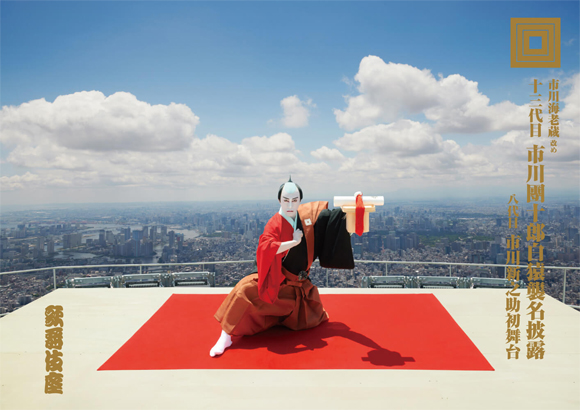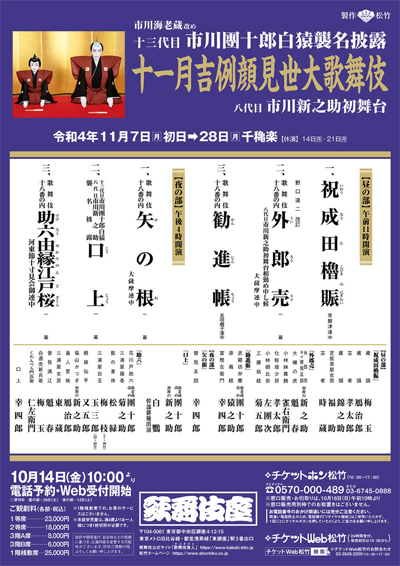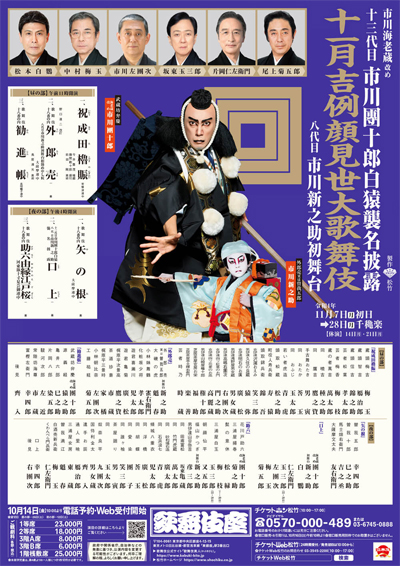 | | |
| --- | --- |
| National Theatre (T˘ky˘) | |
Dates
2 ~ 25 November 2022
Kabuki & Rakugo Korabo Chűshingura
A collaboration related to Chűshingura between Kabuki and Rakugo
Program

Denchű Degozaru
A famous rakugo narrated by Shunpűtei Koasa

Nakaz˘
A famous rakugo narrated by Shunpűtei Koasa

Casting

Nakamura Shikan, Nakamura Karoku, Ichimura Manjir˘, Ichikawa Emiya, Nakamura Kash˘, Nakamura Matsue, Nakamura Baika

Comments

The 1st farewell Performances before the closing and the start of the rebuilding of this theater. This progam belongs to the series of performances from November 2022 to october 2023 labeled as Mirai e Tsunagu Kokuritsu Gekij˘ Purojekuto ~ Shodai Kokuritsu Gekij˘ Sayonara K˘en (literally 'Project to Connect the National Theater to the Future ~ First generation National Theater Farewell Performances'). The November Kabuki at the National Theatre is mixed for the first time with another stage art: this program is entitled Kabuki & Rakugo Korabo Chűshingura (A collaboration related to Chűshingura between Kabuki and Rakugo).

Tepp˘ Watashi/Futatsudama/Kanpei Harakiri: this section of the classic "Kanadehon Chűshingura" is about Hayano Kanpei (Nakamura Shikan) and his wife Okaru (Ichikawa Emiya). Kanpei survives as a hunter and is desperate for the money that will allow him to become a samurai again. He encounters two former retainers of Lord En'ya Hangan who offer to allow him to participate in a vendetta to avenge Lord En'ya Hangan's death by attacking K˘ no Moron˘. Unknown to him, though, Okaru's family has decided to raise the memory by selling her into prostitution as a courtesan in the Gion district of Ky˘to. Okaru's father travels on a dark mountain road, eager to bring the first half of the money to Kanpei. But he is attacked and robbed by Sadakur˘ (Nakamura Karoku), also a former retainer of Lord En'ya Hangan who has gone bad and become a thief. At this point, Kanpei aims and fires at s wild boar and instead kills Sadakur˘. He finds the purse with all the money and, thinking that is the gift of heaven, rushes home. At home, the brothel keeper is already there to collect Okaru and Kanpei wants to refuse to let her go, until he realizes where the money came from and believes that he killed Okaru's father by mistake. He urges Okaru to go to the pleasure quarters, not wanting her to know what has happened. In one of the dramatic highlights of the play, Kanpei commits suicide to atone for his multiple failures in duty.

Sources: Earphone Guide Website or Sh˘chiku Kabuki Official Website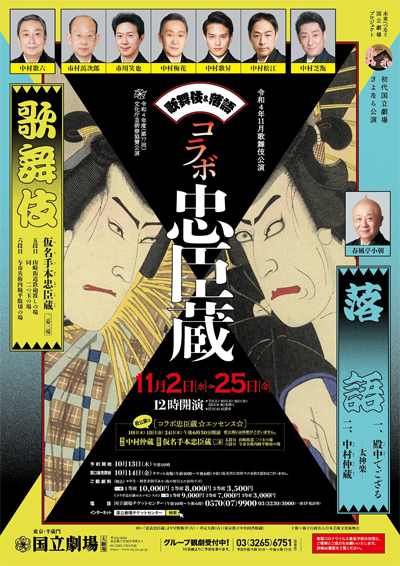 Heisei Nakamuraza (T˘ky˘)
Dates
3 ~ 27 November 2022
1st program

Shiraby˘shi no Hana no En

2nd program

T˘nasuya ~ Fushigi no Kuni no Wakadanna

Casting

Nakamura Kankur˘, Nakamura Shichinosuke, Nakamura Senjaku, Band˘ Yajűr˘, Kataoka Kamez˘, Band˘ Shingo, Nakamura Tsurumatsu, Nakamura Hashinosuke, Nakamura Fukunosuke, Nakamura Utanosuke, Nakamura Toranosuke, Nakamura Kantar˘, Nakamura Ch˘zabur˘, Nakamura Kamenoj˘, Arakawa Yoshiyoshi

Comments

The Heisei Nakamuraza is back in T˘ky˘ in Asakusa in October and November 2022. Not in the Sumida Park as it used to be but in the precincts of the Sens˘ji Temple (at the back of the main temple hall). This program commemorate the 180th anniversary of the 1842 move of all major Kabuki theaters to the remote district of Saruwaka-ch˘ (Edo).

Sources: Earphone Guide Website or Sh˘chiku Kabuki Official Website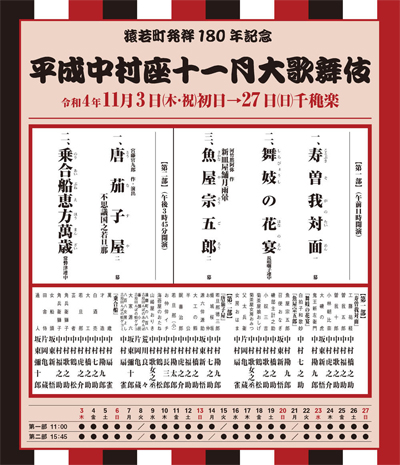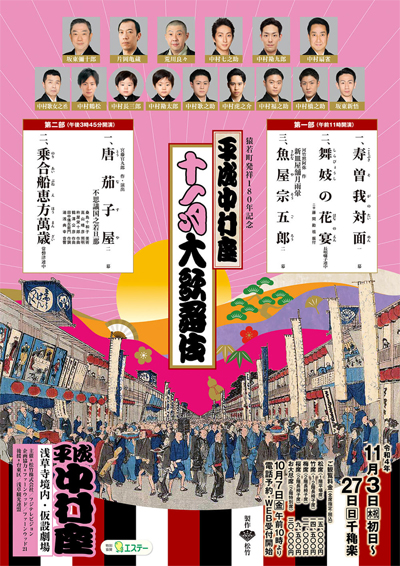 Sh˘chiku Special Tour
Dates
9 ~ 23 November 2022
Program

Nakamura Shid˘ HOW TO Kabuki

Ehon Arashi no Yoru-ni Hitori Monogatari

Casting

Nakamura Shid˘, Sawamura Kuniya, Nakamura Ch˘shi

Comments

A special Sh˘chiku tour with Nakamura Shid˘. No Kabuki performance but a talk on stage about Kabuki and Nakamura Shid˘. The second item in the program is a 1-man recitation (made by Nakamura Shid˘) with projection of images from the child book "Arashi no Yoru ni" (in English "One Stormy Night"), a series of picture books written by Kimura Yűichi. It was adapted to Kabuki in September 2015. This is the story of an unusual friendship between a wolf named Gabu and a goat named Mei [more details].