| | |
| --- | --- |
| Shinbashi Enbuj˘ (T˘ky˘) | |
Dates
1 ~ 25 November 2011 (Kichirei Kaomise ďkabuki)
Annual Festive Face-Showing Grand Kabuki
MatinÚe

Keisei Hangonk˘ (Domo Mata)

Yoshitsune Senbon Zakura (Yoshinoyama)

Evening
Casting

Onoe Kikugor˘, Band˘ Mitsugor˘, Nakamura Tokiz˘, Onoe Kikunosuke, Ichikawa Danz˘, Ichikawa Sadanji, Band˘ Hikosabur˘, Onoe Sh˘roku, Sawamura Tanosuke, Kawarasaki Gonjűr˘, Kataoka Kamez˘, Band˘ Shűch˘, Ichimura Manjir˘, Band˘ Kamesabur˘, Band˘ Kametoshi, Onoe Matsuya, Onoe Ukon, Nakamura Baishi, Band˘ Kokichi, Nakamura Mantar˘, Ichikawa Otora, Fujima Taiga

Comments

This kaomise programs at the Shinbashi Enbuj˘ are staged to commemorate the 22th anniversary (23rd memorial service) and the 16th anniversary (17th memorial service) of the deaths of late Onoe Sh˘roku II and Onoe Baik˘ VII.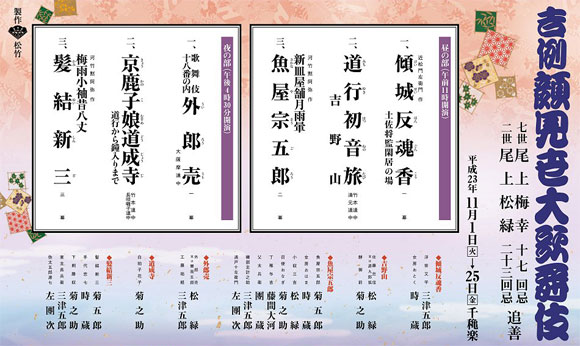 | | |
| --- | --- |
| Hakataza (Fukuoka) | |

Dates
2 ~ 26 June 2011 (Kinshű Hakataza ďkabuki)
Autumn Brocade Hakataza Grand Kabuki
MatinÚe

Yowa Nasake Ukina no Yokogushi (Kirare Yosa)

Evening

Ashiya D˘man ďuchi Kagami (Kuzu-no-Ha)

Y˘kihi

Casting

Ichikawa Danjűr˘, Ichikawa Ebiz˘, Nakamura Shibajaku, Nakamura Fukusuke, Nakamura Karoku, Ichikawa Ukon, Ichikawa En'ya, Ichikawa Unosuke, Ichimura Kakitsu, Ichikawa Monnosuke, Kataoka Ichiz˘, Ichikawa Juen, Ichikawa Emisabur˘, Ichikawa Shun'en, ďtani Keiz˘, Nakamura Shinobu, Nakamura Yonekichi

Comments
| | |
| --- | --- |
| National Theatre (T˘ky˘) | |
Dates
3 ~ 26 November 2011
Program
Casting

Sakata T˘jűr˘, Nakamura Baigyoku, Nakamura Kanjaku, Nakamura Kaishun, Nakamura T˘z˘, Band˘ Takesabur˘, Nakamura Kikaku, Nakamura Matsue, Nakamura Utae, Matsumoto Kingo, Nakamura Umemaru

Comments

To commemorate the forty-fifth anniversary of the founding of the National Theatre, typical author of Kabuki is taken up every month. This month: Chikamatsu Monzaemon. The National Theatre produces two masterpieces, the jidaimono "Nihon Furisode Hajime" and the sewamono "Sonezaki Shinjű".

Nihon Furisode Hajime: this dance is a rare example of a story from ancient Japanese mythology in a puppet play by Chikamatsu Monzaemon adapted for the Kabuki theater. As part of an annual ritual, Princess Inada has been chosen to be sacrificed to a fierce serpent that lives in the mountains of Izumo. The serpent arrives in the guise of a beautiful princess, but before it can attack it is attracted to eight jars full of sake. The jars are a trap planted by the god Susanoo, who confronts the beast in its true form as an eight-headed serpent, to save the princess. Starring Nakamura Kaishun as the serpent, with Nakamura Baigyoku and Nakamura Umemaru in the roles of Susanoo and Princess Inada.
Sonezaki Shinjű: a young merchant named Tokubŕ has long been in love with the courtesan Ohatsu and is diligently trying to buy out her contract. But he is swindled out of his money by someone he considered a friend. Then he is beaten and humiliated in the precincts of the Ikutama shrine. He sneaks into the teahouse where Ohatsu is and she hides him under the veranda. At this point, Tokubŕ's "friend" comes and calls him a criminal. Ohatsu fiercely defends Tokubŕ and asks whether he is prepared to defend his honor by committing love suicide. Silently, from under the veranda, he holds her bare foot and draws it across his neck. The journey to the forest where they commit love suicide is like a dream, half-way between this world and the next and has some of the most famous lines in Japanese theatre: "Farewell to this world and to this night, farewell. To what should we who go to our deaths be likened? We are like the frost on the road leading to the graveyard, vanishing with each step". Starring Nakamura Kanjaku and Sakata T˘jűr˘ in the roles of Tokubŕ and Ohatsu.

Source: Earphone Guide website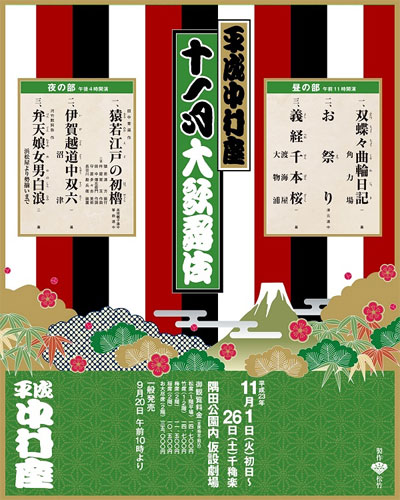 | | |
| --- | --- |
| Yachiyoza (Yamaga) | |

Dates
1 ~ 14 November 2011
Band˘ Tamasabur˘ Special Dance Performances
Program

Shunkashűt˘

Casting
Comments

A special Buy˘ program starring the amazing onnagata Band˘ Tamasabur˘ in Yamaga at the Yachiyoza, a traditional wooden-built theater, which celebrates the 100th anniversary of its opening. "Shunkashűt˘" is a newly-created dance about Japan four seasons; shun is spring, ka is summer, shű is autumn and t˘ is winter.
| | |
| --- | --- |
| Eirakukan (Toyooka) | |
Dates
4 ~ 9 November 2011 (Eirakukan ďkabuki)
Eirakukan Grand Kabuki
Program

Futatsu Ch˘ch˘ Kuruwa Nikki (Hikimado)

Casting

Kataoka Ainosuke, Nakamura Kinnosuke, Kamimura Kichiya, Nakamura Kazutar˘, Nakamura Hayato, Kataoka T˘jur˘

Comments

This is the 4th Kabuki program at the Eirakukan, a renovated traditional theater built in the city of Toyooka (prefecture of Hy˘go).

Hikimado: originally written for the puppet theater, this play shows a tragedy of commoners caught between their duty and their feelings toward their loved ones. A sum˘ wrestler named Nuregami Ch˘gor˘ (Nakamura Kinnosuke) has killed a man and takes refuge at the home of his mother. Unfortunately, her son (Kataoka Ainosuke) has been ordered to arrest him. All of these complicated conflicts are symbolized by the lightness and darkness created by the humble skylight (hikimado in Japanese) as a rope is pulled to move a wooden shutter. Featuring also Nakamura Kazutar˘ in the role of Ohaya.
K˘j˘: the close relationship between the actors and the audience is shown by these stage announcements, lavish ceremonies to commemorate various events, like a Kabuki performance in a small traditional theater.
Chatsubo: the farces of the classical Ky˘gen theater have universal appeal, showing the relationships of masters and servants and husbands and wives. In this particular dance play, a servant (Nakamura Kazutar˘) carries a precious tea caddy which a thief (Kataoka Ainosuke) then claims is his. The servant and the thief must both explain who owns the treasure, first in words, then in dance. Featuring also Kamimura Kichiya in the role of the magistrate.

Source: Earphone Guide website
| | |
| --- | --- |
| ďtsuka Museum of Art (Naruto) | |
| | |
| --- | --- |
| Dates | 12 ~ 14 November 2011 (Sistine Kabuki) |
| Program | Ishikawa Goemon |
| Casting | |
| Comments | Third edition of the Sistine Kabuki, a Kabuki program within the Sistine Hall of the ďtsuka Museum of Art, which is located in the city of Naruto (Tokushima prefecture). Inside this museum, there are more than 1,000 replicas of priceless masterpieces of Western art, from ancient murals to modern paintings, which are reproduced in ceramic to their original size. The Sistine Hall is of course a "reproduction" of the Vatican Sistine Chapel. |
Zenshinza Tour
Dates
21 ~ 25 November 2011
Program

Mizusawa no Ichiya

Casting

Arashi Keishi, Kawarasaki Kunitar˘, Arashi Yoshisabur˘, Yamazaki Tatsusabur˘, Yamazaki Ryűnosuke, Ikushima Kigor˘, Matsunami Kihachir˘

Comments

The Zenshinza troupe is on tour all over Japan. "Mizusawa no Ichiya" is not a Kabuki drama. Only "Kenuki":

Kenuki: in this play, which retains the light, festive atmosphere of early-period Kabuki, a princess has a mysterious ailment that makes her hair stand on end, an ailment that prevents her from carrying out her long-awaited marriage. Kumedera Danj˘ comes from the groom's household to investigate and finds a plot to take over the household when his tweezers float in mid-air. Arashi Keishi stars in a play that features the bombastic aragoto style of acting.

Source: Earphone Guide website