Stage names:
| | |
| --- | --- |
| Nakamura Utae | |
| Kagaya Utae II | |
| Nakamura Utaji | |
Real name: Nakayama Yukio
Guild: Narikomaya
Existence: 6 June 1932 ~ 26 March 2016
Connections:
Master: Nakamura Utaemon VI
Career:
October 1951: he made his first appearance on stage at the ďsaka Kabukiza, where he received the name of Nakamura Utaji.
June 1957: he became nadai and took the name of Kagaya Utae II at the Kabukiza, performing in the dramas "Kagamiyama" and "Imamiya Shinjű".
April 1996: he joined the first league of Kabuki actors (kanbu sh˘shin) took the name of Nakamura Utae at the Kabukiza, playing the role of Omaki in the play "K˘chiyama".
January 2015: Utae appeared on stage for the last time, in T˘ky˘ at the Kabukiza, where he played the role of the sh˘ya's ny˘b˘ in the drama "Ippon Gatana Dohy˘ Iri".
26 March 2016: Utae passed away from pneumonia.
Comments:
Nakamura Utae was a veteran onnagata actor of the Narikomaya guild. He excelled in sewa ny˘b˘ roles in sewamono dramas, tsubone roles in jidaimono dramas and k˘shitsu in both sewamono/jidaimono. His best roles were Awa-no-Tsubone ("Kamakura Sandaiki"), the ny˘b˘ Otsuta ("Meigetsu Hachiman Matsuri"), the k˘shitsu Ok˘ ("Hikosan Gongen Chikai no Sukedachi") and Ch˘gor˘'s mother Ok˘ ("Hikimado").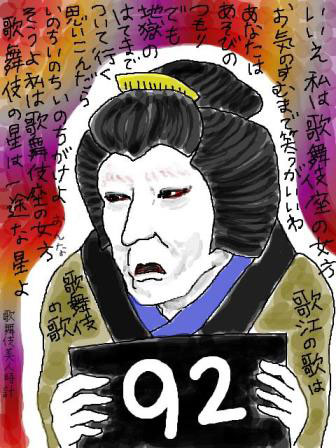 Nakamura Utae
Courtesy of DANGO JIR█ HYPER
This image was part of an amazing 2010 web project, which was entitled Kabuki Bijin Tokei (The Kabuki Beautiful People Clock), a special countdown with original pictures of Kabuki actors, one picture per day up to the closing of the Kabukiza (video on youtube)
Nakamura Utae was Number 92 in this countdown (online the 29th of January 2010, 92 days to go before the closing of T˘ky˘'s most famous theater)