| | |
| --- | --- |
| ROHM Theatre (Ky˘to) | |

Dates
1 ~ 18 December 2017 (Kichirei Kaomise K˘gy˘)
Annual Festive Face-Showing Performances
MatinÚe

Evening
Casting

Living National Treasure Sakata T˘jűr˘, Living National Treasure Kataoka Nizaemon, Nakamura Shikan, Nakamura Tokiz˘, Nakamura Baigyoku, Nakamura Kaishun, Nakamura Ganjir˘, Nakamura Senjaku, Nakamura Kankur˘, Nakamura Shichinosuke, Kataoka Takatar˘, Kataoka Hidetar˘, Band˘ Yajűr˘, Kataoka Shinnosuke, Nakamura Kazutar˘, Nakamura Hashinosuke, Nakamura Fukunosuke, Nakamura Utanosuke

Comments

The traditional kaomise in Ky˘to. As the Minamiza is closed, it is staged at the ROHM Theatre. Nakamura Shikan VIII and his three sons celebrate their shűmei in this theater.

Sources: Earphone Guide Website or Sh˘chiku Kabuki Official Website
| | |
| --- | --- |
| National Theatre (T˘ky˘) | |
Dates
3 ~ 26 December 2017
Program

Imay˘ Sanbas˘

Casting

Living National Treasure Nakamura Kichiemon, Living National Treasure Nakamura T˘z˘, Nakamura Jakuemon, Onoe Kikunosuke, Nakamura Kinnosuke, Nakamura Karoku, Nakamura Matagor˘, ďtani Tomoemon, ďtani Keiz˘, Arashi Kitsusabur˘, Nakamura Kichinoj˘, Nakamura Yonekichi, Nakamura Kash˘, Nakamura Tanenosuke

Comments

Revival of Namiki Gohei I's drama "Suda no Haru Geisha Katagi" (commonly called "Ume no Yoshibŕ"), which was staged for the last time in September 1878 at the National Theatre. The zagashira is Living National Treasure Nakamura Kichiemon.

Imay˘ Sanbas˘: this is a dance adapted from a N˘ play "Okina" which is performed to pray for world peace. The white banner of Minamoto clan which was dedicated to Hakone Gongen Shrine is stolen and young warriors look for it around the shrine. At midnight, they encounter a woman Soga no Ninomiya (Nakamura Jakuemon) holding the white banner. She begins to dance sanbas˘ and dedicate imay˘ (popular style of song at the end of the Heian era) at the shrine. She drives back the warriors who are going to seize her, brandishing the long white banner and at last, reveals her identity as Taira no Tadanoriĺs daughter, Princess Kisaragi.
Ume no Yoshibŕ: this play was written by Namiki Gohei, portraying a real person in the Edo era in ďsaka though adapted to a chivalrous man in Edo (old name for T˘ky˘). Umebori Yoshibŕ (Living National Treasure Nakamura Kichiemon), alias Ume no Yoshibŕ, who once served Mishima Haito, an important retainer of Chiba clan, is looking for the lost heirloom of Chiba clan of which Haito was in charge. With the aid of his old friend Shigaraki Kanjűr˘ (Living National Treasure Nakamura T˘z˘), he also makes every effort to raise enough money to ransom Haitoĺs daughter Kosan (Nakamura Jakuemon) who ran away with Kanaya Kingor˘ (Nakamura Kinnosuke) who also served Chiba clan. He sees through the intrigue by Genbŕ (Nakamura Karoku) and his conspirators and examines it. Yoshibŕĺs wife Koume (Onoe Kikunosuke) secretly asks her brother Ch˘kichi (Onoe Kikunosuke), an apprentice of a rice dealer, to raise money to ransom Kosan. Yoshibŕ encounters Ch˘kichi whom he has never met a few days later at the side of the Sumida River and robs him of the money by killing him. Yoshibŕ makes up his mind to surrender to justice, then Koume tries to take over his guilt. Before she does so, he retrieves the heirloom by confronting Genbŕ and lets Kosan and Kingor˘ return to the service of Chiba clan.

Source: National Theatre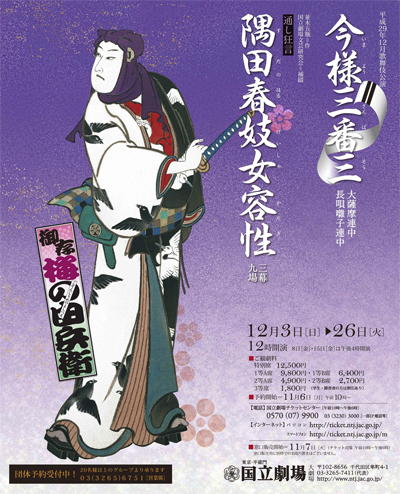 Dates
22 December 2017 (Dent˘ Kabuki Hozonkai Kenshű Happy˘kai)
Training Recital of the Organization for the Preservation of Kabuki
Program

Otanoshimi Zadankai

Casting
Comments

21st Training Recital at the National Theatre produced by the Organization for the Preservation of Kabuki. "Otanoshimi Zadankai" (literally "Enjoyable Roundtable Discussion") is a stage speech with Living National Treasure Nakamura Kichiemon, Living National Treasure Nakamura T˘z˘, Nakamura Jakuemon, Onoe Kikunosuke, Nakamura Kinnosuke, Nakamura Karoku and Nakamura Matagor˘.

Jusshuk˘: Princess Yaegaki is mourning the death of his fiance Katsuyori, but as she burns incense in his memory, she notices the resemblance between the new gardener and her fiance's portrait. The gardener is in fact Katsuyori, who has entered the household of Yaegaki's father to regain the possession of a stolen family treasure, a famous helmet, with the help of Nureginu, a woman who also mourns for the man that died in the place of the real Katsuyori. Unfortunately, Yaegaki's father has also seen through the disguise and plans to kill Katsuyori. The role of Princess Yaegaki, one of the most important onnagata roles, is played by Nakamura Yonekichi.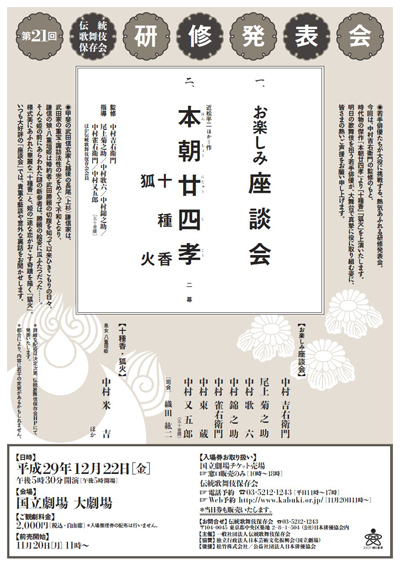 | | |
| --- | --- |
| Kabukiza (T˘ky˘) | |
Dates
2 ~ 26 December 2017 (Jűnigatsu ďkabuki)
December Grand Kabuki
1st Program

Genpei Nunobiki no Taki
(Sanemori Monogatari)

2nd Program
3rd Program

Y˘kihi

Casting

Living National Treasure Band˘ Tamasabur˘, Kataoka Ainosuke, Onoe Sh˘roku, Ichikawa Danz˘, Ichikawa Chűsha, Kataoka Ichiz˘, Kataoka Kamez˘, Ichikawa Monnosuke, Ichikawa Emisabur˘, Kamimura Kichiya, Band˘ Hikosabur˘, Band˘ Kamez˘, Ichimura Manjir˘, Kawarasaki Gonjűr˘, Sawamura S˘nosuke, Nakamura Baishi, Band˘ Shingo, Nakamura Matsue, Nakamura Kotar˘, Nakamura Mantar˘, ďtani Hirotar˘, ďtani Hiromatsu, Ichimura Takematsu, Nakamura Kamenoj˘, Ichimura Kitsutar˘, Kataoka Matsunosuke, Onoe Sakon, Band˘ Kamesabur˘

Comments

The programs for the December Grand Kabuki at the Kabukiza use the sanbusei tripartite system, which is mainly used in August.

Sources: Earphone Guide Website or Sh˘chiku Kabuki Official Website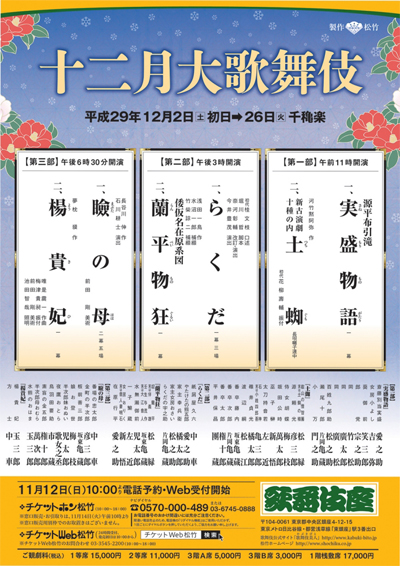 | | |
| --- | --- |
| Chűnichi Theatre (Nagoya) | |

Dates
30 November ~ 2 December 2017
(Zenshinza Nagoya Tokubetsu ~ Chűnichi Gekij˘ Sayonara K˘en)
Zenshinza Nagoya Special Performances ~ Chűnichi Theatre Farewell Performances
Program
Casting

Fujikawa Yanosuke, Kawarasaki Kunitar˘, Arashi Yoshisabur˘, Yamazaki Tatsusabur˘, Tadamura Shin'ya, Matsunami Kihachir˘, Tamaura Yűnosuke

Comments

Special performances of the Zenshinza troupe in Nagoya at the Chűnichi Theatre. This theater will stop its activities at the end of March 2018 as it is located inside the Chűnichi Building, which will be destroyed and rebuilt due to its old age. The k˘j˘ is about the old performances of the Zenshinza in this theater.

Ayatsuri Sanbas˘:
(The Puppet Sanbas˘)
The Sanbas˘ is part of the ritual N˘ play "Okina", a prayer for prosperity and in Kabuki the vigorous Sanbas˘ dance is often performed separately. To make the dance especially auspicious, the old man Okina and attendant Senzai appear as well. In Kabuki, the Sanbas˘ dance appears in all kinds of versions. In this particular version, the Sanbas˘ is actually a giant marionette, dancing lightly until his antics tangle his strings, creating problems for his puppeteer.
K˘j˘: the close relationship between the actors and the audience is shown by these stage announcements, lavish ceremonies to commemorate various important events. In this case, all the actors of the line-up assemble to evocate memories of performances in Nagoya at the Chűnichi Theatre.
Bunshichi Mottoi: Ch˘bŕ spends his days and nights gambling, but is finally made aware of his family's problems when his daughter takes a job in the pleasure quarters. Having received the money for her contract, he shows his good side to save a young man on the edge of suicide after losing a large sum of money, but nobody believes Ch˘bŕ, thinking that he has gambled the money away. The performance stars Fujikawa Yanosuke, Kawarasaki Kunitar˘ and Tadamura Shin'ya in the roles of Ch˘bŕ, Ch˘bŕ's wife Okane and Bunshichi.

Sources: Earphone Guide Website or Sh˘chiku Kabuki Official Website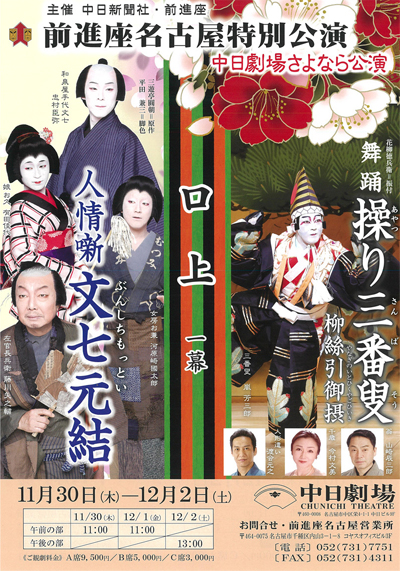 | | |
| --- | --- |
| Shunjűza (Ky˘to) | |