Stage names:
| | |
| --- | --- |
| Onoe Sakon III | |
Real name: Fujima Taiga
Guild: Otowaya
Line number: SANDAIME (III)
Birthday: 20 January 2006
Connections:
Great-great-grandfather: Matsumoto K˘shir˘ VII
Great-grandfather: Onoe Sh˘roku II
Grandfather: Onoe Tatsunosuke I
Father: Onoe Sh˘roku IV
Career:
October 2009: first stage appearance (omemie), at the Kabukiza where he plays the role of Otowaka in the danmari "Otowa-ga-Dake Danmari".
January 2014: premiere at the National Theatre of "Sanzen Ry˘ Haru no Komahiki", a revival of Tatsuoka Mansaku's 1794 drama "Keisei Haru no Tori"; Taiga plays the role of Oda Samp˘shimaru [more details].
June 2014: debut on stage (hatsubutai) at the Kabukiza, where he receives the name of Onoe Sakon III and plays the role of Ranpei's son Shigez˘ in the spectacular drama "Ranpei Monogurui"; the role of Shigez˘'s father Ranpei is played by ... his real father Onoe Sh˘roku IV.
Comments:
Onoe Sakon III is the young heir of the Otowaya guild.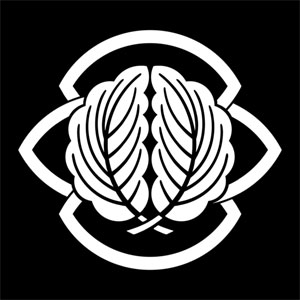 The mon of Onoe Sakon III
The Onoe Sakon line of actors