Real name: Kataoka Shinnosuke
Guild: Matsushimaya
Birthday: 7 September 1967
Connections:
Grandfather: Kataoka Nizaemon XIII
Father: Kataoka Gatô V
Career:
February 1971: he makes his first appearance on stage at the Ôsaka Shinkabukiza, playing under his real name the role of the kamuro Koben in the drama "Sakura Shigure". The two programs at the Ôsaka Shinkabukiza commemorate the 36th anniversary (37th memorial service) of late Kataoka Nizaemon XI and celebrate the shûmei of Shinnosuke's father Kataoka Gatô V and Arashi Tokusaburô VII.
1998: Shinnosuke becomes nadai.
Comments:
Kataoka Shinnosuke is a young promising tachiyaku of the Matsushimaya guild.
[More data in Japanese]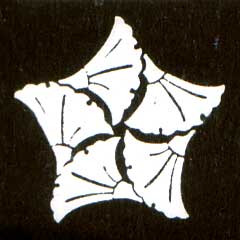 The mon of Kataoka Shinnosuke