| | |
| --- | --- |
| Kabukiza (T˘ky˘) | |
Dates
2 ~ 26 April 2018
Shigatsu ďkabuki
April Grand Kabuki
MatinÚe

Saig˘ to Katsu

Evening
Casting

Living National Treasure Onoe Kikugor˘, Living National Treasure Kataoka Nizaemon, Living National Treasure Nakamura T˘z˘, Nakamura Tokiz˘, Nakamura Kinnosuke, Kataoka Takatar˘, Ichikawa Danz˘, Band˘ Yajűr˘, Ichikawa Danz˘, Onoe Sh˘roku, Band˘ Hikosabur˘, Ichikawa Sai'nyű, Band˘ Kamez˘, Kamimura Kichiya, Kawarasaki Gonjűr˘, Ichimura Manjir˘, Nakamura Matsue, Sawamura Yoshijir˘, Kataoka Matsunosuke, Nakamura Umemaru, Band˘ Kamesabur˘

Comments

Living National Treasure Kataoka Nizaemon does his isse ichidai performance for the roles of the villains Tateba no Taheiji and Saeda Daigakunosuke in Tsuruya Nanboku IV's masterpiece "Ehon Gapp˘-ga-Tsuji".

Saig˘ to Katsu: this is a so-called 'New Kabuki' play set in the time just before the Meiji Restoration (1868). As the allied forces of the Satsuma and Ch˘shű domains led by Saig˘ Takamori (Onoe Sh˘roku) are about to attack Edo Castle, the minister of the shogunate, Katsu Kaishű (Nakamura Kinnosuke), makes desperate efforts to save the Sh˘gun's life and the people of Edo (the old name for T˘ky˘) from the fires of war. Katsu goes to Saig˘ and they talk candidly. The negotiations result in the bloodless surrender of Edo Castle.
Ura Omote Sendai Hagi: this is a play showing both sides of the troubles that affected the Ashikaga clan. It is based on the older play "Sendai Hagi" that describes the troubles of the Date clan in Sendai. On the outside it takes the form of a jidaimono history play, while on the inside it depicts the case of a doctor's murder in the style of a sewamono play. Sewamono plays depict the lives of ordinary people in the Edo period. Nikki Danj˘ (Living National Treasure Onoe Kikugor˘) plans to overtake the Ashikaga household and asks the doctor ďba D˘eki (Ichikawa Danz˘) to mix a poison to assassinate Tsuruchiyo, the young heir of Ashikaga clan. D˘eki receives money as a reward, but his servant Kosuke (Living National Treasure Onoe Kikugor˘) kills him to steal the money, putting the blame on Otake (Kataoka Takatar˘) whom he loves. The court lady Sakae Gozen (Ichimura Manjir˘) brings Tsuruchiyo poisoned cakes, but Senmatsu, the son of Tsuruchiyo's wet-nurse Masaoka (Nakamura Tokiz˘), saves Tsuruchiyo by tasting them before his young lord, as Masaoka had taught him to do. As Otake is about to be declared guilty of murdering D˘eki, Hosokawa Katsumoto's retainer Kurahashi Yajűr˘ (Onoe Sh˘roku) produces irrefutable evidence and Kosuke is found guilty. Furthermore, Katsumoto (Nakamura Kinnosuke) convicts Nikki Danj˘ after an appeal by an old retainer who risks his life. Featuring also Living National Treasure Nakamura T˘z˘ and Band˘ Yajűr˘ in the roles of Gekizaemon and Yashio.
Ehon Gapp˘-ga-Tsuji: this is a rare full-length production of a revenge classic by Tsuruya Nanboku IV (1755~1829). First performed in 1810, "Ehon Gapp˘-ga-Tsuji" was a dramatization of a popular revenge case of the time. The charm of this play lies in the activity of the two villains. Daigakunosuke, a samurai who is trying to take over his clan, steals the clan's treasures and kills everyone who gets in his way. Tateba no Taheiji, a ruffian from the lowest level of society plots together with Daigakunosuke and also kills many people. This play depicts the villains' exuberant rampage until, finally, they are defeated in a revenge vendetta by the heroes. One of the special highlights of this production is that a single actor, Living National Treasure Kataoka Nizaemon, will play two different roles: that of Daigakunosuke who is a villain with power, and Tateba no Taheiji who is an evil commoner. Starring also Nakamura Tokiz˘, Band˘ Yajűr˘, Nakamura Kinnosuke, Kataoka Takatar˘ and Ichikawa Danz˘.

Sources: Earphone Guide Website or Sh˘chiku Kabuki Official Website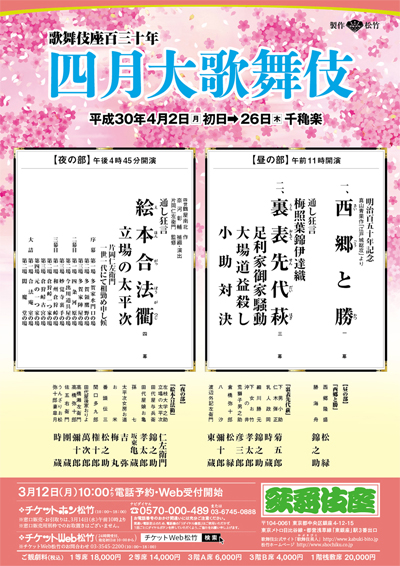 | | |
| --- | --- |
| Misonoza (Nagoya) | |
Dates
1 ~ 25 April 2018
Kokera Otoshi Shigatsu ďkabuki
Opening Ceremony April Grand Kabuki
MatinÚe
Evening

Kajiwara Heiz˘ Homare no Ishikiri
(Ishikiri Kajiwara)

Casting

Living National Treasure Nakamura Kichiemon, Matsumoto Haku˘, Matsumoto K˘shir˘, Nakamura Jakuemon, Nakamura Ganjir˘, Ichikawa Sadanji, Kataoka Hidetar˘, Nakamura Karoku, Nakamura Matagor˘, ďtani Tomoemon, Ichikawa Komaz˘, Nakamura Kazutar˘, Nakamura Kash˘, Nakamura Tanenosuke, Nakamura Yonekichi, Sawamura S˘nosuke, ďtani Hirotar˘, Matsumoto Kingo, Arashi Kitsusabur˘, Nakamura Jűjir˘, Nakamura Kichinoj˘

Comments

Opening (kokera otoshi) of the new Misonoza with the shűmei of Matsumoto Haku˘ II and Matsumoto K˘shir˘ X.
| | |
| --- | --- |
| Kanamaruza (Konpira) | |
Dates
7 ~ 22 April 2018
Shikoku Konpira Kabuki ďshibai
Shikoku Konpira Kabuki Grand Theatre
MatinÚe

Ejima Ikushima

Evening

Yoshitsune Senbon Zakura
(Torii Mae)

Kamakura Sandaiki
(Kinugawa-mura Kankyo)

Casting

Nakamura Shikan, Nakamura Baigyoku, Nakamura Kaishun, Onoe Matsuya, Nakamura Kotar˘, Nakamura Hashinosuke, Nakamura Fukunosuke, Band˘ Shűch˘, Ichimura Kitsutar˘, Nakamura Baika

Comments

34th edition of the Spring Kabuki performance Shikoku Konpira Kabuki ďshibai at the Kanamaruza on Shikoku island! Nakamura Shikan VIII and two of his three sons, Nakamura Hashinosuke IV and Nakamura Fukunosuke III, celebrate their shűmei at the Kanamaruza!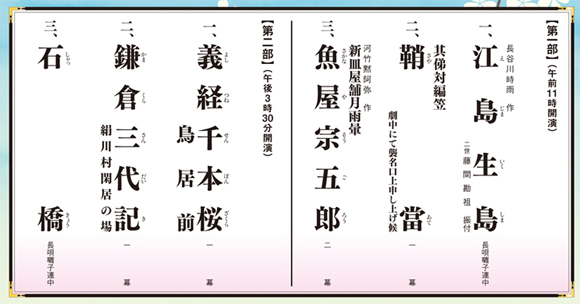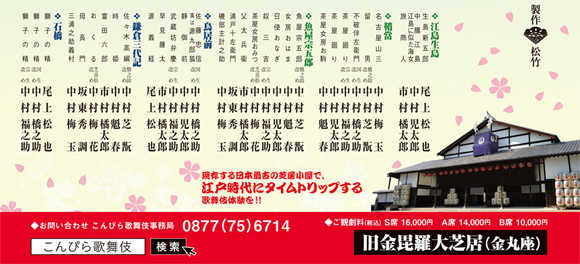 Shungy˘ Special Tour
Dates
17 March ~ 5 April 2018
Shungy˘ Tokubetsu K˘en
The Dawn of Spring Special Performances
Program

Geidan

Urashima

Casting

Nakamura Kankur˘, Nakamura Shichinosuke, Nakamura Tsurumatsu

Comments

The Spring Tour of the Nakamuraya guild with performances in 12 cities. The first item (geidan) in this program is a talk.

Tsuru Kame: the crane (tsuru) is said to live for a thousand years, the tortoise (kame) is said to live for ten thousand years. Together, they are a traditional symbol of longevity. There is no particular plot to this play, but simply shows a visit by the empress to the Moon Pavilion where two courtiers dance as the spirits of the crane and tortoise.
Urashima: This dance depicts a Japanese folk tale of a young man named Urashima (Nakamura Kankur˘) who is invited to the Dragon Palace under the sea for saving a turtle's life. When Urashima returns back home, he finds that many year had elapsed during the few days he spent at the Dragon Palace. When he opens up the gift boxes, lovingly thinking of the Princess of the Sea who had given them to him, a puff of smoke appears and Urashima turns into an old man with silvery white hair. This dance utilizes many beautiful melodies and brilliantly expresses Urashima's feeling at the moment of change.
Makura Jishi: the keisei Yayoi performs a dance expressing her bitterness toward her dreary life in the gay quarters, but she gradually finds herself under the control of the lion spirit. In the second half of the dance, the lion spirit itself appears and performs its crazed dance among peonies and fluttering butterflies. Starring Nakamura Shichinosuke as both the courtesan Yayoi and the spirit of the lion.

Sources: Earphone Guide Website or Sh˘chiku Kabuki Official Website
Nihon Buy˘ for "Urashima"
Ichikawa Ebiz˘ Special Tour
Dates
1 March ~ 7 April 2018
Ichikawa Ebiz˘ Tokubetsu K˘en
Ichikawa Ebiz˘ Special Performances
Program
Casting

Ichikawa Ebiz˘, Kataoka Ichiz˘, Ichimura Kakitsu, Ichikawa Kudanji, ďtani Hiromatsu, Katayama Kur˘emon, Kanze Yoshimasa, Miroku Tadashi, Shigeyama Ippei, Ichikawa Botan

Comments

The Spring Tour of Ichikawa Ebiz˘ with performances in 23 cities. A special program mixing Kabuki, N˘ and Opera. The heir of the Naritaya guild performs in a special version of "Genji Monogatari", featuring the N˘ actors Katayama Kur˘emon X and Kanze Yoshimasa, and the Opera Tenor/Countertenor Miroku Tadashi. The script for this version of "Genji Monogatari" focuses on the story from Oborozukiyo to Suma/Akashi.

Genji Monogatari: Japan's oldest love story is reborn from a wondrous collaboration of Kabuki, N˘ and Opera. The Tale of Genji was written in the 11th century by Murasaki Shikibu, a lady of the Heian court. The whole story consists of 54 chapters and unfolds in a number of human relationships and romances that Hikaru-no-kimi,,the hero of the tale(acted by Ichikawa Ebiz˘), had in his life while describing to the court about life in the Heian period of Japan. This story is to recreate a new "The Tale of Genji" incorporating the essence of Kabuki, N˘, another form of traditional Japanese theatre culture, and Opera, an art long-cultivated in Western culture. That is sometimes elegant and quiet, yet sometimes dramatic and aggressive. The beautiful four seasons of Japan are recreated on the stage which will remind audiences of profoundness Japanese sensitivity.

Source: Sh˘chiku Kabuki Official Website
| | |
| --- | --- |
| Sh˘chikuza (ďsaka) | |
Dates
1 ~ 25 April 2018
SűpÔ Kabuki Sekando
Super Kabuki II
Program

ONE PIECE

Casting

Ichikawa Ennosuke, Ichikawa Udanji, Band˘ Minosuke, Onoe Ukon, Ichikawa Monnosuke, Band˘ Takesabur˘, Ichikawa Emisabur˘, Ichikawa Emiya, Ichikawa En'ya, Ichikawa Omez˘, Band˘ Shingo, Nakamura Hayato, Ichikawa Juen, Ichikawa K˘tar˘

Comments

The SűpÔ Kabuki Sekando drama "ONE PIECE", based on Oda Eiichir˘'s internationally popular manga "ONE PIECE", which got his first very successful stage adaptation by Ichikawa Ennosuke in October 2015/November 2015 at the Shinbashi Enbuj˘. It was staged one more time in the same theater in October 2017/November 2017 ... without Ichikawa Ennosuke, who broke his left arm, and could not perform the leading roles of Luffy and Hancock. He was successfully replaced by Onoe Ukon. It is staged this month in ďsaka at the Sh˘chikuza for the second time (first time in March 2016 in the same theater). Most of the actors are Kabuki actors, with 3 non-Kabuki guest actors : Hira Takehiro, Kashima Noritoshi and Asano Kazuyuki. It is almost the same cast as in 2015 (minor differences).

ONE PIECE: "ONE PIECE", a hugely successful manga series, first appeared in the July 1997 issue of the Weekly Sh˘nen Jump magazine. As a book, the first volume was published in December 1997 and it soon gained a national reputation. The series has now reached 80 volumes and the number of copies printed of the series in Japan alone totals more than 350 million. As a result, it was awarded the Guinness World Record as "Most copies published for the same comic book series by a single author" in June 2015. The play is a marine adventure featuring the hero Luffy who explores the ocean with his diverse crew named the Straw Hat Pirates. They are in search of the worldĺs ultimate treasure known as 'One Piece' so that Luffy can become the next Pirate King. The play depicts the episode 'PARAMOUNT WAR' which is still popular among One Piece fans! Luffy engages in war determined to fight to the last in order to rescue his brother Ace who was captured!

Sources: Earphone Guide Website or Sh˘chiku Kabuki Official Website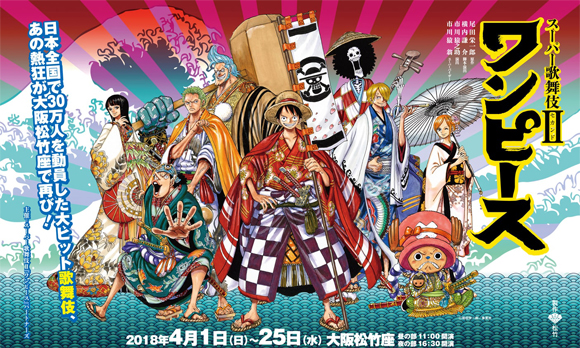 | | |
| --- | --- |
| ROHM Theatre (Ky˘to) | |

Dates
24 April 2018
Daisankai Kudanji no Kai
Kudanji's Third Gala
Program
Casting
Comments

3rd edition of the Kudanji no Kai in Ky˘to, which stars Ichikawa Ebiz˘'s disciple Ichikawa Kudanji. Kudanji no Kai literally means "Kudanji's Association".
Noda City Culture Center
Dates
26 April 2018
Daisankai Kudanji no Kai
Kudanji's Third Gala
Program
Casting
Comments

3rd edition of the Kudanji no Kai in Ky˘to, which stars Ichikawa Ebiz˘'s disciple Ichikawa Kudanji. Kudanji no Kai literally means "Kudanji's Association".
Dates
28 ~ 29 April 2018
Ch˘kabuki
Ultra-Kabuki
Program

Tsumoru Omoi Hana no Kaomise

Casting
Comments

The world of Kabuki and the world of otaku collide for the second time in Kabuki history! Resulting from this spectacular collision, a new genre, the Ch˘kabuki (literally Ultra-Kabuki), was born in 2016 [more details]. Nakamura Shid˘ shares the stage with the virtual 3D creature Hatsune Miku. They perform "together" in a newly-created Ch˘kabuki drama. It is staged at the Makuhari Messe as part of the Niconico Ch˘kaigi 2018 event, an important yearly event for the otaku tribes.