| | |
| --- | --- |
| Kabukiza (T˘ky˘) | |
Dates
2 ~ 26 April 2016 (Shigatsu ďkabuki)
April Grand Kabuki
MatinÚe

Matsu no Kotobuki Ayatsuri Sanbas˘

Okitsu Nami Yami no Shiranui (Shiranui Kengy˘)

Evening

Hikosan Gongen Chikai no Sukedachi

Gens˘shin Kűkai

Casting

Living National Treasure Kataoka Nizaemon, Matsumoto K˘shir˘, Nakamura Jakuemon, Nakamura Kaishun, Nakamura Kinnosuke, Kataoka Takatar˘, Ichikawa Somegor˘, Band˘ Yajűr˘, Kataoka Hidetar˘, Ichikawa Sadanji, Nakamura Karoku, Nakamura Matagor˘, Nakamura T˘z˘, Onoe Matsuya, ďtani Tomoemon, Ichikawa Komaz˘

Comments

"Gens˘shin Kűkai" is a newly-created drama and it is about the stay in China of the priest Kűkai. This drama is staged to celebrate the 1200 anniversary of the acceptation by the emperor of Japan in 816 of the request made by Kűkai to build K˘yasan. The original story was written by the Japanese SF master Yumemakura Baku. Others highlights in April will be:

Living National Treasure Kataoka Nizaemon and his son Kataoka Takatar˘ playing the roles of Rokusuke and Osono in "Keya-mura".
Matsumoto K˘shir˘ playing the role of the anma Tomi-no-Ichi, later Shiranui Kengy˘ II in Uno Nobuo's drama "Okitsu Nami Yami no Shiranui".

Sources: Earphone Guide Website or Sh˘chiku Kabuki Official Website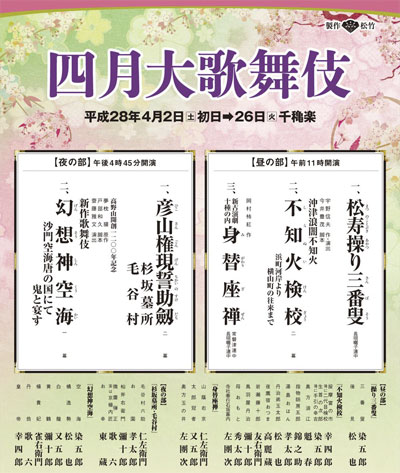 | | |
| --- | --- |
| Kanamaruza (Konpira) | |
| | |
| --- | --- |
| Meijiza (T˘ky˘) | |
Dates
2 ~ 26 April 2016 (Shigatsu Hanagata Kabuki)
April Young Actors Kabuki
MatinÚe

Ashiya D˘man ďuchi Kagami (Kuzu-no-Ha)

Suehirogari

Evening

Ukare Shinjű

Casting

Onoe Kikunosuke, Nakamura Kankur˘, Nakamura Shichinosuke, Band˘ Hikosabur˘, Kataoka Kamez˘, Kawarasaki Gonjűr˘, Kamimura Kichiya, Band˘ Kamesabur˘, Band˘ Kametoshi, Nakamura Baishi, Band˘ Shingo, Nakamura Mantar˘, Arashi Kitsusabur˘, Nakamura Kamenoj˘, Ichimura Kitsutar˘, Nakamura Tsurumatsu, Nakamura Kunio

Comments

April Young Actors Kabuki performances at the Meijiza! The rarely-staged matsubamemono "Suehirogari" is revived. There were only 2 records in T˘ky˘: in December 1909 at the T˘ky˘ Gekij˘ with Ichikawa Ennosuke I and Onoe Baik˘ VI in the roles of Tar˘kaja and his master. In August 1992 at the National Theatre with Ichikawa Danz˘ and Nakamura Tomotar˘ in the roles of Tar˘kaja and his master. Lots of hatsuyaku for the 3 young stars:

Sources: Earphone Guide Website or Sh˘chiku Kabuki Official Website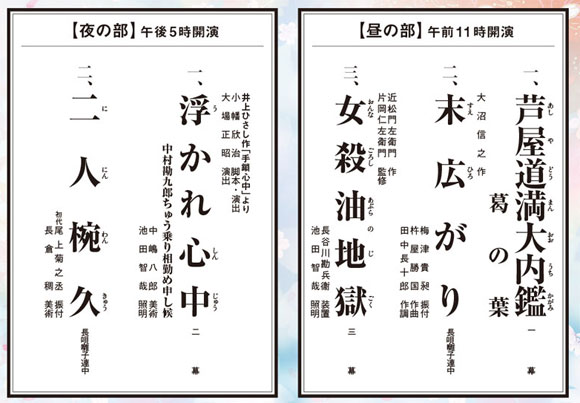 | | |
| --- | --- |
| Ky˘to (Ky˘to Gekij˘) | |

Dates
6 ~ 16 April 2016 (Ichikawa Ebiz˘ Tokubetsu K˘en)
Ichikawa Ebiz˘ Special Performances
Program
Kabuki Casting

Ichikawa Ebiz˘, Kataoka Ichiz˘, Ichikawa Unosuke, Ichikawa Kudanji, ďtani Hiromatsu, Katayama Kur˘emon, Kanze Yoshimasa, Anthony Roth Costanzo, Shigeyama Ippei, Ichikawa Botan

Comments

A special program mixing Kabuki, N˘ and Opera. The young heir of the Naritaya guild performs in a special version of "Genji Monogatari", featuring the N˘ actors Katayama Kur˘emon X and Kanze Yoshimasa, and the Opera Countertenor Anthony Roth Costanzo. The script for this version of "Genji Monogatari" focuses on the story from Oborozukiyo to Suma/Akashi.

Genji Monogatari: Japan's oldest love story is reborn from a wondrous collaboration of Kabuki, N˘ and Opera. The Tale of Genji was written in the 11th century by Murasaki Shikibu, a lady of the Heian court. The whole story consists of 54 chapters and unfolds in a number of human relationships and romances that Hikaru-no-kimi,,the hero of the tale(acted by Ichikawa Ebiz˘), had in his life while describing to the court about life in the Heian period of Japan. This story is to recreate a new "The Tale of Genji" incorporating the essence of Kabuki, N˘, another form of traditional Japanese theatre culture, and Opera, an art long-cultivated in Western culture. That is sometimes elegant and quiet, yet sometimes dramatic and aggressive. The beautiful four seasons of Japan are recreated on the stage which will remind audiences of profoundness Japanese sensitivity.

Source: Sh˘chiku Kabuki Official Website
| | |
| --- | --- |
| Hakataza (Fukuoka) | |

Dates
2 ~ 26 April 2016 (SűpÔ Kabuki Sekando)
Super Kabuki II
Program

ONE PIECE

Casting

Ichikawa Ennosuke, Ichikawa Ukon, Ichikawa Monnosuke, Ichikawa Omez˘, Band˘ Takesabur˘, Ichikawa Emisabur˘, Ichikawa Emiya, Ichikawa Shun'en, Ichikawa En'ya, Ichikawa Juen, Ichikawa K˘tar˘, Band˘ Minosuke, Nakamura Hayato, Onoe Ukon

Comments

Oda Eiichir˘'s internationally popular manga "ONE PIECE" gets his first Kabuki adaptation by Ichikawa Ennosuke. Premiered in October 2015/November 2015 at the Shinbashi Enbuj˘, it is staged this month in Fukuoka at the Hakataza. Technically and artistically speaking, it is not Kabuki but SűpÔ Kabuki Sekando (the second generation of SűpÔ Kabuki), a genre created by Ichikawa Ennosuke III and continued by his nephew Ichikawa Ennosuke IV. Most of the actors are Kabuki actors, with 3 non-Kabuki guest actors : Hira Takehiro, Kashima Noritoshi and Asano Kazuyuki.

ONE PIECE: "ONE PIECE", a big hit comic of Japan, and Super Kabuki II by Ichikawa Ennosuke IV make a miraculous collaboration! The largest-scale project ever begins! "ONE PIECE" has started since the July 1997 issue of Weekly Sh˘nen Jump. As a book, the first volume was published in December 1997 and gained a national reputation soon. The series reach 77 volumes and the number of copies printed of the series is more than the world record 320,000,000, so it was awarded Guinness World Record as the most printed comic series by a writer in June 2015. Ichikawa Ennosuke IV is one of star Kabuki actors who will bear the next generation. He challenges aggressively to classic kabuki and new kabuki with rich expression and unique personality. He succeeded to the spirit of Super Kabuki which had been originated by his uncle Ichikawa Ennosuke III (Ichikawa Enĺ˘ II) and performed "Sora o Kizamu Mono" [A Man who sculptures the Sky] as the first play of Super Kabuki II in March and April 2014, which resulted in a great success. It is a marine adventure roman by the hero Luffy (Ichikawa Ennosuke) who explores the ocean with his diverse crew of pirates, named the Straw Hat Pirates, in search of the world ultimate treasure known as ONE PIECE in order to become the next Pirate King. The Straw Hat Pirates broke up in the battle against the navy at Sabaody Islands, the entrance to the new world, the next step to the big navigation in search of the world ultimate treasure. Luffy became alone, hears of his brother Aceĺs execution and hurries to rescue him. Luffy is able to break through the navyĺs barricade, but Ace has already been transferred to the navy head quarter. Luffy and the Straw Hat Pirates fight Summit Battle against the navy at its head quarter!

Sources: Sh˘chiku Kabuki Official Website
| | |
| --- | --- |
| Makuhari Messe (Chiba) | |
Dates
29 ~ 30 April 2016 (Ch˘kabuki)
Ultra-Kabuki
Program

Hana Kurabe Senbon Zakura []

Casting
Comments

The world of Kabuki and the world of otaku collide! Resulting from this spectacular collision, a new genre, the Ch˘kabuki (literally Ultra-Kabuki), is born! Nakamura Shid˘, performing the role of Sat˘ Shiroby˘e Tadanobu (in reality the fox Genkur˘), shares the stage with the virtual 3D creature Hatsune Miku. They perform "together" in a Ch˘kabuki dance-drama which is choreographed by Fujima Kanjűr˘ VIII and is entitled "Hana Kurabe Senbon Zakura". It is staged at the Makuhari Messe as part of the Niconico Ch˘kaigi 2016 event, an important yearly event for the otaku tribes [the flyer | a video of Hatsune Miku | website].