Dance title
Makura Jishi
Hanabusa Shishi no Rankyoku
Authors
Sakata Hyōshirō (music)
Fujima Kanjūrō VI (choreography)
History

The dance "Makura Jishi" was premiered in the 3rd lunar month of 1742 at the Ichimuraza, under the title "Hanabusa Shishi no Rankyoku", as the third part (sanbanme) of the new year program "Fuji Miru Sato Sakae Soga". The leading role of this shakkyōmono was played by Segawa Kikunojō I.

The current kata were created by the choreographer Fujima Kanjūrō VI, who made a revised version of the choreography of "Makura Jishi" for the star Nakamura Utaemon VI, who performed it in June 1953 at the Kabukiza.

Key words
Nagauta
Shakkyō
Shakkyō (Nō)
Shakkyōmono
Shishi
Shishimono
Shosagoto
Summary

The fantastically beautiful courtesan Yayoi dances to the music, showing bitterness toward her dreary life in the gay quarters. While dancing, she becomes overawed by a peony and gradually forgets herself, falling into a trance from the soporific effects of the flower. Before she knows what is happening she is possessed by a lion spirit. Long, long ago the peony and the lion were closely associated symbols.

At first, Yayoi dances gracefully, yearning for love. Before long she picks up a tiny lion's head. Then she becomes more and more absorbed in the dance. Finally, she loses control of herself as the lion's spirit takes over her movements, pulling her off the stage. There follows an interlude in which Yayoi's two attendants perform sometimes merrily but sometimes melancholically. After they have gone, the music becomes intensively restless. At this point, Yayoi reappears. She is now a personification of the lion spirit. She dances dynamically in Shishi no Kurui Manner, which depicts the state of the legendary lion in a playful frenzy.

This summary has been written by Watanabe Hisao and edited by Jeff Blair [website]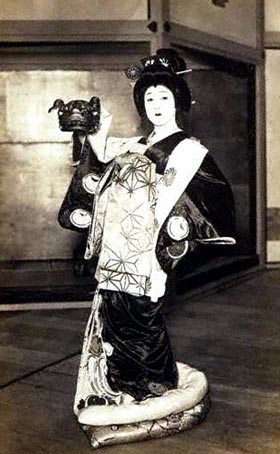 An unknown dancer performing "Makura Jishi"