| | |
| --- | --- |
| Kabukiza (T˘ky˘) | |
Dates
1 ~ 25 November 2017 (Kichirei Kaomise ďkabuki)
Annual Festive Face-Showing Grand Kabuki
MatinÚe

Waki Noboru Mizu-ni Koi Taki (Koi Tsukami)

ďshű Adachi-ga-Hara (Sodehagi Saimon)

Evening

Koi Bikyaku Yamato ďrai (Ninokuchi-mura)

Casting

Living National Treasure Sakata T˘jűr˘, Living National Treasure Onoe Kikugor˘, Living National Treasure Kataoka Nizaemon, Living National Treasure Nakamura T˘z˘, Matsumoto K˘shir˘, Nakamura Jakuemon, Nakamura Tokiz˘, Nakamura Senjaku, Kataoka Hidetar˘, Ichikawa Somegor˘, Kataoka Takatar˘, Nakamura Kinnosuke, Ichikawa Danz˘, Band˘ Yajűr˘, Nakamura Karoku, Nakamura Matagor˘, ďtani Tomoemon, Ichikawa Sai'nyű, Ichimura Kakitsu, Band˘ Shűch˘, Ichikawa Komaz˘, Band˘ Hikosabur˘, Kamimura Kichiya, Sawamura Yoshijir˘, Matsumoto Kingo, ďtani Keiz˘, Nakamura Kotar˘, Matsumoto Kintar˘, ďtani Hirotar˘, Kataoka Matsunosuke, Nakamura Kichinoj˘

Comments

The traditional November kaomise programs at the Kabukiza!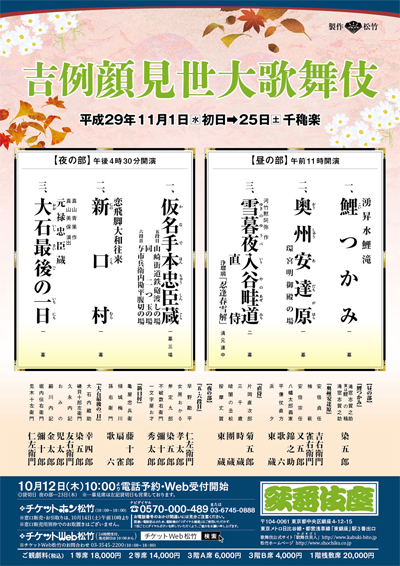 | | |
| --- | --- |
| National Theatre (T˘ky˘) | |
Dates
3 ~ 26 November 2017
Program

Sakazaki Dewa-no-Kami

Kutsukake Tokijir˘

Casting

Nakamura Baigyoku, Nakamura Kaishun, Onoe Sh˘roku, Ichikawa Sadanji, Band˘ Rakuzen, Kawarasaki Gonjűr˘, Ichimura Manjir˘, Band˘ Kamez˘, Nakamura Baishi, Nakamura Matsue, Nakamura Kash˘, Arashi Kitsusabur˘, Ichimura Takematsu, Onoe Sakon, Ichikawa Otora, Nakamura Tamatar˘, Ichimura Kitsutar˘, Nakamura Kamenoj˘

Comments

Two Shinkabuki dramas are staged this month at the National Theatre, with Nakamura Baigyoku, Nakamura Kaishun and Onoe Sh˘roku as leading actors. These two dramas have not been staged for 36 years. Yamamoto Yűz˘'s drama "Sakazaki Dewa-no-Kami" was staged for the last time in February 1981 at the Kabukiza and it is staged to commemorate the 130th birthday of Yamamoto Yűz˘. Hasegawa Shin's drama "Kutsukake Tokijir˘" was staged for the last time in December 1981 at the Kabukiza.

Sakazaki Dewa-no-Kami: "Sakazaki Dewa-no-Kami" was written by Yamamoto Yűz˘ (1887-1974) for Onoe Kikugor˘ VI (1885-1949) and first performed in 1921. In 1615 Tokugawa Ieyasu (Nakamura Baigyoku) attacked with his allied daimy˘ lords the ďsaka Castle to destroy Toyotomi Clan and establish the rule by Tokugawa Shogunate. Ieyasuĺs granddaughter Princess Sen (Nakamura Baishi) was married to Toyotomi Hideyori, the young lord of Toyotomi clan. Ieyasu promised to marry Princess Sen to the man who rescues her. Sakazaki Dewa-no-Kami (Onoe Sh˘roku), the lord of Tsuwano Castle, believed this promise and rescues Princess Sen from the ďsaka Castle in flames, burning his face. As Princess Sen dislikes Sakazaki, Ieyasuĺs adviser Konchiin Sűden (Ichikawa Sadanji) tells Sakazaki that Princess Sen is becoming a nun and Sakazaki temporarily gives up to marry her. As he hears Princess Sen is going to marry Honda Heihachir˘ (Band˘ Kamez˘), one of Ieyasuĺs chief vassals and his rival in love, he hopes her to be happy, but he cannot easily give up his love for her. He attacks her wedding parade and tries to abduct her. Featuring also Kawarasaki Gonjűr˘, Ichimura Manjir˘ and Nakamura Kash˘.
Kutsukake Tokijir˘: this play was written by Hasegawa Shin (1884-1963) and first performed in 1928. Mutsuta no Sanz˘ĺs boss was arrested and will be exiled. Sanz˘ (Onoe Sh˘roku) is the only one remaining in his gang, and the opposing gang attacks him. The wandering gambler Kutsukake Tokijir˘ (Nakamura Baigyoku) owes the opposing gang a meal and a lodging, so he sides with them and slays Mutsuta no Sanz˘ in a single combat. As the opposing gang further try to slay Sanz˘ĺs wife Okinu (Nakamura Kaishun) and son Tarokichi (Onoe Sh˘roku's own son Onoe Sakon), Tokijir˘ protects them. As Tokijir˘ goes on traveling aiding them, he comes to love them. Okinu is pregnant with Sanz˘ĺs child and takes to her bed. Though he has given up gambling and lives on the square, he makes a poor living, so he agrees to be a helper for a quarrel for only one time to raise money. What will become of Tokijir˘, Okinu and Tarokichi? The sincerity and melancholy of a man who has lead a shady life is shown with humane description.

Source: National Theatre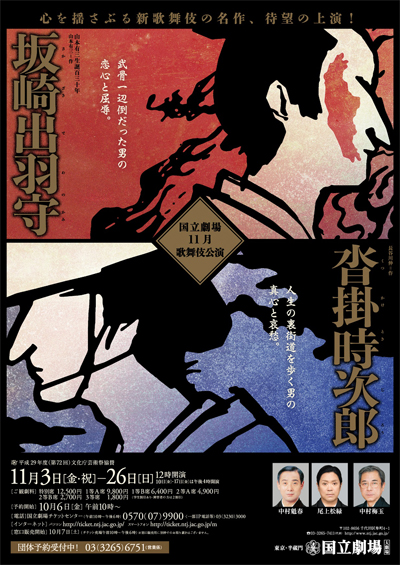 | | |
| --- | --- |
| Eirakukan (Toyooka) | |
Dates
4 ~ 12 November 2017 (Eirakukan ďkabuki)
Eirakukan Grand Kabuki
Program

Sengokubune Hogake no Shirahama
(Sengoku S˘d˘)

Iya Sakae Izushi no Nigiwai

Casting

Kataoka Ainosuke, Nakamura Ganjir˘, Nakamura Kazutar˘, Nakamura Jűjir˘, Nakamura Tanenosuke

Comments

This is the 10th Kabuki program at the Eirakukan, a renovated traditional theater built in the city of Toyooka (prefecture of Hy˘go). The first item in the program is the revival of the oiemono drama "Sengokubune Hogake no Shirahama", a drama which was premiered in July 1888 at the Shintomiza and which was related to the Sengoku Disturbance (Sengoku S˘d˘) in the Izushi-han whose castle town was Izushi, the city where the Eirakukan was built. The second item is a newly-created Kabuki drama based on the dance-drama "Genroku Hanami Odori", which celebrates the 10th anniversary of the Kabuki performances at the Eirakukan.
| | |
| --- | --- |
| Yachiyoza (Yamaga) | |

Dates
31 October ~ 5 November 2017 (Band˘ Tamasabur˘ Tokubetsu Buy˘ K˘en)
Band˘ Tamasabur˘ Special Dance Performances
MatinÚe
Evening

Inabune

Casting

Living National Treasure Band˘ Tamasabur˘

Comments

A special Buy˘ program starring the amazing Living National Treasure onnagata Band˘ Tamasabur˘ in Yamaga at the Yachiyoza, a traditional wooden-built theater. For the first time, with these programs, there will be a mix of video projection (with video sequences coming from the high-quality Shinema Kabuki, "Cinema Kabuki") and real dancing on stage. In "Sagi Musume", only the opening sequence is video-projected. Most of the dance will be performed on staged by Band˘ Tamasabur˘. "Musume D˘j˘ji", the travel scene (michiyuki) is skipped and the kaneiri scene ("entering the bell") is video-projected. Others main scenes, like the koi no tenarai scene ("learning about love"), are staged.
Kinshű Special Tour
Dates
3 ~ 26 November 2017
Program

Kabuki-juku

Casting

Nakamura Kankur˘, Nakamura Shichinosuke, Nakamura Tsurumatsu

Comments

The word kinshű means "Autumn Brocade". This Autumn tour stars Nakamura Kankur˘ and Nakamura Shichinosuke. The first item in the program is a speech/presentation on stage about some aspects of Kabuki.

B˘ Shibari:
(Tied to a Pole)
A dance play based on a classical Ky˘gen farce. A master is irritated that his two servants always drink his wine while he is out. He plots with his servant Tar˘kaja (Nakamura Tsurumatsu) to trick the other servant Jir˘kaja (Nakamura Kankur˘) into demonstrating his skill at stick fighting, tying him to the stick. The master then ties up Tar˘kaja as well. But he is outsmarted when the two still manage to drink his wine while tied up. Their happy singing and dancing while tied up is a dazzling display of virtuoso dancing and star two of the finest young dancers in Kabuki.
Fuji Musume: the spirit of wisteria blossoms dances of love in the form of a beautiful young maiden. One of Kabuki's most famous and colorful dances, it will feature the dancing skills of Nakamura Shichinosuke.

Sources: Earphone Guide Website or Sh˘chiku Kabuki Official Website
Sh˘chiku Grand Kabuki Tour
Dates
1 ~ 26 October 2017 (Sh˘chiku ďkabuki)
Sh˘chiku Grand Kabuki
Program

Yoshitsune Senbon Zakura (Sushiya)

Casting

Nakamura Shid˘, Kataoka Kamez˘, Nakamura Kikaku, Sawamura S˘nosuke, Nakamura Mantar˘, Nakamura Yonekichi, Nakamura Baika

Comments

The Sh˘chiku Grand Kabuki Fall Tour in 20 cities.

Sushiya: this is one act of an epic originally written for the Bunraku puppet theatre. The full-length play shows the fate of various Taira generals in hiding after the victory of their enemy, the Genji. In this act, Koremori (Nakamura Mantar˘), the heir to the Taira clan is hiding in a sushi shop disguised as a humble apprentice, and Osato (Nakamura Yonekichi), the daughter of the house, falls in love with him. However, Gonta (Nakamura Shid˘), the evil son of the house plots to gain a reward by turning in Koremori to the top Genji general Kajiwara (Nakamura Kikaku), but in the end, he has a surprising change of heart in one of the most heart-rending scenes in Kabuki. Also featuring Kataoka Kamez˘ as Yazaemon, the proprietor of the sushi shop.
Tsuri Onna: a dance based on a classical Ky˘gen farce. A master (Nakamura Mantar˘) longs for a wife and is told by the gods in a dream to go fishing for one. He is united with a beautiful princess (Nakamura Yonekichi). His servant Tar˘kaja (Nakamura Kikaku) wants a wife as well, but when he goes fishing, is stuck with a very surprising companion, played by Kataoka Kamez˘ in a rare, humorous, female role.

Sources: Earphone Guide Website or Sh˘chiku Kabuki Official Website
| | |
| --- | --- |
| Shinbashi Enbuj˘ (T˘ky˘) | |
Dates
6 October ~ 25 November 2017 (SűpÔ Kabuki Sekando)
Super Kabuki II
Program

ONE PIECE

Casting

Band˘ Takesabur˘, Ichikawa Udanji, Ichikawa Monnosuke, Ichikawa Omez˘, Ichikawa Emisabur˘, Ichikawa Emiya, Ichikawa En'ya, Ichikawa Juen, Ichikawa K˘tar˘, Band˘ Minosuke, Band˘ Shingo, Nakamura Hayato, Onoe Ukon

Comments

The SűpÔ Kabuki Sekando drama "ONE PIECE", based on Oda Eiichir˘'s internationally popular manga "ONE PIECE", which got his first very successful stage adaptation by Ichikawa Ennosuke in October 2015/November 2015 at the Shinbashi Enbuj˘, is staged one more time in T˘ky˘. Most of the actors are Kabuki actors, with 3 non-Kabuki guest actors : Hira Takehiro, Kashima Noritoshi and Asano Kazuyuki. It is almost the same cast as in 2015 (minor differences).

ONE PIECE: "ONE PIECE", a big hit comic of Japan, and Super Kabuki II by Ichikawa Ennosuke IV make a miraculous collaboration! The largest-scale project ever begins! "ONE PIECE" has started since the July 1997 issue of Weekly Sh˘nen Jump. As a book, the first volume was published in December 1997 and gained a national reputation soon. The series reach 77 volumes and the number of copies printed of the series is more than the world record 320,000,000, so it was awarded Guinness World Record as the most printed comic series by a writer in June 2015. Ichikawa Ennosuke IV is one of star Kabuki actors who will bear the next generation. He challenges aggressively to classic kabuki and new kabuki with rich expression and unique personality. He succeeded to the spirit of Super Kabuki which had been originated by his uncle Ichikawa Ennosuke III (Ichikawa Enĺ˘ II) and performed "Sora o Kizamu Mono" [A Man who sculptures the Sky] as the first play of Super Kabuki II in March and April 2014, which resulted in a great success. It is a marine adventure roman by the hero Luffy (Onoe Ukon) who explores the ocean with his diverse crew of pirates, named the Straw Hat Pirates, in search of the world ultimate treasure known as ONE PIECE in order to become the next Pirate King. The Straw Hat Pirates broke up in the battle against the navy at Sabaody Islands, the entrance to the new world, the next step to the big navigation in search of the world ultimate treasure. Luffy became alone, hears of his brother Aceĺs execution and hurries to rescue him. Luffy is able to break through the navyĺs barricade, but Ace has already been transferred to the navy head quarter. Luffy and the Straw Hat Pirates fight Summit Battle against the navy at its head quarter!

Sources: Sh˘chiku Kabuki Official Website
Classics Tour
Dates
12 October ~ 25 November 2017 (Koten he no Izanai ~ Shűki K˘en)
Invitation to the Classics ~ Fall Performances
Program

Otokodate Hana no Yoshiwara

Casting

Ichikawa Ebiz˘, Kataoka Ichiz˘, Ichikawa Kudanji, ďtani Hiromatsu

Comments

The Fall Tour of Ichikawa Ebiz˘ with performances in 17 cities.

Migawari Zazen: a dance play adopted from a classical ky˘gen farce. A man (Ichikawa Ebiz˘) wants nothing more than to visit his lover Hanako, but he has one important problem, his homely and overbearing wife (Kataoka Ichiz˘). He creates a scheme saying that he will be practicing Zen meditation all night and has his servant (Ichikawa Kudanji) take his place while he visits Hanako. He returns, giddy from a night of pleasure and tells his story to his servant in dance, unaware that his wife has discovered his deception and has taken his servant's place.
Otokodate Hana no Yoshiwara: Gosho no Goroz˘ (Ichikawa Ebiz˘), the most gallant and chivalrous of men in the capital of Edo, is off to the bustling Nakanoch˘ corner of the Yoshiwara pleasure district. He has received a love letter from his lover, a famous keisei in Yoshiwara. Goroz˘ tells us the story of how they met and their many rendezvous in a dance. On his way, he is ambushed by men who hold a grudge against him, but Goroz˘ effortlessly fends them off and continues on his way to his beloved.

Sources: Earphone Guide Website or Sh˘chiku Kabuki Official Website