| | |
| --- | --- |
| Kabukiza (T˘ky˘) | |
Dates
1 ~ 25 June 2015 (Rokugatsu ďkabuki)
June Grand Kabuki
MatinÚe

Evening

Yűgao Dana

Casting

Living National Treasure Onoe Kikugor˘, Living National Treasure Nakamura Kichiemon, Kataoka Nizaemon, Matsumoto K˘shir˘, Nakamura Hashinosuke, Nakamura Tokiz˘, Nakamura Shibajaku, Nakamura Kaishun, Ichikawa Sadanji, Nakamura Kinnosuke, Ichikawa Danz˘, ďtani Tomoemon, Band˘ Hikosabur˘, Nakamura Karoku, Nakamura Matagor˘, Ichikawa Komaz˘, Ichimura Kakitsu, Matsumoto Kingo, Kawarasaki Gonjűr˘, Sawamura Yoshijir˘, ďtani Keiz˘, Kataoka Matsunosuke, Nakamura Kash˘, Nakamura Baishi, Band˘ Minosuke, Nakamura Kotar˘, Nakamura Hayato, Nakamura Yonekichi, Nakamura Kunio, Nakamura Tanenosuke

Comments

"Shin Usuyuki Monogatari" is staged as a t˘shi ky˘gen for the June Grand Kabuki at the Kabukiza. The rarely-staged "Kajiya" act is part of the production. Normally, even with the "Kajiya" act, it is possible to stage this drama within one program (either matinÚe or evening). The Sh˘chiku Company has decided to split the drama in two parts, "Hanami" and "Sengi" in the matinÚe, "Sannin Warai" and "Kajiya" in the evening program. If you plan to enjoy "Shin Usuyuki Monogatari" in its entirety, you have to purchase two tickets instead of one.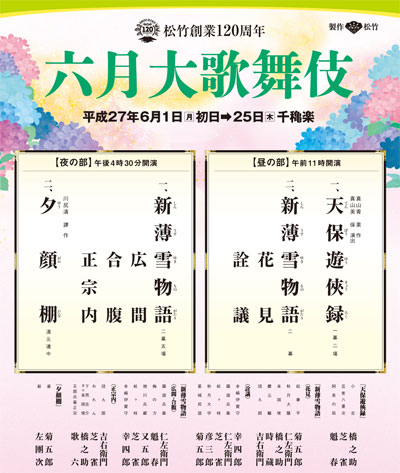 | | |
| --- | --- |
| Hakataza (Fukuoka) | |

Dates
2 ~ 26 June 2015 (Rokugatsu Hakataza ďkabuki)
June Hakataza Grand Kabuki
MatinÚe
Evening

Geid˘ Ichidai Otoko

Casting

Living National Treasure Sakata T˘jűr˘, Nakamura Ganjir˘, Nakamura Baigyoku, Nakamura Senjaku, Kataoka Hidetar˘, Ichikawa Chűsha, Nakamura T˘z˘, Nakamura Kazutar˘, Ichikawa En'ya, Nakamura Kikaku, Nakamura Jűjir˘, Nakamura Matsue, Nakamura Kamenoj˘

Comments

Nakamura Ganjir˘ IV celebrates his shűmei in Fukuoka at the Hakataza! Living National Treasure Sakata T˘jűr˘ does also his isse ichidai performance for the role of the courtesan Ohatsu in the drama "Sonezaki Shinjű":
| | |
| --- | --- |
| Sh˘chikuza (ďsaka) | |
Dates
13 ~ 26 June 2015 (Rokugatsu Hanagata Kabuki)
June Young Actors Kabuki
Program

Waki Noboru Mizu-ni Koi Taki (Koi Tsukami)
t˘shi ky˘gen production including the famous koi tsukami scene

Casting

Kataoka Ainosuke, Ichikawa Omez˘, Kamimura Kichiya, Arashi Kitsusabur˘, Ichikawa Juen, Nakamura Mantar˘, Onoe Ukon

Comments

Kataoka Ainosuke as zagashira in ďsaka at the Sh˘chikuza!

Koi Tsukami: Tawara no T˘ta Hidesato fights against a giant centipede at Mt. Mikami in ďmi Province. The guardian deity of Lake Biwa appears and gives him a sacred sword. T˘ta slays the centipede with the sword. In Lake Biwa the Golden Carp, Carps King's son, is about to turn into a dragon but it becomes cirrupt by the poisonous blood of the slain centipede flown into the lake. The Golden Carp loses its hope to turn into a dragon. The Carps King resents that and vows to curse the Tawara clan eternally. Years have passed and the sacred sword is now the family heirloom of the Tsuri clan, whose ancestors were from the Tawara clan. The yakko Setahei, at the service of the Tsuri clan, finds out that some evil retainers are plotting to take over the clan. He struggles to prevent it. Princess Kozakura of the Tsuri clan longs for Takimado Shiganosuke, a page whom she met in the Kiyomizu Temple. As they meet secretly at the Tsuri mansion, an envoy of the chief advisor to the emperor arrives. The sacred sword is presented to him. The magic of this sword results in the projection of the shadows of Princess Kozakura and a giant carp are projected on a paper sliding door. It means that Shiganosuke is in fact the incarnation of the spirit of a carp of Lake Biwa and it plots to destroy the Tsuri clan, as a revenge over the Tawara clan. The spirit of the carp is shot by an arrow. The archer is none other than the real Shiganosuke, who chases it up to Lake Biwa where he fights in real water (honmizu) with it under heavy rain, until at last he puts an end to its life. This scene is called koi tsukami and it is the spectacular highlight of this Kabuki drama, which is staged as a t˘shi ky˘gen full of keren and hayagawari. During the Edo period, it was developped by the Onoe clan, from Onoe Kikugor˘ I to Onoe Kikugor˘ III through Onoe Sh˘roku I. In modern times, it became the trademark of the Ichikawa Udanji line. Starring Kataoka Ainosuke in 12 roles (including the spirit of a giant carp, Tawara no T˘ta Hidesato and Takimado Shiganosuke)! Featuring Onoe Ukon in the role of Princess Kozakura. Featuring also Ichikawa Omez˘, Kamimura Kichiya, Arashi Kitsusabur˘, Ichikawa Juen and Nakamura Mantar˘.

Sources: Earphone Guide Website or Sh˘chiku Kabuki Official Website
| | |
| --- | --- |
| Shibuya Bunkamura Theatre Cocoon (T˘ky˘) | |

Dates
4 ~ 21 June 2015
Program

Ryűgű Monogatari

Momotar˘ Oni-ga-Shima Gaiden

Casting

Ichikawa Ebiz˘, Ichikawa Ukon, Kataoka Ichiz˘, Ichikawa Kudanji

Comments

Third edition of the ABKAI (Ebikai in Japanese), a gala for the young star Ichikawa Ebiz˘. Ichikawa Ebiz˘ is assisted by Miyamoto Amon (production and stage direction) and Miyazawa Akio (screenplay). Two newly-created drama will be staged. "Ryűgű Monogatari" is about the legend of Urashima Tar˘, a fisherman who, according to the legend rescued a turtle and was rewarded for this with a visit to the palace of the Dragon God under the sea. He stayed there for three days and, upon his return to his village, found himself 300 years in the future. "Momotar˘ Oni-ga-Shima Gaiden" is about the legend of Momotar˘, literally the Peach Boy, who came to Earth inside a giant peach and who successfully fought a band of demons on a distant island named Oni-ga-Shima.
| | |
| --- | --- |
| National Theatre (T˘ky˘) | |
Dates
2 ~ 24 June 2015 (Rokugatsu Kabuki Kansh˘ Ky˘shitsu)
June Kabuki Appreciation Class
Program
Casting
Comments

Educational program at the National Theatre called Kabuki Kansh˘ Ky˘shitu ("Kabuki appreciation class"). This is a very interesting formula for the beginners because there is lively presentation on stage of Kabuki or some aspects of the art like music, stage tricks or fighting scenes. It is followed by the drama "Tsubosaka".

Tsubosaka: this play stars Band˘ Kamesabur˘ as Sawaichi, a blind masseur who has become utterly depressed by the prospect of never recovering his eyesight. His faithful wife, played by Kataoka Takatar˘, has been praying to the Kannon goddess daily for several years for his recovery, and Sawaichi agrees to accompany her to the Kannon shrine to pray. Once there he announces he will stay to pray and fast for three days, and so his wife leaves to pick up some supplies for them, but in her absence, Sawaichi throws himself off a cliff. When she returns, the distraught wife decides to join her husband in death. The final scene shows the Kannon goddess, who miraculously saves the couple and cures Sawaichi's blindness.

Source: Earphone Guide website