| | |
| --- | --- |
| Sh˘chikuza (ďsaka) | |
Dates
1 ~ 25 February 2015 (Nigatsu ďkabuki)
February Grand Kabuki
MatinÚe
Evening
Casting

Living National Treasure Sakata T˘jűr˘, Nakamura Ganjir˘, Nakamura Senjaku, Ichikawa Ennosuke, Nakamura Baigyoku, Band˘ Yajűr˘, Band˘ Takesabur˘, Onoe Sh˘roku, Nakamura Kazutar˘, Ichikawa Monnosuke, Nakamura Kikaku, Band˘ Kametoshi, Band˘ Shingo, Ichikawa Juen, Nakamura Kamenoj˘, Nakamura Jűjir˘

Comments

Nakamura Ganjir˘ IV celebrates his second month of shűmei in ďsaka at the Sh˘chikuza!
| | |
| --- | --- |
| Kabukiza (T˘ky˘) | |
Dates
2 ~ 26 February 2015 (Nigatsu ďkabuki)
February Grand Kabuki
MatinÚe

Kichirei Kotobuki Soga (Soga no Ishidan)

Hikosan Gongen Chikai no Sukedachi (Keya-mura)

Evening

Ichi-no-Tani Futaba Gunki
(Jinmon, Kumiuchi)

Casting

Living National Treasure Onoe Kikugor˘, Living National Treasure Nakamura Kichiemon, Matsumoto K˘shir˘, Nakamura Tokiz˘, Onoe Kikunosuke, Nakamura Shibajaku, Nakamura Kaishun, Ichikawa Sadanji, Ichikawa Danz˘, Nakamura Kinnosuke, Band˘ Hikosabur˘, ďtani Tomoemon, Nakamura T˘z˘, Nakamura Karoku, Nakamura Matagor˘, Kawarasaki Gonjűr˘, Ichikawa Komaz˘, Nakamura Baishi, Nakamura Kash˘, Band˘ Minosuke, Nakamura Kotar˘, Matsumoto Kintar˘

Comments

The highlight of these February Grand Kabuki programs is the spectacular and beautiful dance-drama "Seki no To"! The dance-drama "Kanda Matsuri" is also a rare treat as it was staged for the last time in October 1997. "Soga no Ishidan" is famous for its tachimawari on giant stone steps followed by a spectacular gand˘-gaeshi. The others items -"Keya-mura", "Jinmon/Kumiuchi" and "Fudeya K˘bŕ"- are classics whose leading actors are respectively the Heisei stage giants Onoe Kikugor˘, Nakamura Kichiemon and Matsumoto K˘shir˘.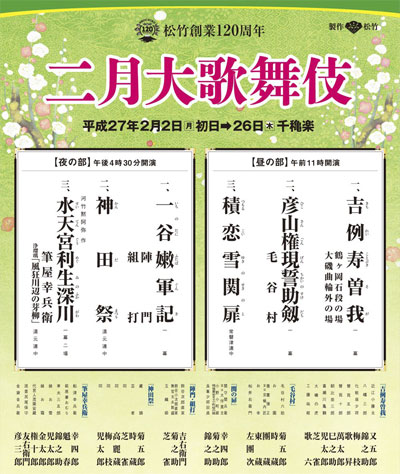 | | |
| --- | --- |
| Hakataza (Fukuoka) | |

Dates
4 ~ 26 February 2015 (Nigatsu Hanagata Kabuki)
February Young Actors Kabuki
Program
Casting

Ichikawa Somegor˘, Kataoka Takatar˘, Kataoka Hidetar˘, Ichikawa Ukon, Onoe Matsuya, Kataoka Kamez˘, Ichikawa Emisabur˘, Sawamura S˘nosuke, Matsumoto Kingo, ďtani Keiz˘, Nakamura Hayato, ďtani Hirotar˘, Nakamura Yonekichi

Comments

The traditional February Grand Kabuki at the Hakataza, with a troupe led by Ichikawa Somegor˘.

Date no Jűyaku: One of the most famous plays in Kabuki is "Meiboku Sendai Hagi", the story of the fabulously wealthy Date clan in Sendai and plots to take over the clan. In the early 19th century, this play was rewritten so that one actor could play all the roles, switching from one to another with fast changes. The script for this particular version was lost, but some twenty years ago, Ichikawa Ennosuke had a new version prepared and this has since become a classic of Ennosuke's style of Kabuki. the young heir of the K˘raiya guild Ichikawa Somegor˘ plays for the second time in his career the ten roles, male and female, young and old, villain and hero.

Source: Earphone Guide website
| | |
| --- | --- |
| EX THEATER (T˘ky˘) | |
Dates
3 ~ 18 February 2015 (Roppongi Kabuki)
Roppongi Kabuki
Program

Chikyű Nagegor˘ Uchű no Aragoto

Casting

Ichikawa Ebiz˘, Nakamura Shid˘, Kataoka Ichiz˘, Ichimura Manjir˘, Ichikawa Kudanji, Band˘ Kamesabur˘, Ichimura Takematsu, Onoe Ukon, ďtani Hiromatsu, Ichikawa Fukutar˘

Comments

The script was written by Kud˘ Kankur˘, who already did "ďedo Ribingu Deddo" in 2009 [more details] and "Tennichib˘" in 2012 [more details]. The stage direction is done by the famous movie director Miike Takashi, an expert in violent and bizarre movies who worked twice with Ichikawa Ebiz˘ in the movies Hara-Kiri: Death of a Samurai (2011) and "Over your Dead Body" (2014). The story is about a space alien invasion of Earth. The invaders, coming from outter space, land in Edo during the Genroku period. The head of the extraterrestrial forces, Daashi Beidayű (phonetically, it is not so far from Darth Vader), is Nakamura Shid˘, the villain in this play. The savior of Planet Earth, Chikyű Nagegor˘ (Earth-Throwing Gor˘?) is Ichikawa Ebiz˘. The very first "Space Aragoto" in Japan in Kabuki history! The first Sci-Fi Kabuki drama was "The Emperor of Mars", which was staged at the University of Hawai'i in 1981. More details about "Chikyű Nagegor˘ Uchű no Aragoto" on the site of the Japan Times!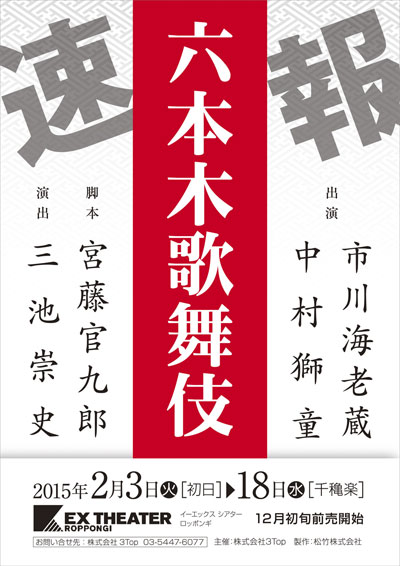 | | |
| --- | --- |
| ďtsuka Museum of Art (Naruto) | |
Dates
20 ~ 22 February 2015 (Sistine Kabuki)
Program

Yuri Wakamaru Yumi no Isaoshi (Ulysses)

Casting

Kataoka Ainosuke, Kamimura Kichiya, Nakamura Tanenosuke, Yamato Yűga

Comments

6th edition of the Sistine Kabuki, a Kabuki program within the Sistine Hall of the ďtsuka Museum of Art, which is located in the city of Naruto (Tokushima prefecture). Inside this museum, there are more than 1,000 replicas of priceless masterpieces of Western art, from ancient murals to modern paintings, which are reproduced in ceramic to their original size. The Sistine Hall is of course a "reproduction" of the Vatican Sistine Chapel.

This newly-created play is based on the legend of Ulysses. The actress Yamato Yűga is also part of the casting!