Cancellation of some Kabuki performances in April 2023 due to coronavirus (COVID-19)!!!
| | |
| --- | --- |
| Kabukiza (T˘ky˘) | |
Dates
2 ~ 27 April 2023
H˘˘sai Shigatsu ďkabuki
Phoenix Festival April Grand Kabuki
MatinÚe

Shin Onmy˘ji

Evening

Yowa Nasake Ukina no Yokogushi (Kirare Yosa)

Casting

Living National Treasure Band˘ Tamasabur˘, Living National Treasure Kataoka Nizaemon, Ichikawa Sadanji, Kataoka Ichiz˘, Kataoka Kamez˘, Ichikawa Ennosuke, Onoe Sh˘roku, Nakamura Hayato, Band˘ Minosuke, Ichikawa Monnosuke, Nakamura Kazutar˘, Nakamura Kotar˘, Onoe Ukon, Kawarasaki Gonjűr˘, Ichikawa Chűsha, Ichikawa Somegor˘, Nakamura Fukunosuke, Nakamura Takanosuke, Ichikawa Emisabur˘, Ichikawa Emiya, Ichikawa En'ya, Ichikawa Juen, Ichikawa Seiko, Kataoka Matsunosuke, Ichimura Kitsutar˘, Nakamura Kamenoj˘, Nakamura Kichinoj˘, Onoe Sakon

Comments

The April Grand Kabuki at the Kabukiza to celebrate the 10th anniversary of the opening of the 5th Kabukiza. "Kirare Yosa" is staged with the goruden konbi made up of Living National Treasures Kataoka Nizaemon and Band˘ Tamasabur˘. They were supposed to do it in June 2022 but, due to health-related reason, Living National Treasure Kataoka Nizaemon could not perform.

Shin Onmy˘ji:
(The Court Astrologer, a new version)
In the 10th century, Taira no Masakado rebels against the Imperial Court and gains control of the eastern provinces with Prince Okiyo (Onoe Ukon). Ordered by the Emperor, Tawara no T˘ta (Nakamura Fukunosuke) subjugates Masakado with an arrow which the wizard and astrologer Ashiya D˘man (Ichikawa Ennosuke) gave him, but Masakado's severed head gets lost. Abe no Seimei (Nakamura Hayato), the young court astrologer who is popular in the capital, and his friend Minamoto no Hiromasa (Ichikawa Somegor˘) fear Masakado's vengeful ghost. One day, they encounter a lady who names herself Kisaragi (Nakamura Kazutar˘). Hiromasa falls in love with her at first sight, but she is in reality Masakado's sister Princess Takiyasha. Aided by Orochimaru (Nakamura Takanosuke), Seimei confronts those who plot to revive Masakado in the capital where mysteries occur one after another.
Kirare Yosa: Yosabur˘ (Living National Treasure Kataoka Nizaemon), the refined young son of a wealthy merchant falls in love with Otomi (Living National Treasure Band˘ Tamasabur˘) the moment he first sees her on the beach. But Otomi is the mistress of a powerful gangster, and when their relationship is discovered, the two are attacked. Yosabur˘ is cut from head to toe and the two are dumped into the sea. Otomi lives and is taken in by a rich merchant while Yosabur˘ is now covered with scars. Yosabur˘ turns into a petty thief and extortionist but one day, finds that the woman he is about to blackmail is none other than Otomi, alive and well. Featuring also Kataoka Ichiz˘, Ichikawa Sadanji and Kataoka Kamez˘ in the roles of K˘mori Yasu, Izumiya Tazaemon and Akama Genzaemon.
Renjishi: 2 entertainers dance a tale of the legendary shishi or lion-like spirits that live at the foot of a holy Buddhist mountain. There is a comic interlude with 2 Buddhist pilgrims. Then, the shishi themselves appear and perform their dance with wild shaking of their long manes. The dance shows a parent shishi forcing his cub to undergo harsh training in order to grow up strong. This theme is often associated with the training a parent actor gives his son. This performance features Onoe Sh˘roku in the role of the parent shishi and his son Onoe Sakon in the role of the cub.

Sources: Earphone Guide Website or Sh˘chiku Kabuki Official Website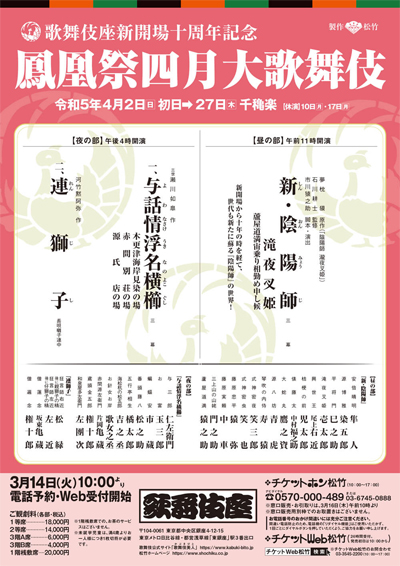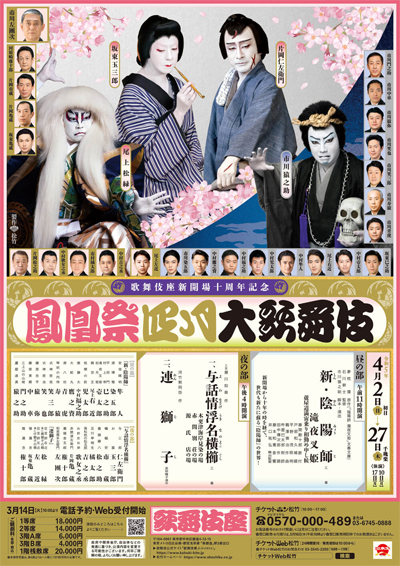 | | |
| --- | --- |
| Meijiza (T˘ky˘) | |
Dates
8 ~ 25 April 2023
Kotobuki Shuku˘ Shigatsu ďkabuki
Congratulation Cherry Blossom Celebrating Grand Kabuki
MatinÚe

Yoshitsune Senbon Zakura
(Torii Mae)

Evening
Casting

Living National Treasure Nakamura Baigyoku, Nakamura Shikan, Matsumoto K˘shir˘, Kataoka Ainosuke, Kataoka Takatar˘, Nakamura Matagor˘, Ichikawa Komaz˘, Nakamura Matsue, Matsumoto Kingo, Kamimura Kichiya, ďtani Hirotar˘, Nakamura Kash˘, Nakamura Tanenosuke, Nakamura Kangyoku, Kataoka Sennosuke, Ichikawa Otora, Arashi Kitsusabur˘

Comments

April Grand Kabuki performances at the Meijiza to celebrate the 150th anniversary of this theater!

Sources: Earphone Guide Website or Sh˘chiku Kabuki Official Website
| | |
| --- | --- |
| Misonoza (Nagoya) | |
Dates
1 ~ 24 April 2023
Y˘shun Hanagata Kabuki
Springtime Young Actors Kabuki
MatinÚe
Evening
Casting

Nakamura Kankur˘, Nakamura Shichinosuke, Ichikawa Omez˘, Nakamura Toranosuke, Nakamura Tsurumatsu, Kitamura Rokur˘

Comments

A Spring Kabuki program in Nagoya at the Misonoza with the Nakamuraya brothers Nakamura Kankur˘ and Nakamura Shichinosuke.

Osome no Nanayaku:
(The 7 roles of Osome)
The story of the love suicide of Osome, the daughter of a wealthy merchant and Hisamatsu, a handsome young man that was an apprentice in her family's shop, is one of the most popular stories in Kabuki and was dramatized countless times. In 1813, Tsuruya Nanboku IV (1755~1829) wrote up this story as a showpiece for Iwai Hanshir˘ V, an onnagata specialist in female roles. One actor plays seven of the major roles in the play: Osome, Hisamatsu, the poor Osaku, Omitsu (Hisamatsu's official fiance), Hisamatsu's sister Takegawa, the geisha Koito, Osome's mother Teish˘ and a snake charmer named Oroku. Onnagata superstar Nakamura Shichinosuke makes a virtuoso appearance in this play, acting in all seven roles, including the fastest on-stage fast change in all Kabuki. Featuring also Kitamura Rokur˘ as Oroku's fiance Kimon no Kihŕ and Nakamura Kankur˘ as Yamagaya Seibŕ and the send˘ Ch˘kichi.
Chibusa no Enoki:
(The Ghost and the Milk-Giving Tree)
Based on a rakugo story by Sanyűtei Ench˘, this is a showpiece for the star actor (Nakamura Kankur˘) who plays multiple roles, culminating in a thrilling fight scene in a waterfall where he switches rapidly from one to another. An artist named Hishikawa Shigenobu (Nakamura Kankur˘) is killed by a handsome samurai named Isogai Namie (Kitamura Rokur˘) who makes love to Shigenobu's wife Oseki (Nakamura Shichinosuke). He carries out the murder with the help of Shigenobu's honest, but simple minded, servant Sh˘suke (Nakamura Kankur˘) and the tattooed villain Uwabami no Sanji (Nakamura Kankur˘). But the baby is rescued by the ghost of Shigenobu and finally the boy avenges the death of his father by killing Isogai.

Sources: Earphone Guide Website or Sh˘chiku Kabuki Official Website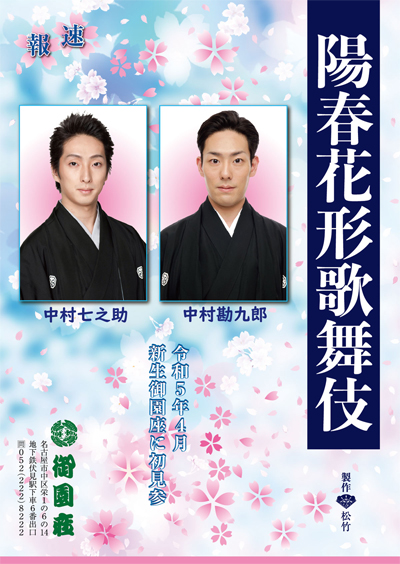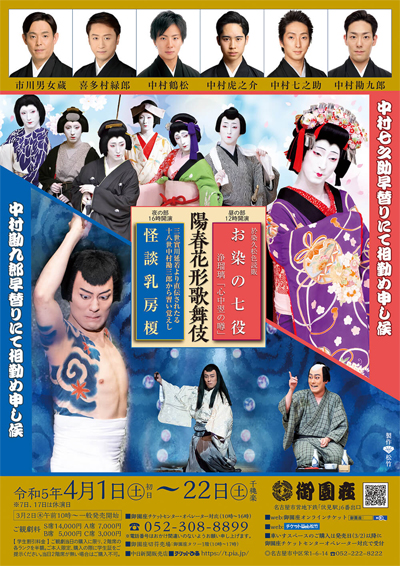 IHI Stage Around Theater (T˘ky˘)
Dates
3 March ~ 12 April 2023
Program

Fainaru Fantajţ X (Final Fantasy X)

Casting

Onoe Kikunosuke, Nakamura Karoku, Nakamura Kinnosuke, Nakamura Shid˘, Onoe Matsuya, Band˘ Yajűr˘, Band˘ Hikosabur˘, Nakamura Baishi, Nakamura Yonekichi, Nakamura Mantar˘, Nakamura Hashinosuke, Nakamura Shinobu, Kamimura Kichitar˘, Onoe Ushinosuke

Comments

"Final Fantasy X" is now a Kabuki play, staged for the first time this month in T˘ky˘ at the IHI Stage Around Theater! The project is led by Onoe Kikunosuke who will be both the stage director and the leading actor.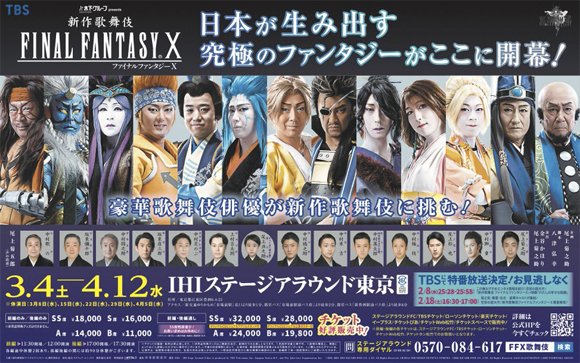 Dates
29 ~ 30 April 2023
Ch˘kabuki
Ultra-Kabuki
Program

Otogi Z˘shi Koi no Sugatae []

Casting

Nakamura Shid˘, Hatsune Miku, Sawamura Kuniya, Nakamura Shiichi, Nakamura Ch˘shi

Comments

The world of Kabuki and the world of otaku collide for the 13th time in Kabuki history! Resulting from this spectacular collision, a new genre, the Ch˘kabuki (literally Ultra-Kabuki), was born in 2016 [more details]. Nakamura Shid˘ shares the stage with the virtual 3D creature Hatsune Miku. They perform "together" in the 2020 Ch˘kabuki drama "Towa no Hana Homare no Isaoshi". The choreography was made under the guidance of Fujima Kanjűr˘ VIII. It is staged at the Makuhari Messe as part of the Niconico Ch˘kaigi 2023 event, an important yearly event for the otaku tribes [dedicated website].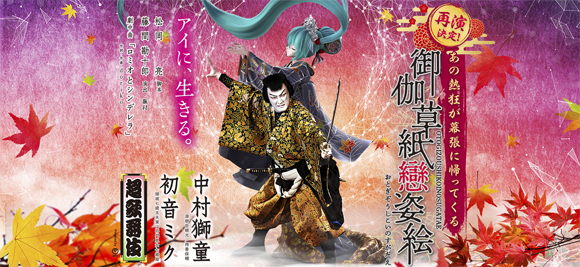 NHK ďsaka Hall (ďsaka)
Dates
15 ~ 16 April 2023
Densh˘-he no Michi
The Road to Tradition
Program

Zadankai

Otokodate Hana no Yoshiwara

Casting

Ichikawa Danjűr˘, Ichikawa Shinnosuke, Ichikawa Botan

Comments

A 3-performance 2-day dance program for the Naritaya family in ďsaka at the NHK ďsaka Hall.
| | |
| --- | --- |
| Kanamaruza (Konpira) | |
Dates
?? ~ ?? April 2020

[CANCELLED]


Shikoku Konpira Kabuki ďshibai
Shikoku Konpira Kabuki Grand Theatre
MatinÚe

???

Evening

???

Casting

???

Comments

The 36th edition of the Spring Kabuki performance Shikoku Konpira Kabuki ďshibai at the Kanamaruza on Shikoku Island has been cancelled due to the COVID-19 crisis.