| | |
| --- | --- |
| Kabukiza (T˘ky˘) | |
Dates
2 ~ 26 May 2015 (Dankikusai Gogatsu ďkabuki)
Dankikusai May Grand Kabuki
MatinÚe

Sesshű Gapp˘-ga-Tsuji (Gapp˘ Anshitsu)

Evening

Keian Taiheiki (Marubashi Chűya)

Casting

Living National Treasure Onoe Kikugor˘, Ichikawa Ebiz˘, Nakamura Tokiz˘, Onoe Kikunosuke, Nakamura Baigyoku, Ichikawa Sadanji, Onoe Sh˘roku, Band˘ Hikosabur˘, Nakamura T˘z˘, Nakamura Karoku, Nakamura Matagor˘, Ichimura Kakitsu, Ichikawa Unosuke, Kataoka Ichiz˘, Kawarasaki Gonjűr˘, Band˘ Shűch˘, Band˘ Kamesabur˘, Band˘ Kametoshi, Sawamura Yoshijir˘, Sawamura S˘nosuke, Ichikawa Kudanji, Arashi Kitsusabur˘, Kataoka Matsunosuke, Ichimura Kitsutar˘, Nakamura Baishi, Nakamura Kash˘, Band˘ Minosuke, Nakamura Mantar˘, Ichimura Takematsu, ďtani Hirotar˘, ďtani Hiromatsu, Nakamura Yonekichi, Nakamura Takanosuke, Nakamura Hayato, Nakamura Tanenosuke, Ichikawa Otora, Onoe Ukon

Comments

The great yearly Dankiku festival for the Naritaya and Otowaya guilds, which commemorates 2 great stars of the Meiji era: Dan = Ichikawa Danjűr˘ IX and Kiku = Onoe Kikugor˘ V.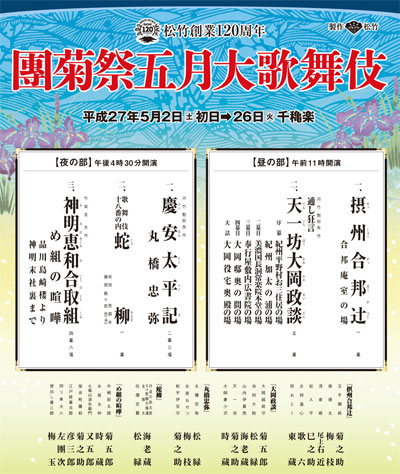 | | |
| --- | --- |
| Meijiza (T˘ky˘) | |
Dates
2 ~ 26 May 2015 (Gogatsu Hanagata Kabuki)
May Young Actors Kabuki
MatinÚe

Otoko no Hanamichi

Evening

Anma to Dorob˘

Waki Noboru Mizu-ni Koi Taki (Koi Tsukami)

Casting

Ichikawa Ennosuke, Kataoka Ainosuke, Ichikawa Chűsha, Ichikawa Ukon, Kataoka Hidetar˘, Band˘ Takesabur˘, Ichikawa Monnosuke, Nakamura Kikaku, Ichikawa En'ya, Ichikawa Emiya, Nakamura Kikaku, Ichikawa Omez˘, Ichikawa Juen, Nakamura Kazutar˘, Ichikawa K˘tar˘

Comments

A Kabuki program at the Meijiza with Ichikawa Ennosuke as zagashira.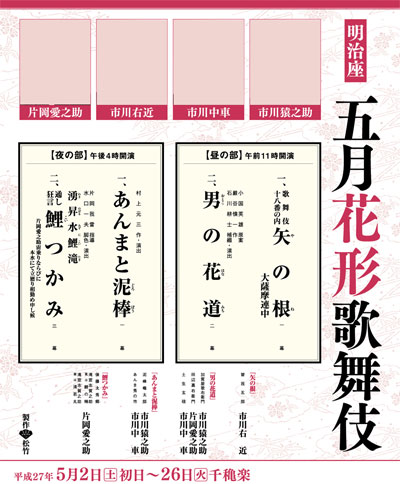 Heisei Nakamuraza (T˘ky˘)
Dates
1 April ~ 3 May 2015 (Y˘shun ďkabuki)
Full Spring Merriness Grand Kabuki
MatinÚe

Futatsu Ch˘ch˘ Kuruwa Nikki (Sum˘ba)

Evening

Imoseyama Onna Teikin
(Mikasayama Goten)

Casting

Nakamura Kankur˘, Nakamura Shichinosuke, Nakamura Hashinosuke, Band˘ Yajűr˘, Nakamura Shid˘, Kataoka Kamez˘, Nakamura Kotar˘, Band˘ Shingo, Nakamura Tsurumatsu, Nakamura Kunio, Nakamura Muneo, Nakamura Yoshio, Namino Naoya

Comments

The Heisei Nakamuraza is back next year in T˘ky˘ in Asakusa. There was no Heisei Nakamuraza in T˘ky˘ for 3 years, following the sudden death of its creator Nakamura Kanzabur˘ XVIII. The new zagashira is Nakamura Kankur˘.
| | |
| --- | --- |
| National Theatre (T˘ky˘) | |
Dates
9 ~ 20 May 2015 (Zenshinza Gogatsu K˘en)
Zenshinza May Performances
Program
Casting

Nakamura Umenosuke, Arashi Keishi, Kawarasaki Kunitar˘, Fujikawa Yanosuke, Arashi Yoshisabur˘, Yamazaki Ryűnosuke, Yamazaki Tatsusabur˘

Comments

The usual Zenshinza May program at the National Theatre!

Banch˘ Sarayashiki: the story of Okiku, who became a ghost after breaking one of a precious set of plates and being killed in punishment by a quick-tempered lord, is one of the most famous in Japanese tradition. But this is a modern play, which transforms the ghost story into a portrait of the interaction of contrasting and incompatable personalities. The samurai lord Aoyama Harima (Arashi Yoshisabur˘) is passionate and quick to fight and is in the middle of a fight when he is stopped by his aunt. She has arranged a marriage for him and Harima is unable to admit that the reason he will not marry is because he is deeply in love with Okiku (the actress Imamura Ayami), a lady-in-waiting in his household. As strong as Harima is, his aunt's will is much stronger. But this makes Okiku wonder about the strength of Harima's love for her and she tests him by breaking one of a set of heirloom plates. When she tests Harima's feelings, this seals her fate and sets the tragedy of the play in motion. Featuring also Arashi Keishi in the role of Hanaregoma Shirobŕ.
Bunshichi Mottoi: Ch˘bŕ spends his days and nights gambling, but is finally made aware of his family's problems when his daughter takes a job in the pleasure quarters. Having received the money for her contract, he shows his good side to save a young man on the edge of suicide after losing a large sum of money, but nobody believes Ch˘bŕ, thinking that he has gambled the money away. The performance stars Fujikawa Yanosuke, Kawarasaki Kunitar˘ and Tadamura Shin'ya in the roles of Ch˘bŕ, Ch˘bŕ's wife Okane and Bunshichi. Featuring also Nakamura Umenosuke and Arashi Keishi.

Source: Earphone Guide website
| | |
| --- | --- |
| Minamiza (Ky˘to) | |

Dates
8 ~ 14 May 2015 (Kabuki Kansh˘ Ky˘shitsu)
Kabuki Appreciation Class
Program

Minamiza to Kabuki

Casting
Comments

23rd edition of a pedagogical show in Ky˘to combining explanation for beginners (done by the professional storyteller Katsura Kujaku) and the dance-drama "Iro Moy˘ Chotto Karimame".

Kasane: one can never escape past evils. Yoemon is fleeing to the countryside, but Kasane, the woman he abandoned, refuses to let him go. She catches up with him at a lonely river bank. A skull stabbed with a scythe appears and Kasane is possessed by its spirit, actually the spirit of her dead father, and her face suddenly becomes disfigured. She pours out her feelings of jealousy and resentment and Yoemon kills Kasane, but even after her death, he cannot escape her vengeful spirit. Starring Kamimura Kichiya as Kasane and Nakamura Matsue as Yoemon.

Source: Earphone Guide website
| | |
| --- | --- |
| Sh˘chikuza (ďsaka) | |
Dates
3 ~ 26 May 2015 (Band˘ Tamasabur˘ Tokubetsu K˘en)
Band˘ Tamasabur˘ Special Performances
Program

Amaterasu

Casting
Comments

Living National Treasure Band˘ Tamasabur˘ and the Kod˘ taiko drummers revive "Amaterasu", which was staged for the first time in May 2006 at the Minamiza [more details].