| | |
| --- | --- |
| Kabukiza (T˘ky˘) | |
Dates
2 ~ 26 October 2016 (Jűgatsu ďkabuki)
October Grand Kabuki
MatinÚe

Ho Agete I˘ Takarabune

Evening
Casting

Living National Treasure Sakata T˘jűr˘, Living National Treasure Onoe Kikugor˘, Living National Treasure Nakamura Kichiemon, Living National Treasure Band˘ Tamasabur˘, Living National Treasure Nakamura T˘z˘, Nakamura Shikan, Nakamura Jakuemon, Onoe Kikunosuke, Nakamura Shichinosuke, Nakamura Kaishun, Onoe Sh˘roku, Nakamura Karoku, Nakamura Matagor˘, Onoe Matsuya, Nakamura Kotar˘, Nakamura Hashinosuke, Nakamura Fukunosuke, Nakamura Utanosuke

Comments

Nakamura Hashinosuke III takes the prestigious name of Nakamura Shikan VIII! His three sons Nakamura Kunio, Nakamura Muneo and Nakamura Yoshio take the names of Nakamura Hashinosuke IV, Nakamura Fukunosuke III and Nakamura Utanosuke IV. Nakamura Shikimatsu II, a disciple of late Nakamura Shikan VII, joins the first league of Kabuki actors (kanbu sh˘shin) and receives the name of Nakamura Baika IV.

Sources: Earphone Guide Website or Sh˘chiku Kabuki Official Website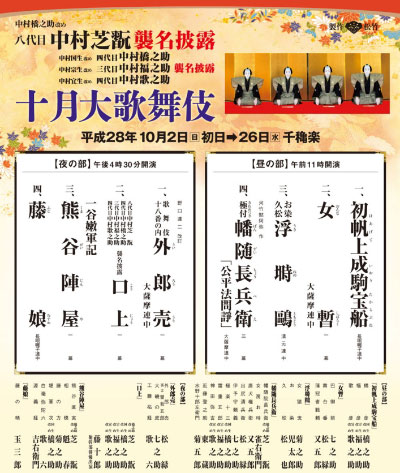 | | |
| --- | --- |
| Shinbashi Enbuj˘ (T˘ky˘) | |
Dates
3 ~ 27 October 2016 (Jűgatsu Hanagata Kabuki)
October Young Actors Kabuki
Program

GOEMON-Ishikawa Goemon

Casting

Kataoka Ainosuke, Nakamura Ganjir˘, Kamimura Kichiya, Nakamura Kazutar˘, Nakamura Tanenosuke, Nakamura Jűjir˘, Imai Tsubasa

Comments

A dance drama first performed in 2011 presenting the mysterious life of Ishikawa Goemon (Kataoka Ainosuke) with a new perspective. It is the time after the unification of Japan by Toyotomi Hideyoshi (Nakamura Ganjir˘) in the 16th century. There are several cathedrals seen in each place of Japan as a few decades have passed since Christianity has first been missioned in Japan. Ishida no Tsubone (Kamimura Kichiya), a daughter of Akechi Mitsuhideĺs chief retainer Shioden Tajima-no-Kami, hates Hideyoshi and seeks opportunity to avenge her father on him. As she learns Christianity from Father Calderon (Imai Tsubasa), she has come to forget her hatred against Hideyoshi. Love has grown between her and Calderon, and Tomoichi is born between them. Calderon resigns as a priest because he has broken the law as a priest, and chooses to live together with his wife and son. 7 years later Hideyoshi prohibits Christianity to be propagated in Japan. Calderon is banished from Japan and goes back to Spain. Hideyoshi wants to make her his own and summons her to his palace Jurakudai, since he has fancied her for years. She tries in vain to kill him and dies. Having lost his parents, Tomoichi grows up to be a robber and calls himself Ishikawa Goemon who causes a great sensation in Japan. He watches eagerly for a chance to avenge his parents on Toyotomi Hideyoshi. Goemon outwits Hideyoshi and succeeds in freeing Izumo no Okuni (Nakamura Kazutar˘) from him. She is Nagoya Sanzaĺs wife and a popular dancer in Ky˘to. It turns out that Sanza (Kamimura Kichiya) is a son of Akechi Mitsuhideĺs retainer Yasuda Sakubŕ. Goemon, Okuni and Sanza cooperate to defeat their common enemy Hideyoshi. Okuni takes great pains how she becomes the center of attention among people. Goemon teaches her flamenco the dance of his fatherĺs country as a hint for the new dance. But Goemon is being besieged from all sides. Enjoy a novel Kabuki dance which has taken in flamenco.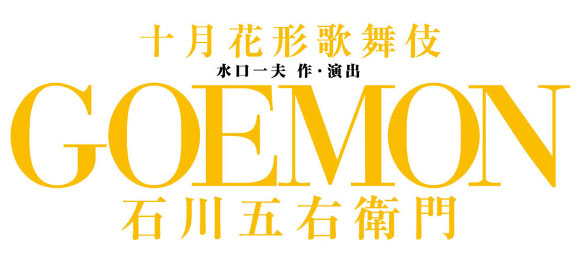 | | |
| --- | --- |
| National Theatre (T˘ky˘) | |
Dates
3 ~ 27 October 2016
Program

Casting

Matsumoto K˘shir˘, Nakamura Baigyoku, Nakamura Senjaku, Ichikawa Sadanji, Kataoka Hidetar˘, Nakamura Kinnosuke, Ichikawa Danz˘, Band˘ Hikosabur˘, ďtani Tomoemon, Ichikawa Komaz˘, Ichimura Manjir˘, Band˘ Shűch˘, Matsumoto Kingo, Nakamura Matsue, Sawamura S˘nosuke, Sawamura Yoshijir˘, ďtani Keiz˘, Arashi Kitsusabur˘, Ichimura Kitsutar˘, Ichimura Takematsu, Nakamura Hayato, Nakamura Yonekichi, Ichikawa Otora

Comments

First month of the t˘shi ky˘gen production of the classic "Kanadehon Chűshingura" to celebrate the 50th anniversary of the opening of the National Theatre! The play "Kanadehon Chűshingura" (The Treasure of 47 Loyal Retainers) is the most popular in the Kabuki repertory and is known throughout the world.

Source: Earphone Guide website
Nagoya
(NTK Hall)
Dates
2 ~ 26 October 2016 (Kinshű Nagoya Kaomise)
Autumn Brocade Nagoya Face-Showing Program
MatinÚe
Evening

Sugawara Denju Tenarai Kagami (Terakoya)

Shinagawa Shinjű

Casting

Living National Treasure Kataoka Nizaemon, Nakamura Tokiz˘, Ichikawa Somegor˘, Kataoka Takatar˘, Band˘ Yajűr˘, Kataoka Kamez˘, Nakamura Kikaku, Nakamura Baishi, Nakamura Mantar˘, Band˘ Shingo, Kataoka Matsunosuke, ďtani Hirotar˘

Comments

The October kaomise programs in Nagoya. As the Misonoza closed in Spring 2013, these programs are staged at the Nihon Tokushu T˘gy˘ Shimin Kaikan for the fourth time, a venue commonly called NTK Hall in Nagoya.

Sources: Earphone Guide Website or Sh˘chiku Kabuki Official Website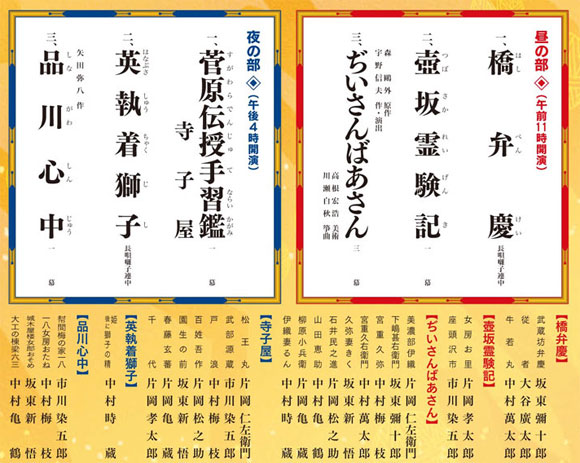 Sh˘chiku Grand Kabuki Tour
Dates
1 ~ 26 October 2016 (Sh˘chiku ďkabuki)
Sh˘chiku Grand Kabuki
Program
Casting

Ichikawa Ennosuke, Band˘ Minosuke, Ichikawa Monnosuke, Ichikawa Emisabur˘, Ichikawa Emiya, Ichikawa Juen, Ichikawa Shun'en, Ichikawa En'ya

Comments

The spectacular drama "Hitori Tabi Gojűsan Tsugi", which belongs to the Ennosuke Jűhachiban collection of plays, is staged for the very first time on tour. This drama full of keren is produced in a lighter version (less roles to be performed) but the amazing chűnori with the huge cat-spirit is part of the production. Depending on the city, there is either one program (A prog) or two programs (A prog in the afternoon, B prog in the evening). In A prog, Ichikawa Ennosuke plays the roles of Yurugi Shirabenosuke and the old woman Osan, in reality the cat-spirit of Okazaki. Band˘ Minosuke plays 13 roles. In B prog, it is the opposite.

Hitori Tabi Gojűsan Tsugi:
(Traveling Alone to the Fifty-three Stations)
"Hitori Tabi Gojűsan Tsugi" was first performed in 1827, and was written by the famous playwright Tsuruya Nanboku IV (1755 - 1829). It built on the popular explosion of fascination of travel on this highway seen in the bestselling comic novel "Hizakurige" ("Shanks Mare") about the adventures of Yaji and Kita on the road and lavish series of multi-colored woodblock prints showing all fifty-three stations along the highway. But in addition to the expected travel scenes and comedy of Yaji and Kita, audiences also got a spectacular series of scenes scary, sexy and comic reworking all Nanboku's favorite themes including a monstrous cat. Ichikawa Ennosuke long specialized in reviving Nanbokuĺs plays, each production including Ichikawa Ennosuke IIIĺs trademark fast-changes and flight through the air. This exciting and entertaining drama is staged for the first time on tour with the Omodakaya troupe headed by Ichikawa Ennosuke. With Band˘ Minosuke as guest star.

Sources: Sh˘chiku Kabuki Official Website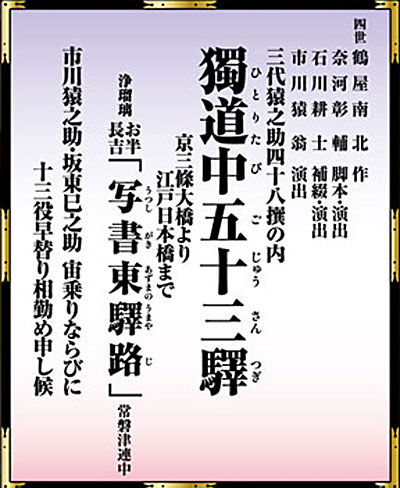 Classics Tour
Dates
1 ~ 26 October 2016 (Aki no Tokubetsu K˘en ~ Koten he no Izanai)
Fall Special Performances ~ Invitation to the Classics
Program
Casting
Comments

An original tour, which mixes N˘ and Kabuki. The first item is the N˘ drama "Ataka". The second item is the famous dance-drama "Kanjinch˘", which is the Kabuki version of "Ataka".
NHK Hall (T˘ky˘)
Dates
28 October 2016 (Koten Gein˘ Kansh˘ Kai)
Program
Casting

Living National Treasure Nakamura T˘z˘, Nakamura Baigyoku, Nakamura Jakuemon, Nakamura Kinnosuke, Ichikawa Komaz˘, Nakamura Matsue, Band˘ Kamesabur˘, Band˘ Kametoshi, Nakamura Hayato, Ichimura Kitsutar˘, Arashi Kitsusabur˘

Comments

43rd edition of Koten Gein˘ Kansh˘ Kai (literally the "Classics Entertainment Appreciation Association"), a yearly performance produced by the National TV network NHK. The program includes traditional music, one ky˘gen and one Kabuki drama.

Banch˘ Sarayashiki: the story of Okiku, who became a ghost after breaking one of a precious set of plates and being killed in punishment by a quick-tempered lord, is one of the most famous in Japanese tradition. But this is a modern play, which transforms the ghost story into a portrait of the interaction of contrasting and incompatable personalities. The samurai lord Aoyama Harima (Nakamura Baigyoku) is passionate and quick to fight and is in the middle of a fight when he is stopped by his aunt. She has arranged a marriage for him and Harima is unable to admit that the reason he will not marry is because he is deeply in love with Okiku (Nakamura Jakuemon), a lady-in-waiting in his household. As strong as Harima is, his aunt's will is much stronger. But this makes Okiku wonder about the strength of Harima's love for her and she tests him by breaking one of a set of heirloom plates. When she tests Harima's feelings, this seals her fate and sets the tragedy of the play in motion.

Source: Earphone Guide website
| | |
| --- | --- |
| Yachiyoza (Yamaga) | |

Dates
29 October ~ 3 November 2016 (Band˘ Tamasabur˘ Tokubetsu Buy˘ K˘en)
Band˘ Tamasabur˘ Special Dance Performances
Program

Aki no Irokusa

Genroku Hanami Odori

Casting

Living National Treasure Band˘ Tamasabur˘

Comments

A special Buy˘ program starring the amazing Living National Treasure onnagata Band˘ Tamasabur˘ in Yamaga at the Yachiyoza, a traditional wooden-built theater.

K˘j˘: the close relationship between the actors and the audience is shown by stage announcements, usually lavish ceremonies to commemorate various important events. This month at the Yachiyoza, it is a stage speech done by Living National Treasure Band˘ Tamasabur˘.
Aki no Irokusa:
(The Colors of Autumn)
A beautiful dance about autumn and all its associated images : morning glories, violets, arrowroot, pampas grass, the cry of passing geese sounding over the sailing ships, the sweet cacophony of insects, the moon and winds of autumn. Starring Living National Treasure Band˘ Tamasabur˘.
Genroku Hanami Odori:
(Viewing the Cherry Blossoms in the Genroku Period)
It is in the Genroku period (late 17th century) and the cherry blossoms are in full bloom on the hill of Ueno in Edo (present day T˘ky˘). Men and women dressed up in showy outfits gather to view cherry blossoms and begin to dance. After the song about the custom of flower viewing in Kyoto, the drunken people start a lively dance. The dance under the cherry blossoms continues endlessly. Starring Living National Treasure Band˘ Tamasabur˘.

Sources: Earphone Guide Website or Sh˘chiku Kabuki Official Website
| | |
| --- | --- |
| Nihonbashi K˘kaid˘ (T˘ky˘) | |

Dates
27 October 2016 (Enshi no Kai)
Enshi Gala
Program

Seigaiha

Casting

Ichikawa Enshi

Comments

3rd edition of the gala for the young actor Ichikawa Enshi, a disciple of Ichikawa Ennosuke.