| | |
| --- | --- |
| Kabukiza (T˘ky˘) | |
Dates
2 ~ 26 January 2008 (Kotobuki Hatsuharu ďkabuki)
MatinÚe
Evening
Casting

Ichikawa Danjűr˘, Nakamura Kichiemon, Nakamura Jakuemon, Matsumoto K˘shir˘, Nakamura Tomijűr˘, Nakamura Shikan, Nakamura Baigyoku, Ichikawa Danshir˘, Nakamura Kaishun, Kataoka Takatar˘, Nakamura Fukusuke, Ichikawa Sadanji, Nakamura T˘z˘, Nakamura Kinnosuke, Ichikawa Somegor˘, Nakamura Karoku, Nakamura Kash˘, Matsumoto Kingo, Ichikawa Komaz˘

Comments

2008 is an important year for the Kabukiza, which will celebrate its 120th anniversary. The year starts with an amazing program, which includes the revival of "Onna Goemon" and the staging of the great play "Sukeroku":

Source: Earphone Guide website
| | |
| --- | --- |
| Sh˘chikuza (ďsaka) | |
| | |
| --- | --- |
| National Theatre (T˘ky˘) | |
Dates
3 ~ 27 January 2008 (Hatsuharu ďkabuki)
Program

Komachi-mura Shibai no Sh˘gatsu

Casting

Onoe Kikugor˘, Nakamura Tokiz˘, Sawamura Tanosuke, Band˘ Hikosabur˘, Onoe Kikunosuke, Onoe Sh˘roku

Comments

Revival at the National Theatre of Sakurada Jisuke I's kaomise drama "Komachi-mura Shibai no Sh˘gatsu", which was staged for the first time in the 11th lunar month of 1789 at the Nakamuraza and was never revived before this 2008 production!

In the Edo period, every November was the beginning of the theatrical year and all the Kabuki plays competed with gala plays to show off the new company for that season. This was the kaomise or "face showing" performance. Since these plays were usually more like spectacular events than fine dramas, most of those plays were never performed again, no matter how good. In January, the National Theatre is boldly reviving one of these plays for the first performance in 219 years. "Komachi-mura Shibai no Shogatsu" was first performed at the Nakamuraza in Edo as the kaomise in 1789 by master playwright Sakurada Jisuke I. It is a spectacular play on a grand scale, showing a struggle between two imperial princes for the imperial throne and the almost magical powers of the great poet Ono no Komachi, also considered one of the greatest beauties of her time. In ancient times, Komachi was such a famous figure that she became the subject of many N˘ plays, one in which her poetry called forth rain and another in which a jealous rival tried to defeat her by claiming that a poem she wrote was actually plagiarized from an old poetic anthology. She proved her innocence by washing the book of the anthology and showing that the fresh ink of the supposedly old poem easily washed away. For many years now, Living National Treasure Onoe Kikugor˘ has opened the year with adventurous new productions and January 2008 looks like it will be the most spectacular of them all. Also featuring Nakamura Tokiz˘, Onoe Sh˘roku and Onoe Kikunosuke.

Source: Earphone Guide website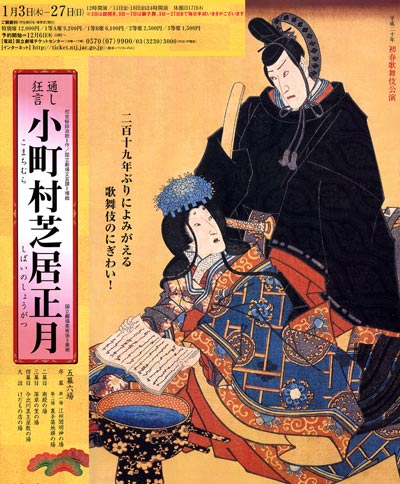 | | |
| --- | --- |
| Shinbashi Enbuj˘ (T˘ky˘) | |
| | |
| --- | --- |
| Dates | 2 ~ 27 January 2008 (Hatsuharu Hanagata Kabuki) |
| Program | |
| Casting | Ichikawa Ebiz˘, Nakamura Shibajaku, Ichikawa Monnosuke, Ichikawa Danjir˘, Ichikawa Emisabur˘, Ichikawa Shun'en, Ichikawa En'ya, Kataoka Ichiz˘, Ichikawa Unosuke, ďtani Tomoemon, Sawamura S˘nosuke |
| Comments | T˘shi ky˘gen production of the spectacular drama "Narukami Fud˘ Kitayama Zakura", which includes "Kenuki", "Narukami" and "Fud˘" (which all belong to the Kabuki Jűhachiban). Ichikawa Ebiz˘ plays the roles of Kumedera Danj˘, the wicked priest Narukami, Prince Hayagumo, Abe Kiyoyuki and the Deity Fud˘ My˘˘. The role of Princess Taema is played by Nakamura Shibajaku. This program celebrates the 1070 anniversary of the Narita-san Temple, where the Deity Fud˘ My˘˘ is worshipped. |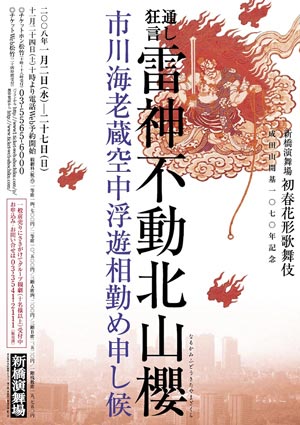 | | |
| --- | --- |
| Minamiza (Ky˘to) | |

Dates
3 ~ 22 January 2008 (Zenshinza K˘en)
Program
Casting
Comments

(Three Thieves Named Kichisa)
The playwright Kawatake Mokuami excelled at portrayals of thieves and this short scene, with its music and poetic lines, is one of his most famous. A beautiful young woman helps out a woman who is lost on the road. But she is actually Oj˘ Kichisa, a male thief who is disguised as a woman. He steals an immense sum of money that the woman is carrying and this leads to an encounter on this riverbank of three thieves, all with the name Kichisa. The two others Kichisa are Osh˘ Kichisa, a bonze turned thief, and Ob˘ Kichisa, an ex-samurai turned thief Though they start out as rivals, they decide to become blood brothers and form a gang. Featuring Kawarasaki Kunitar˘ as Oj˘ Kichisa, Fujikawa Yanosuke as Osh˘ Kichisa and Segawa Kikunoj˘ as Ob˘ Kichisa.