| | |
| --- | --- |
| Sh˘chikuza (ďsaka) | |
Dates
2 ~ 26 January 2012 (Kotobuki Hatsuharu ďkabuki)
Congratulation Early Spring Grand Kabuki
MatinÚe

Keisei Hangonk˘ (Domo Mata)

Evening
Casting

Sakata T˘jűr˘, Ichikawa Danjűr˘, Kataoka Gat˘, Nakamura Kanjaku, Kataoka Hidetar˘, Nakamura Senjaku, Ichikawa Ebiz˘, Ichikawa Ukon, Ichikawa Monnosuke, Ichikawa Emiya, Ichimura Kakitsu, Kataoka Ichiz˘, Kataoka Shinnosuke, Kamimura Kichiya, Sawamura S˘nosuke

Comments

T˘shi ky˘gen production of the spectacular drama "Narukami Fud˘ Kitayama Zakura", which was premiered in ďsaka 270 years ago, in the 1st lunar month of 1742 in ďsaka at the ďnishi no Shibai [casting]. Ichikawa Ebiz˘ plays the roles of .

Sources: Earphone Guide website
Sh˘chiku Kabuki Official Website for "Narukami Fud˘"
| | |
| --- | --- |
| National Theatre (T˘ky˘) | |
Dates
3 ~ 27 January 2012 (Hatsuharu ďkabuki)
Early Spring Grand Kabuki
Program

Sannin Kichisa Tomoe no Shiranami

Yakko Dako Sato no Harukaze

Casting

Matsumoto K˘shir˘, Nakamura Fukusuke, ďtani Tomoemon, Ichikawa Somegor˘, Ichikawa Komaz˘, Matsumoto Kingo, Ichikawa Juen, Nakamura Utae, Matsumoto Kintar˘, ďtani Hirotar˘, ďtani Hiromatsu

Comments

Sannin Kichisa:
(Three Thieves Named Kichisa)
The late 19th century playwright Kawatake Mokuami excelled at plays about thieves and this play is considered to be one of his greatest. Three thieves, all with the name Kichisa, meet on a riverbank. Oj˘ Kichisa (Nakamura Fukusuke) was once a Kabuki onnagata and robs in the guise of a woman. Ob˘ Kichisa (Ichikawa Somegor˘) is a handsome young man while Osh˘ Kichisa (Matsumoto K˘shir˘) has more weight and stature as the head of a derelict temple. Though they start out as rivals, they decide to become blood brothers and form a gang. The three are bound by fate in many ways, with the crimes of one leading to hardship of the family of another. But the same sins and crimes also lead to rescue and salvation. The play combines dark drama with the most beautiful of poetry. In the famous scene on a riverbank Oj˘ Kichisa kills a young prostitute and then speaks in the playwrightĺs famous rhythmical speech of the moon on a hazy night and the gold coins that have fallen into his hands. Soon, these gold coins will link together the three thieves named Kichisa, and in turn, draw these three into a larger drama of crime and retribution. The play combines the playwright Kawatake Mokuami's gritty depiction of the lowest levels of society with intoxicatingly beautiful music and poetry to bring life to his vision of the cycles of sin and retribution.
Yakko Dako Sato no Harukaze:
(The Kite Shaped Like a Samurai Footman)
This is a dance originally written by Kawatake Mokuami that fancifully shows a Kabuki actor as a kite flying through the sky. This play has long existed only as a playscript and will have newly composed music and choreography as a light-hearted event to celebrate the New Yearĺs season.

Source: Earphone Guide website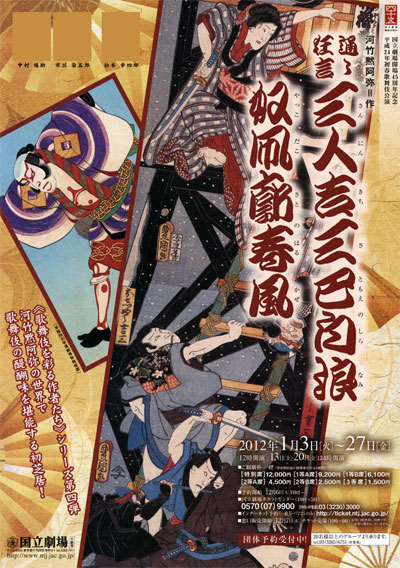 | | |
| --- | --- |
| Shinbashi Enbuj˘ (T˘ky˘) | |
Dates
2 ~ 26 January 2012 (Kotobuki Hatsuharu ďkabuki)
Congratulation Early Spring Grand Kabuki
MatinÚe

Gion Sairei Shink˘ki (Kinkakuji)

Evening
Casting

Onoe Kikugor˘, Nakamura Kichiemon, Band˘ Mitsugor˘, Nakamura Tokiz˘, Nakamura Baigyoku, Nakamura Kaishun, Nakamura Shibajaku, Onoe Kikunosuke, Nakamura Kinnosuke, Sawamura Tanosuke, Ichikawa Sadanji, Ichikawa Danz˘, Band˘ Hikosabur˘, Nakamura T˘z˘, Nakamura Matagor˘, Nakamura Karoku, Kawarasaki Gonjűr˘, Ichimura Manjir˘, Band˘ Shűch˘, ďtani Keiz˘, Sawamura Yoshijir˘, Band˘ Kamesabur˘, Band˘ Kametoshi, Nakamura Matsue, Onoe Matsuya, Nakamura Baishi, Nakamura Takanosuke, Fujima Taiga

Comments

Source: Earphone Guide website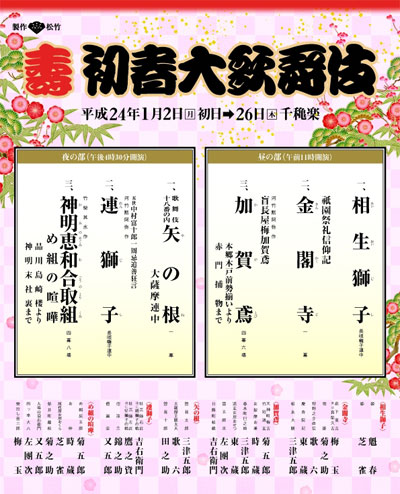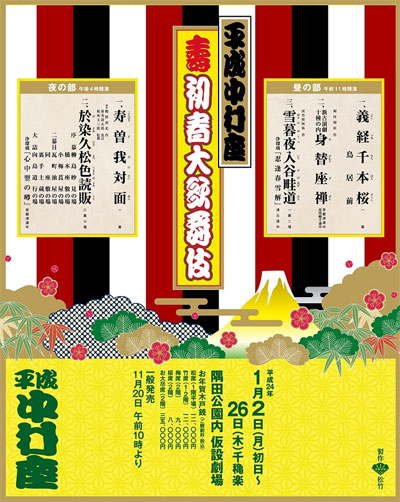 | | |
| --- | --- |
| Asakusa K˘kaid˘ (T˘ky˘) | |

Dates
2 ~ 26 January 2012 (Shinshun Hanagata Kabuki)
New Year Young Actors Kabuki
MatinÚe

Otoshidama (Nenshi Goaisatsu)

Evening

Otoshidama (Nenshi Goaisatsu)

Casting

Ichikawa Kamejir˘, Kataoka Ainosuke, Nakamura Kikaku, Ichikawa Omez˘, Band˘ Takesabur˘, Ichikawa Shun'en, Band˘ Shinsha, Band˘ Minosuke, Nakamura Kash˘, Nakamura Kazutar˘

Comments

The yearly show for young promising actors at the Asakusa K˘kaid˘ in Asakusa, a lively and colorful neighboorhood that keeps the scent of old Edo.

Source: Earphone Guide website
| | |
| --- | --- |
| Le Theatre Ginza (T˘ky˘) | |
| | |
| --- | --- |
| Zenshinza Gekij˘ (Kichij˘ji) | |
| | |
| --- | --- |
| Dates | 3 ~ 9 January 2012 |
| Program | Kamikazari Hatena no Karakuri |
| Casting | ??? |
| Comments | A newly-created Kabuki drama performed by the young actors of the Zenshinza troupe. The script was written by ďzakaya Happo. |