Play title
Shibahama no Kawazaifu
Authors
San'yûtei Enchô
Takeshiba Kinsaku II
History

"Shibahama no Kawazaifu" was a famous Rakugo story created by San'yûtei Enchô. It was adapted to the stage by the Shinpa troupe led by Ii Yôhô and Kawai Takeo and was staged for the first time in February 1903 at the Ichimuraza. It was adapted for Kabuki by Takeshiba Kinsaku II and staged for the first time in February 1922 at the Ichimuraza, starring Onoe Kikugorô VI and Sawamura Sônosuke I in the roles of Masagorô and Masagorô's wife Otatsu.

Structure

"Shibahama no Kawazaifu" is made up of 6 short scenes.

Key words
Sewamono
Summary

Masagorô, a fishmonger, likes sake wine and in addition is lazy when it comes to working. He never pays attention to his wife's advice. One morning when he is on the way to the marketplace to buy fish, he picks up a purse, which happens to contain a large sum of money. This emboldens him to hold a big party for all the tenants in his tenement house. At the party he drinks himself to sleep. Next morning he asks his wife, Otatsu, if she has the purse. As she knows that her husband is a gullible person, she deceives him, saying that it was all only a dream. She lectures him about the dire need for him to reflect upon his poor conduct. She has been trying to get him to mend his bad habits. She speaks so eloquently and enthusiastically that he is finally persuaded to believe what she says, then makes up his mind to stop drinking and to sincerely apply himself to his trade. In fact, Otatsu had reported the purse in question to the local government office.

Three years pass. On the last day of the year, Masagorô and Otatsu receive, from the government, the purse and the money which nobody had come to claim. Otatsu apologizes to Masagorô for telling him a lie. Contrary to what she imagined with great anxiety would be his response, Masagorô kindly thanks her for her consideration towards him. Thus they are able to rejoice together.

This summary has been written by Watanabe Hisao and edited by Jeff Blair [website]

Comments

"As a play with its roots in the rakugo tradition, "Shibahama no Kawazaifu" has a story-book feel to it which does not help to make it convincing drama. The actors are not bad, but the characters are all shallow and one-sided so that we end up with yet another moralizing tale about a lazy drunkard who sees the evil of his ways and reforms." (Paul M. Griffith)

Trivia

"Shibahama no Kawazaifu" was at the beginning a sandai banashi (3-word improvised story) created by San'yûtei Enchô: members of the audience gave him three words and he had to create a story on the spot. The three words were drunkard, the beach at Shiba (Shibahama in Japanese - Shiba was a district of Edo) and leather purse (kawazaifu). It became a very successful story.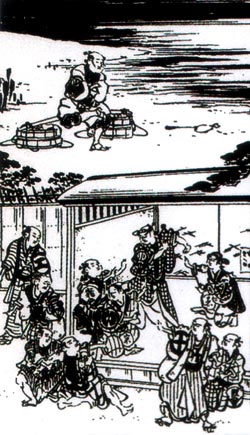 Some pictures of "Shibahama no Kawazaifu" taken from the banzuke of the performance at the Ichimuraza in February 1922