NARUKAMI FUDď KITAYAMA ZAKURA
Play title
Narukami Fud˘ Kitayama Zakura
Authors
Tsuuchi Hanjűr˘/Yasuda Abun/Nakata Mansuke (1742)
Tobe Ginsaku (1967)
History

The drama "Narukami Fud˘ Kitayama Zakura" was premiered in the 1st lunar month of 1742 in ďsaka at the ďnishi no Shibai [casting]. It was written for the star Ichikawa Ebiz˘ II, who was on tour in ďsaka. It integrated the famous "Narukami" and "Fud˘", created respectively in 1st lunar month of 1684 and 5th lunar month of 1697 and staged by Ichikawa Ebiz˘ II's father Ichikawa Danjűr˘ I. "Narukami Fud˘ Kitayama Zakura" gave a new shape to "Narukami" and became famous for the "Kenuki" scene. "Narukami Fud˘ Kitayama Zakura" went into oblivion before the Meiji. The actor Ichikawa Sadanji II and the playwright Oka Onitar˘ revived both "Kenuki" and "Narukami" at the Meijiza, in September 1909 [casting] and in May 1910 [casting]. "Narukami Fud˘ Kitayama Zakura" was finally revived at the National Theatre in January 1967, under the supervision of Tobe Ginsaku [casting]. A new version was revised for both the young star Ichikawa Ebiz˘ XI and the 1070th anniversary of the Narita-san Temple, where the Deity Fud˘ My˘˘ is worshipped. Instead of 3 roles (Narukami, Kumedera Danj˘, Fud˘ My˘˘), Ichikawa Ebiz˘ XI played 5 roles, the 3 classic roles plus Abe no Kiyoyuki and the villain Hayakumo no ďji. This new revival was staged in January 2008 at the Shinbashi Enbuj˘ [casting].

Structure

The 1742 "Narukami Fud˘ Kitayama Zakura" was a 5-act drama. The 1967 revival was made up of 4 acts, divided into 7 scenes. The 2008 Ebiz˘-oriented revival was made up of 5 acts (one prologue and 4 acts), divided into 8 scenes.

1967 revival:

Act
Scene
Length
In Japanese
In English
I
1
27
大内
The Imperial Palace
I
2
8
木の島明神松原
Near the precinct of Konoshima Shrine
II
1
59
小野春道館
Ono Harumichi's Mansion ("Kenuki")
III
1
42
大内奥庭
The Inner Garden of the Imperial Palace
III
2
67
北山岩屋
A rocky hermitage at Kitayama ("Narukami")
IV
1
11
文屋豊秀館
Bun'ya Toyohide's Mansion
IV
2
10
王子降伏
The Capitulation of ďji
You need a Japanese Language Kit installed within your system in order to be able to read the characters.
The length for each scene is in minutes.

2008 revival:

Act
Scene
Length
In Japanese
In English
Prologue
?
深草山山中
In Mt. Fukakusa
I
1
?
大内
The Imperial Palace
II
1
?
小野春道館
Ono Harumichi's mansion ("Kenuki")
III
1
?
木の島明神境内
Near the precinct of Konoshima Shrine
III
2
?
北山岩屋
A rocky hermitage at Kitayama ("Narukami")
IV
1
?
大内塀外
Before the gate of the Imperial Palace
IV
2
?
朱雀門王子最期
The End of ďji at Suzakumon
IV
3
?
不動明王降臨
The Descent of Fud˘ My˘˘ to Earth
You need a Japanese Language Kit installed within your system in order to be able to read the characters.
The length for each scene is in minutes.

Key words
Jidaimono
Kabuki Jűhachiban
Fud˘ My˘˘
Y˘zei Tenn˘
Kanpaku
Fujiwara no Mototsune
S˘d˘
ďuchi
Suzakumon
Summary

Prologue: in Mt. Fukakusa

In the early days of the Heian period Emperor Y˘zei (869-949, reigned 876-884) has just succeeded to the throne. Prince Hayakumo would have been the emperor, but a divination by Abe no Kiyoyuki, who prophesized that the world would come to ruin if Hayakumo was allowed to rule the country prevented that. Thus the royal family was in peat need of another son. Y˘zei's mother Fujiwara no Takaiko, however, was about to give birth to a girl. The royal couple called upon Saint Narukami to help them. He performed an occult rite over the pregnant empress, which successfully changed the sex of the baby. For his services, the court allowed Narukami's petition to erect an ordination platform in his temple, which was normally allowed only at more prestigious temples. But the petition was suddenly rejected by an unknown reason. On the other hand Hayakumo is plotting for the coup d'etat in Mt. Fukakusa. According to Kiyoyuki's divination the Imperial Court becomes aware of a fact that there is a band of men plotting against the Court, gathering in Mt. Fukakusa. Upon the Court's decision, envois are sent to investigate, but are overwhelmed by Hayakumo's followers, Yamagami and Katsura. There appears Hayakumo with a giant sickle in his hand and slaughters the envois.

Act I: The Imperial Palace

A few months later, a drought (the Great Drought of 877) prevails throughout Japan. Not even a drop of rain is to be seen. The farmers, suffering terribly from the drought, flock to the court for relief. The Emperor's chief advisor Fujiwara no Mototsune, Lord Ono Harumichi, and Bun'ya no Toyohide appear. They announce that the court will hold a ceremony to pray for rain and instruct the farmers to return home and keep calm. Then the Emperor's half-brother Hayakumo comes out. He happens to be very popular among the farmers. After listening to the farmers' cries for help, he declares he is going to put an end to the drought, but soon learns that the court will ask Narukami to pray for rain. Hayakumo protests, claiming the drought was caused by Narukami's witchcraft, for which he has already banished the saint from Ky˘to. Upon hearing this, Toyohide chides Hayakumo for his rash decision, but Hayakumo insists he did it with a sincere heart, only wishing for the whole country's lasting peace. Then Ono Harumichi steps forward to explain that when his relative, the famous poet Ono no Komachi (played an active role in the Waka world in the early Heian period), had faced a similar situation, she composed a poem praying for rainfall. Surprisingly enough the prayer was answered. Since that time the Ono family has continued to treasure the ornamental board known as Kotowariya. It is so called because the board bears her poem starting with "Kotowariya" as the first line. Harumichi offers to use it and pray for rain, just as Komachi did. Instead, Toyohide suggests summoning the astrologist Kiyoyuki to divine the cause of the drought. While Mototsune nods in agreement with both men, Hayakumo chastises them for ignoring the welfare of the people, which is what brought forth heaven's wrath.

The farmers approach and inform them that the drought has been responsible for many deaths. Touched deeply by their suffering, Hayakumo sets out saying that he must console the bereaved families.

Kino Sadayoshi brings Kiyoyuki to the palace. Kiyoyuki is more than a hundred years old, but has somehow retained the vigor, energy, and appearance of his youth. Although he is respected and trusted by the Emperor, he does have one glaring weakness, a strong insatiable desks for women. Because of his loose character the farmers, who intended to rely on his magical power, are disappointed and leave there. There comes Koiso, the Ono family's housemaid. She is the secret lover of Harukaze. She has become pregnant with his child. So, she has sent away from the mansion with the promise that she could be Harukaze's mistress. As a token that promise Harukaze gave her the family heirloom Kotowariya. She now intends to return it to her master Harumichi.

As is usual with Kiyoyuki he begins to chase after her. While Kiyoyuki is pursuing the woman Hayakumo appears and kills her and stuns Kiyoyuki. He takes out Kotowariya from her bosom and boasts that the drought was merely a scheme devised by him to usurp the throne from his brother. He cunningly betrayed the naive and trusting Narukami. Bearing a grudge against the court because of its treachery, Narukami used his power to cause the drought. Everything was the result of Hayakumo's trap. To realize his dream of becoming Emperor Hayakumo has been pretending to be an honest and virtuous man, but he now reveals his evil intentions. He flashes an eerie smile.

Act II: Ono Harumichi's mansion

A feud has broken out between two factions of Ono Harumichi's retainers. His daughter, Nishiki-no-Mae, is engaged to Toyohide. Hata Minbu told the faction of loyal retainers support this match, but Yatsurugi Genba's group is plotting to usurp power by getting the daughter to marry Genba's son. In order to derail the immediate wedding, they have spread rumors that Nishiki-no-Mae has contracted an ominous disease.

As the curtain rises, two men are crossing swords. One is Genba's son Kazuma and the other is Minbu's younger brother, Hidetar˘. When the arrival of a messenger from the court is announced, they cease fighting. The envoy bears a letter requesting Kotowariya. Harumichi orders Harukaze to bring him the box that holds the family heirloom. Harukaze hesitates to open it because he gave Kotowariya to his pregnant mistress, Koiso, whom he secretly sent back to her parents to give birth. Ignoring Harukaze's reluctance, Genba opens the box only to find it empty. Harumichi is in a grave predicament that threatens his house with extinction. The envoy, however, is sympathetic enough to wait a while for Harumichi to retrieve "Kotowariya".

A short while later, Kumedera Danj˘ appears. Toyohide's side has sent him to check into the delay of the marriage. Genba informs him that the marriage has been called off because of her disease. Danj˘ insists on seeing her himself, explaining that he must make a full report of her condition to Toyohide. Though embarrassed to let her be seen in such a sorry state, Minbu finally calls her in. As the hood that covers her head is removed, all her hair stands on end. In shame, she cowers in a corner of the room until she is led away.

The strange sight leaves Danj˘ in a state of shock. When he is left alone in a room, Hidetar˘ and Makiginu come in alternately to comfort him. He plays a joke on them, but soon comes to his senses. After they have left, he nonchalantly picks up his tweezers to pull out a few stray whiskers from his beard. But when he puts it aside, he watches in amazement as it begins to move around by itself. Next, he takes out his wooden pipe to see what will happen. It lies motionless. Then he tries it with his dagger, which starts to bob around before his very eyes. He begins to wonder why such curious things are occurring.

Suddenly a servant comes into the room calling for Minbu and Genba. He tells them that there is a strange man-who calls himself Manbŕ-at the main gate, demanding to meet Harukaze. Danj˘ hides himself so that he can eavesdrop on the proceedings, just as Manbŕ bursts into the room and introduces himself as the brother of Koiso. According to Manbŕ Koiso died in labor, and it is the child's father Harukaze that is to blame. This imposter, however, -one of Genba's men, in fact-has just killed Koiso and stolen Kotowariya from her.

For Harukaze's sake, Minbu offers the man some money in order to settle the matter quietly. But the man continues to make more and more impossible demands one after another until finally he insists that they bring his sister back from the Death World. Taking this as his cue, Danj˘ comes out of hiding and informs Manbŕ that he will grant his request to bring Koiso back. He writes a letter of request to Enma-the Lord of the Underworld, hands the letter to Manbŕ with instructions to deliver it to Enma, quickly draws his sword, and kills him on the spot. Afterwards, he explains that the man is an imposter. While Danj˘ was on duty at the Bun'ya house real Manbŕ had come to report the murder of his sister Koiso and the theft of the precious treasure in her possession. Danj˘ searches the dead man's body and finds Kotowariya. Doubtful of Genba's loyalty, he returns it not to Genba but to Minbu.

Having thought deeply about Nishiki-no-Mae's strange disease, Danj˘ asks her father to bring her back into the room. As expected, when Danj˘ removes the hood, her hair flies upward. As soon as he takes the ornamental iron comb out of her hair, however, it settles back down. He realizes that someone must be manipulating a magnet in the ceiling. Then Danj˘ suddenly thrusts his spear into the ceiling and a man with a huge magnet drops to the floor. Thus, the cause of the mysterious occurrence is revealed. Danj˘ pins him down to the floor and tries to make him reveal who put him up to playing this dirty trick on his master's bride. Then Genba quickly approaches the man, and just as he is about to confess, kills him instantly so that his secret will not leak out. Anyway the marriage ceremony is arranged to be carried out.

Harumichi gives Genba a sword to be presented to Danj˘ as a dowry gift for Toyohide. When Genba hands it to him, though, Danj˘ draws it and kills Genba, to the complete shock of everyone present. In explanation, Danj˘ says that his master, Toyohide had ordered him to discover the cause of Nishiki-no-Mae's disease and get rid of the evil that was plaguing the Ono house. His duty done, he triumphantly says farewell to all.

Act III Scene 1: Near the precinct of Konoshima Shrine

Kino Sadayoshi, one of Kiyoyuki's disciples, appears concerned for the whereabouts of his master. Sadayoshi is on his way to Konoshima Shrine to pray for the sake of his master when Toyohide appears, holding Kotowariya. He is en route to the same shrine to pray for rain. After a brief discussion, they agree that they should first search for Kiyoyuki, who suddenly arises out of the ground. Although he was trapped beneath the earth by Hayakumo's group, his familiarity with women saved his life as his sense of smell is so powerful that he merely followed the feminine scent on the ground.

Kiyoyuki tells Toyohide about the drought. By and by Toyohide deduces the true cause of the drought and realizes that it is all due to the curse caused by Narukami, who confined the God of Rain in the basin of a waterfall. In order to break Narukami's power, Toyohide devises a scheme utilizing the timeless charm of Kumo-no-Taema to captivate Narukami so that he will lose his magical power. He goes off toward the Imperial Palace to inform them of his plan.

Act III Scene 2: A rocky hermitage at Kitayama

When Taema reaches Narukami's hermitage, her entry is refused by the priests. They say women are not allowed to enter the sacred area. So she tries to talk a love story, which she hopes will be alluring to men in such a sheltered environment. She is so successful that Narukami, who has been praying nearby, becomes curious about her and permits her to enter. As she goes on with her story, Narukami becomes excited and almost faints from the effect of the young woman's charm. She captivates him with her feminine behavior and story telling. Suddenly, she complains of an acute pain in her stomach. Narukami assures her that she is safe and that he can cure her. He begins to console her. As he elaborately strokes her whole body, he finds himself losing control. At last, he confesses that he is driven out of his senses by her charm. As a result, Narukami's concentration is broken, and he loses his magical powers. Taema severs the sacred straw rope guarding the area, allowing the God of Rain to ascend to the heavens in the form of a dragon. When the rain that has been longed for begins to fall Narukami realizes that he had been deceived. His anger reaches a climax, and he lunges out at Taema.

The story of Narukami's fate originates in people's fear of the Jekyll and Hyde nature of human beings. Anyone, however noble he or she may be, can rapidly change and turn evil due to circumstances and events around them.

Finale Scene 1: Outside of the Imperial Palace

Mototsune and other people are rejoicing over the rain when Toyohide arrives. Toyohide informs them of Taema's great achievement. To hear the wonderful news, Mototsune is about to go and report to the Emperor. Suddenly, Yamagami stops him, claiming that he killed Narukami by Hayakumo's orders. Thus, it is Hayakumo, not Taema, that brought forth the great relief such they should remove the current emperor and instate Hayakumo to the throne. Toyohide then shows a letter written by Hayakumo, which exposes all his treachery. Left with no alternative, Yamagami tries to kill Toyohide. They draw swords and begin to fight.

Finale Scene 2: Death of Prince Hayakumo

With Hayakumo's conspiracy fully revealed, many soldiers surround him. He retreats to Suzaku Gate, the main gate of the Imperial Palace and keeps them back with a long sword. In the midst of the fighting, the voice of the God of Fire fills the air. Suddenly, Hayakumo is carried away by some magical power and his fate now rests in the hands of the God of Fire.

Finale Scene 3: Advent of the God of Fire

Clouds appear in the void and the entire area is filled with scattered flowers. Amongst the flowers, the God of Fire makes his appearance and proclaims that he has appeased Narukami's revengeful spirit and conquered all of the chaos in the heavens and on the earth, bringing about eternal peace. Then he magnificently disappears into the sky.

This summary, which has been written by Watanabe Hisao, would have not been possible without the help of Jeff Blair!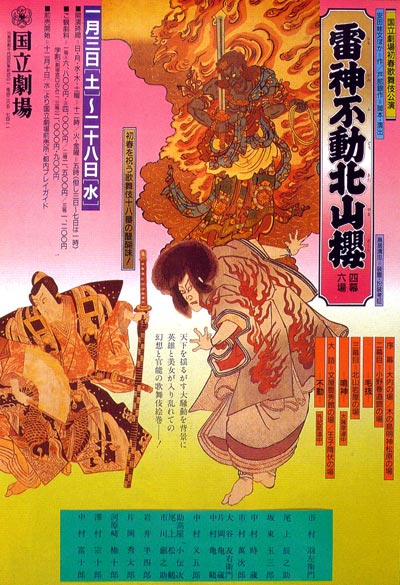 The poster of the production of "Narukami Fud˘ Kitayama Zakura", which was staged in January 1987 at the National Theatre