| | |
| --- | --- |
| Kabukiza (T˘ky˘) | |
Dates
2 ~ 26 April 2019
Shigatsu ďkabuki
April Grand Kabuki
MatinÚe

Osamaru Miyo Nagori no Emaki

Sakae Kotohogu Fuji no Suehiro

Evening

Genpei Nunobiki no Taki
(Sanemori Monogatari)

Ninin Yűgiri

Casting

Living National Treasure Sakata T˘jűr˘, Living National Treasure Onoe Kikugor˘, Living National Treasure Nakamura Kichiemon, Living National Treasure Kataoka Nizaemon, Living National Treasure Nakamura T˘z˘, Nakamura Jakuemon, Nakamura Tokiz˘, Nakamura Kaishun, Nakamura Fukusuke, Nakamura Ganjir˘, Kataoka Takatar˘, Ichikawa Ennosuke, Nakamura Kinnosuke, Kataoka Hidetar˘, Ichikawa Sadanji, Band˘ Yajűr˘, Nakamura Kazutar˘, Ichikawa Danz˘, Nakamura Karoku, Nakamura Matagor˘, Ichikawa Monnosuke, Nakamura Kikaku, Band˘ Rakuzen, Ichikawa Monnosuke, Kataoka Ichiz˘, Ichimura Kakitsu, Nakamura Kotar˘, Kawarasaki Gonjűr˘, Ichikawa Emisabur˘, Ichikawa Emiya, Ichikawa En'ya, Ichikawa Juen, Ichikawa Sai'nyű, Ichikawa Omez˘, Band˘ Minosuke, Kataoka Sennosuke, Nakamura Kash˘, Nakamura Yonekichi, Ichimura Takematsu, Nakamura Mantar˘, Nakamura Tanenosuke, Nakamura Takanosuke, Nakamura Jűjir˘, Kataoka Matsunosuke, Nakamura Kichinoj˘, Ichikawa Otora, Terajima Maholo

Comments

5 Living National Treasures on stage, Onoe Kikugor˘, Nakamura Kichiemon, Sakata T˘jűr˘, Kataoka Nizaemon and Nakamura T˘z˘, for two April Grand Kabuki programs with the following highlights:

Sources: Earphone Guide Website or Sh˘chiku Kabuki Official Website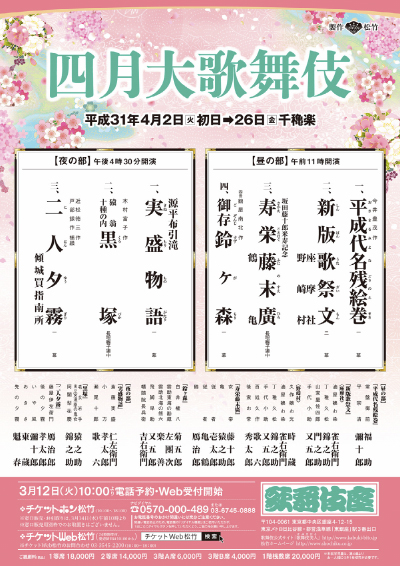 | | |
| --- | --- |
| Misonoza (Nagoya) | |
Dates
1 ~ 25 April 2019
Y˘shun Hanagata Kabuki
Spring Sun Young Actors Kabuki
Program
Casting

Nakamura Shikan, Kataoka Ainosuke, Onoe Sh˘roku, Nakamura Baishi, Band˘ Shingo, Band˘ Kamez˘, Nakamura Matsue, Nakamura Hashinosuke, Nakamura Fukunosuke

Comments

The return of the spring program at the Misonoza with young actors.

Hakkenden:
(The Eight Dog Warriors)
the original novel is an immense epic by 19th century novelist Takizawa Bakin published over many years, but eventually reaching one-hundred and sixty volumes. The Satomi clan is being attacked and its lord offers his daughter Princess Fuse to the warrior that will bring him the head of the enemy. It is his loyal dog that kills and beheads the enemy and, saying that her father must not go back on his word, Princess Fuse goes with the dog. Nevertheless, the Satomi clan is defeated and one of its loyal retainers goes to rescue Princess Fuse, shooting the dog, but unfortunately shooting Princess Fuse as well. The eight crystal beads of her rosary, each engraved with the Chinese characters of one of the Confucian virtues, goes flying through the air. Miraculously, each will be found with a newborn baby. These eight children, all of whom have the character inu for "dog" in their names, eventually meet and join together to restore the Satomi clan. The play features all the stars of the company and follows the adventures of the eight dog warriors as they meet and gradually join together, leading to a climactic fight on the roof of a dizzyingly high tower.

Sources: Earphone Guide Website or Sh˘chiku Kabuki Official Website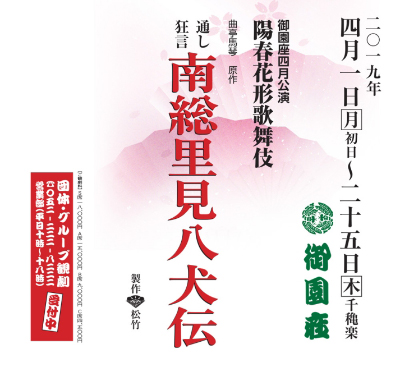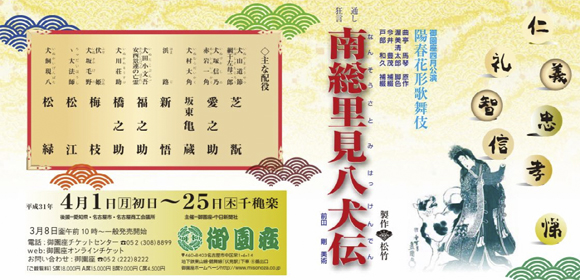 | | |
| --- | --- |
| Kanamaruza (Konpira) | |
Classics Tour
Dates
9 ~ 25 April 2019
Koten he no Izanai
Invitation to the Classics
Program
Casting
Comments

A special tour in 11 cities for the heir of the Naritaya guild.
Dates
27 ~ 28 April 2019
Ch˘kabuki
Ultra-Kabuki
Program

Hana Kurabe Senbon Zakura []

Casting
Comments

The world of Kabuki and the world of otaku collide for the 4th time in Kabuki history! Resulting from this spectacular collision, a new genre, the Ch˘kabuki (literally Ultra-Kabuki), was born in 2016 [more details]. Nakamura Shid˘ shares the stage with the virtual 3D creature Hatsune Miku. They perform "together" in a newly-created Ch˘kabuki drama. It is staged at the Makuhari Messe as part of the Niconico Ch˘kaigi 2019 event, an important yearly event for the otaku tribes.