3 shows in T˘ky˘ (Kabukiza), 1 show in Ky˘to (Minamiza) and 2 on Shikoku island (Kanamaruza)!
Kataoka Nizaemon, Band˘ Tamasabur˘, Onoe Kikugor˘, Sakata T˘jűr˘, Nakamura Kichiemon, Matsumoto K˘shir˘, Band˘ Mitsugor˘, Nakamura Hashinosuke, Nakamura Kanjaku, Nakamura Shibajaku, Nakamura Tokiz˘, Onoe Kikunosuke, Nakamura Baigyoku, Nakamura Kaishun, Nakamura Fukusuke, Nakamura Senjaku, Kataoka Gat˘, Ichikawa Sadanji and Ichikawa Danz˘ perform at the Kabukiza!
Ichikawa Ennosuke, Kataoka Ainosuke, Kataoka Hidetar˘, Band˘ Takesabur˘ and the Omodakaya guild perform at the Kanamaruza!
| | |
| --- | --- |
| Kabukiza (T˘ky˘) | |
Dates
2 ~ 28 April 2013 (Kokera Otoshi Shigatsu ďkabuki)
Opening Ceremony April Grand Kabuki
MatinÚe

Kotobuki Iwau Kabuki no Irodori (Kakuju Senzai)

Afternoon

Benten Musume Meo no Shiranami

Evening

ďmi Genji Senjin Yakata
(Moritsuna Jin'ya)

Casting

Kataoka Nizaemon, Band˘ Tamasabur˘, Onoe Kikugor˘, Sakata T˘jűr˘, Nakamura Kichiemon, Matsumoto K˘shir˘, Band˘ Mitsugor˘, Nakamura Hashinosuke, Nakamura Kanjaku, Nakamura Shibajaku, Nakamura Tokiz˘, Onoe Kikunosuke, Nakamura Baigyoku, Nakamura Kaishun, Nakamura Fukusuke, Nakamura Senjaku, Kataoka Gat˘, Ichikawa Sadanji, Ichikawa Danz˘, Band˘ Hikosabur˘, ďtani Tomoemon, Nakamura T˘z˘, Nakamura Matagor˘, Nakamura Kankur˘, Nakamura Shichinosuke, Onoe Sh˘roku, Band˘ Yajűr˘, Nakamura Karoku, Nakamura Shid˘, Ichikawa Somegor˘, Kataoka Shinnosuke, Kataoka Ichiz˘, Nakamura Kinnosuke, Kataoka Kamez˘, Nakamura Kikaku, Kawarasaki Gonjűr˘, Ichikawa Omez˘, Ichikawa Komaz˘, Matsumoto Kingo, Sawamura Yoshijir˘, Nakamura Kash˘, ďtani Keiz˘, Band˘ Kamesabur˘, Band˘ Kametoshi, Sawamura S˘nosuke, Nakamura Matsue, Onoe Matsuya, Onoe Ukon, Nakamura Baishi, Nakamura Mantar˘, Nakamura Kazutar˘, ďtani Hirotar˘, ďtani Hiromatsu, Band˘ Shingo, Nakamura Kotar˘, Nakamura Yonekichi, Nakamura Tanenosuke, Matsumoto Kintar˘, Nakamura Tamatar˘, Nakamura Muneo, Nakamura Kunio, Nakamura Yoshio, Nakamura Toranosuke, Fujima Taiga

Comments

Opening of the new Kabukiza and the beginning of a 1-year long cycle of kokera otoshi programs!

Sources: Earphone Guide Website or Sh˘chiku Kabuki Official Website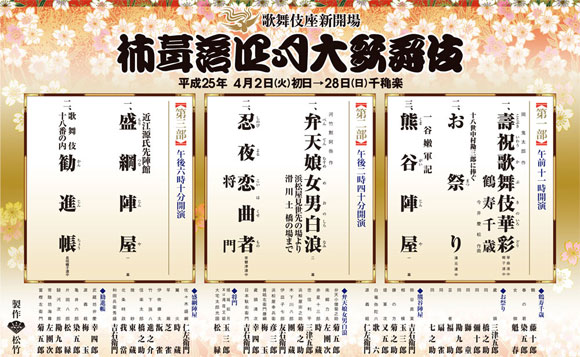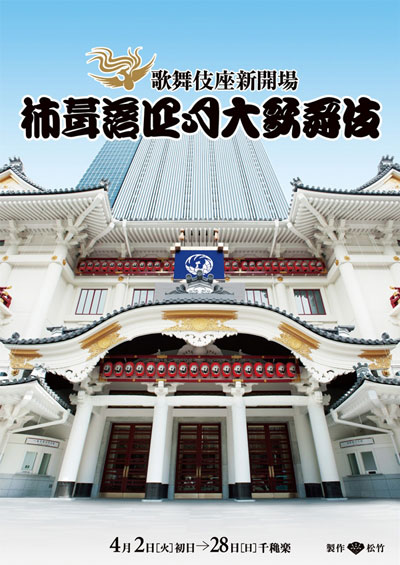 | | |
| --- | --- |
| Kanamaruza (Konpira) | |
Dates
6 ~ 21 April 2013 (Shikoku Konpira Kabuki ďshibai)
MatinÚe
Evening
Casting

Ichikawa Ennosuke, Kataoka Ainosuke, Kataoka Hidetar˘, Band˘ Takesabur˘, Ichikawa Ukon, Ichikawa Emiya, Ichikawa Emisabur˘, Ichikawa Shun'en, Ichikawa Tsukinosuke, Ichikawa En'ya, Ichikawa K˘tar˘, Ichikawa Juen

Comments

29th edition of the Spring Kabuki performance Shikoku Konpira Kabuki ďshibai at the Kanamaruza on Shikoku Island. Ichikawa Ennosuke IV celebrates his shűmei at the Kanamaruza!

Sources: Earphone Guide Website or Sh˘chiku Kabuki Official Website
| | |
| --- | --- |
| Minamiza (Ky˘to) | |

Dates
20 ~ 25 April 2013 (Kabuki Kansh˘ Ky˘shitsu)
Kabuki Appreciation Class
Program
Casting
Comments

21st edition of a pedagogical show in Ky˘to combining explanation for beginners (done by the professional storyteller Katsura Kujaku) and two dance-dramas.

Fuji Musume: the spirit of wisteria blossoms dances of love in the form of a beautiful young maiden. One of Kabuki's most famous and colorful dances, it will feature the dancing skills of Kamimura Kichiya.
Tomo Yakko: a samurai footman rushes after his master in the pleasure quarters, but loses sight of him. He dances with pride in his master and enjoys his dance so much that he begins emphasizing it with vigorous foot stamping. Starring Kamimura Kichitar˘ in the role of the yakko.

Source: Earphone Guide website