| | |
| --- | --- |
| Kabukiza (T˘ky˘) | |
Dates
2 ~ 26 February 2017 (Saruwakasai Nigatsu ďkabuki)
Saruwaka Festival February Grand Kabuki
MatinÚe

Saruwaka Edo no Hatsuyagura

ďakinai Hiru-ga-Kojima

ďgi Jishi

Evening

Kadonde Futari Momotar˘

Ehon Taik˘ki (Amagasaki Kankyo)

Casting

Living National Treasure Onoe Kikugor˘, Living National Treasure Nakamura T˘z˘, Nakamura Tokiz˘, Nakamura Jakuemon, Nakamura Shikan, Nakamura Baigyoku, Nakamura Kaishun, Nakamura Ganjir˘, Nakamura Kankur˘, Nakamura Shichinosuke, Onoe Kikunosuke, Kataoka Takatar˘, Nakamura Kinnosuke, Ichikawa Somegor˘, Onoe Sh˘roku, Kataoka Hidetar˘, Band˘ Hikosabur˘, Ichikawa Sadanji, Band˘ Yajűr˘, Nakamura Karoku, Nakamura Kantar˘, Nakamura Ch˘zabur˘

Comments

Nakamura Kankur˘'s two sons Nakamura Kantar˘ III and Nakamura Ch˘zabur˘ II make their debut on stage (hatsubutai)! These two programs also celebrate the 390th anniversary of Edo Kabuki (Okuni and her troupe performed at the Sh˘gun palace in Edo in 1607).

Sources: Earphone Guide Website or Sh˘chiku Kabuki Official Website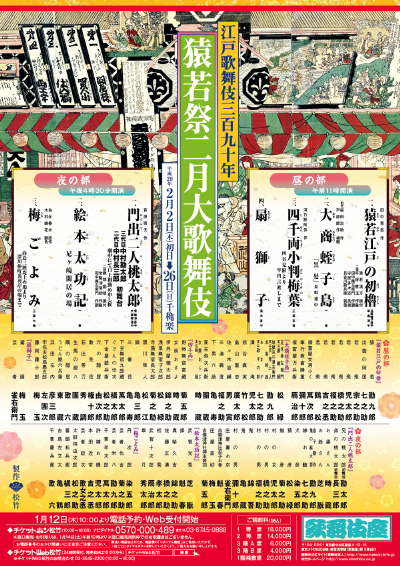 | | |
| --- | --- |
| Sh˘chikuza (ďsaka) | |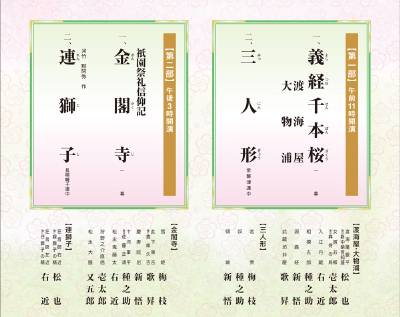 | | |
| --- | --- |
| Hakataza (Fukuoka) | |

Dates
3 ~ 26 February 2017 (Nigatsu Hanagata Kabuki)
February Young Actors Kabuki
MatinÚe

Otoko no Hanamichi

Hade Sugata Omodaka Matsuri

Evening

Yukinoj˘ Henge

Casting

Ichikawa Ennosuke, Ichikawa Monnosuke, Band˘ Takesabur˘, Ichikawa Emisabur˘, Ichikawa Emiya, Ichikawa En'ya, Ichikawa Juen, Ichikawa Omez˘, Band˘ Minosuke, Nakamura Yonekichi, Nakamura Hayato, Ichikawa K˘tar˘, Nakamura Umemaru

Comments

A special Kabuki program with the Omodakaya guild led by Ichikawa Ennosuke:

Otoko no Hanamichi: this is a stage version of a popular movie. It is about the famous Kabuki actor, Kagaya Utaemon (Ichikawa Ennosuke). When he is about to lose his eyesight, he is saved when he happens to meet a doctor who knows Western medicine at his inn. The two become fast friends. Several years later, when Utaemon is now the top star of the Kabuki theater, he gets an urgent summons from the doctor and the actor is faced with the dilemma of whether he should go to his friend and benefactor, even if it means missing his all important appearance on stage. Featuring also Ichikawa Monnosuke, Band˘ Takesabur˘, Ichikawa Emisabur˘, Ichikawa Emiya, Ichikawa En'ya, Ichikawa Omez˘ and Ichikawa Juen.
Hade Sugata Omodaka Matsuri: a newly-created dance-drama celebrating the actors of the Omodakaya guild.
Yukinoj˘ Henge: this is the story of the fictious Kabuki actor Nakamura Yukinoj˘ (Ichikawa Ennosuke). His parents were driven to suicide by three local officials when the actor was just a child. He grew up to become a well-known onnagata. In 1863, he travels with his Kabuki troupe to Edo. When he discovers his three archenemies in the audience, he plots revenge! Featuring also Ichikawa Monnosuke, Band˘ Takesabur˘, Ichikawa Emisabur˘, Ichikawa Emiya, Ichikawa En'ya and Ichikawa Omez˘.

Sources: Earphone Guide Website or Sh˘chiku Kabuki Official Website
| | |
| --- | --- |
| EX THEATER (T˘ky˘) | |
Dates
4 ~ 20 February 2017 (Roppongi Kabuki)
Roppongi Kabuki
Program

Zat˘ Ichi

Casting

Ichikawa Ebiz˘, Terajima Shinobu, Ichikawa Udanji, Kataoka Ichiz˘, Ichikawa Udanji, Ichikawa Kudanji, Ichikawa Shinz˘, Band˘ Shinsha, ďtani Hiromatsu, Ichikawa Fukutar˘, Ichikawa Fukunosuke, Ichikawa Fukumaru

Comments

Second edition of the Roppongi Kabuki performances at the EX THEATER. Based on a script written by Lily Franky, the stage direction is done by the famous movie director Miike Takashi, an expert in violent and bizarre movies who worked twice with Ichikawa Ebiz˘ for the movies "Hara-Kiri: Death of a Samurai" (2011) and "Over your Dead Body" (2014). The story is about Zat˘ Ichi, the zat˘ Ichi, a blind masseur and blademaster who was created by novelist Shimozawa Kan. The guest star of this production is not a Kabuki actor but the actress Terajima Shinobu, the daughter of Living National Treasure Onoe Kikugor˘.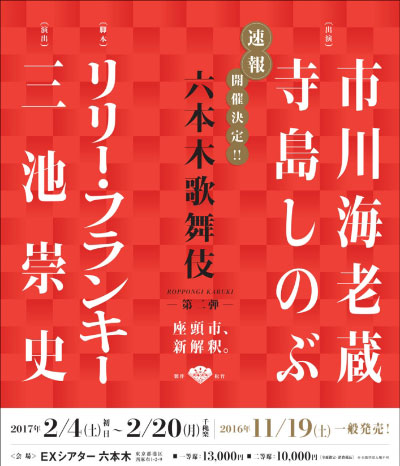 Zenshinza Tour
Dates
??? ~ ??? February 2017
Program

Ushiwakamaru

Casting

Hayase Einoj˘, Motomura Yűki, Watarai Motoyuki

Comments

A February and March tour all over Japan for the Zenshinza troupe with the staging of the newly-created Kabuki drama "Ushiwakamaru"! Among many others dates, they perform the 27th of February 2017 in T˘ky˘ at the Asakusa K˘kaid˘.

Ushiwakamaru: this newly-created Kabuki drama about Ushiwakamaru (the future young general Minamoto no Yoshitsune). The three first ideograms of the title are yuki (snow), tsuki (moon) and hana (flower). Each one symbolizes one of the 3 parts of this drama. The first part is the village of Fushimi under the snow : after her husband Minamoto no Yoshitomo was murdered in 1160, Lady Tokiwa (Hayase Einoj˘) and her son Ushiwakamaru escape through the snow from Ky˘to to nearby Fushimi. She is caught by her enemy Taira no Munekiyo. Instead of killing her and her son, he rescue the mother and his boy. The second part is set at the Goj˘ Bridge at night under the moon. Ushiwakamaru (Motomura Yűki) is now a powerful warrior picking fights on the Goj˘ Bridge in Ky˘to. A stout warrior priest named Benkei (Watarai Motoyuki) challenges him. Vanquished, he becomes a disciple of Ushiwakamaru. The third part is set in Mount Kurama during the autumn leaves season. Ushiwakamaru, who cherishes the ambition of destroying the Heike clan, discovers that his new friend is actually a tengű, who promises to teach him secret tactics and war strategies.

Sources: Earphone Guide Website or Sh˘chiku Kabuki Official Website