| | |
| --- | --- |
| Kabukiza (T˘ky˘) | |

Dates
1 ~ 25 November 2009 (Kichirei Kaomise K˘gy˘ Kabuki)
Kabukiza Sayonara K˘en
MatinÚe

Evening

Casting

Onoe Kikugor˘, Kataoka Nizaemon, Nakamura Kanzabur˘, Nakamura Tomijűr˘, Nakamura Shikan, Nakamura Tokiz˘, Matsumoto K˘shir˘, Nakamura Baigyoku, Nakamura Kaishun, Nakamura Fukusuke, Ichikawa Danshir˘, Nakamura Kinnosuke, Kataoka Takatar˘, Nakamura T˘z˘, Kawarasaki Gonjűr˘, Nakamura Kash˘

Comments

11th of the 16 Kabukiza Sayonara K˘en, the Kabukiza Farewell Performances, which will be held up to April 2010. The play "Kanadehon Chűshingura" (The Treasure of 47 Loyal Retainers) is the most popular in the Kabuki repertory and is known throughout the world.

Source: Earphone Guide website
| | |
| --- | --- |
| National Theatre (T˘ky˘) | |
Dates
3 ~ 26 November 2009
Program

Keisei Hangonk˘ (Domo Mata)

Casting

Sakata T˘jűr˘, Ichikawa Danjűr˘, Nakamura Shibajaku, Nakamura Senjaku, Nakamura Kanjaku, Band˘ Hikosabur˘, Band˘ Yajűr˘, Kataoka Ichiz˘, Ichikawa Unosuke, Nakamura Kikaku, Band˘ Kamesabur˘, Band˘ Shingo, ďtani Keiz˘

Comments

Uir˘ Uri: there are many plays based on the revenge by the Soga brothers on Kud˘ Suketsune, the man that arranged to have their father killed. In this particular play, this dramatic fight is transformed into light fantasy by showing one of the Soga brothers disguised as a peddler of uir˘, a medicine that makes it possible to speak quickly and elegantly. The highlight of the play is a long speech full of puns and wordplays. Starring Ichikawa Danjűr˘ as the peddler.
Domo Mata: the artist Matahei has been refused a professional name because of his stuttering. He makes a poor life by drawing folk paintings and decides to make one last effort to gain respectability. His wife Otoku, who is given as much to chatter as Matahei is silent, pleads his case. Turned down again by his master, Matahei decides to take his life. He draws a farewell portrait of himself, a painting so skillful that the lines seep through solid rock and this miracle convinces his master to confer a professional name. Starring Ichikawa Danjűr˘ as Matahei and Sakata T˘jűr˘ as his wife Otoku.
ďtsue D˘j˘ji: "Musume D˘j˘ji" or "The Maiden at Dojoji Temple" is the most famous dance to display the alluring charm of an onnagata female role specialist and has inspired many variations. It shows the ghost of a woman who was transformed into a serpent out of passion and destroyed a temple bell. In this particular version, a mysterious figure appears as various characters famous from the cartoon like pictures called ˘tsue before revealing that this is the woman of the "D˘j˘ji" story. Featuring Sakata T˘jűr˘ in the 5 roles of this hengemono and Nakamura Kanjaku in the role of the Demon Queller.

Source: Earphone Guide website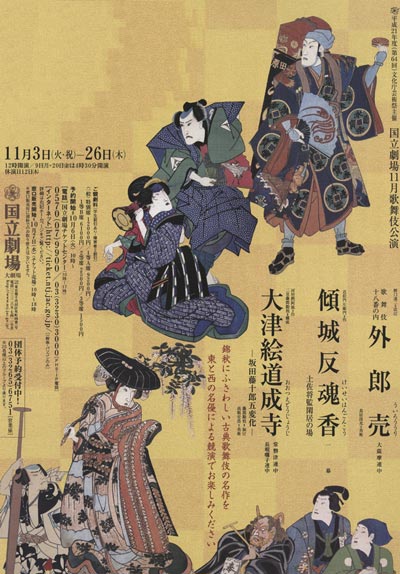 Sh˘chiku Grand Kabuki Tour
Dates
31 October ~ 25 November 2009
Program

Keisei Hangonk˘

Takashima Yakata / Takeyabu
Tosa Sh˘gen Kankyo (Domo Mata)

Casting

Ichikawa Ukon, Ichikawa Danjir˘, Ichikawa Emisabur˘, Ichikawa Emiya, Ichikawa Juen, Ichikawa Shun'en, Ichikawa En'ya, Ichikawa K˘tar˘

Comments

Takashima Yakata: the story is about Kan˘ Shir˘jir˘ Motonobu (Ichikawa Emiya), a samurai who serves at the Palace of the Rokkaku Family in Takashima (province of ďmi). Princess Ich˘-no-Mae (Ichikawa Shun'en), the daughter of Rokkaku Yorikata, is in love with Motonobu. Nagoya Sanza, a senior retainer of the Rokkaku clan, helped the girl to make Motonobu exchange a cup of sake with Princess Ich˘-no-Mae, which means that the marriage between the two is concluded. Unfortunately for them, the evil and jealous Fuwa no D˘ken (Ichikawa En'ya), the senior retainer of the Rokkaku family and the father of Fuwa Banzaemon (the arch enemy of Nagoya Sanza), also covets her. He covers Motonobu with a false charge and makes him arrested. Tied to a pillar, Motonobu draws with his own blood the image of a tiger on a sliding paper-door. The image is such a masterpiece that the tiger takes on life, begins to move, picks up Motonobu on its back and disperses the enemies.
Takeyabu: this scene is a spectacular tachimawari in a bamboo grove, outside the moat of the Rokkaku palace. Utanosuke (Ichikawa Danjir˘), a young artist of the Kan˘ school and a disciple of Motonobu, tries unsuccessfully to fight the soldiers of Fuwa no D˘ken to protect Princess Ich˘-no-Mae, who had run away from the Palace with Motonobu.
Domo Mata: the artist Matahei (Ichikawa Ukon) has been refused a professional name because of his stuttering. He makes a poor life by drawing folk paintings and decides to make one last effort to gain respectability. His wife Otoku (Ichikawa Emisabur˘), who is given as much to chatter as Matahei is silent, pleads his case. Turned down again by his master, Matahei decides to take his life. He draws a farewell portrait of himself, a painting so skillful that the lines seep through solid rock and this miracle convinces his master to confer a professional name. Featuring Ichikawa Juen as Matahei's master Tosa Sh˘gen Mitsunobu and Ichikawa K˘tar˘ as Tosa Shűrinosuke.

Source: Earphone Guide website, except "Takashima Yakata" and "Takeyabu"
| | |
| --- | --- |
| Shinbashi Enbuj˘ (T˘ky˘) | |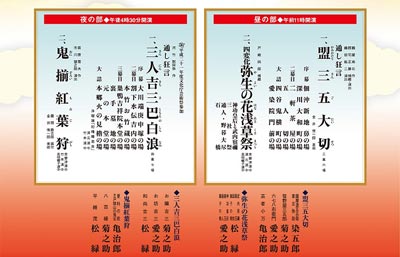 | | |
| --- | --- |
| Yachiyoza (Yamaga) | |

Dates
2 ~ 13 November 2009
Program
Casting
Comments

A special Buy˘ program starring the amazing onnagata Band˘ Tamasabur˘ in Yamaga at the Yachiyoza, a traditional wooden-built theater, which celebrates the 100th anniversary of its opening.

K˘j˘: the close relationship between the actors and the audience is shown by these stage announcements, lavish ceremonies to commemorate various important events. This time, Band˘ Tamasabur˘ talks about the 100th anniversary of the opening of the Yachiyoza.
Musume D˘j˘ji: a beautiful young woman dances under cherry blossoms at a dedication ceremony for a temple bell. She dances the many aspects of a woman in love, but is actually the spirit of a serpent, driven to destroy the bell out of jealousy. In addition to being the most famous of all Kabuki dances, "Musume D˘j˘ji" is considered to be the pinnacle of the art of the onnagata. The role of the shiraby˘shi is played by Band˘ Tamasabur˘.

Source: Earphone Guide website
NHK Hall (T˘ky˘)
Dates
28 November 2009 (Koten Gein˘ Kansh˘ Kai)
Program
Casting

Nakamura Kichiemon, Nakamura Shibajaku, Ichikawa Danshir˘, Nakamura Kinnosuke, Nakamura Karoku, Nakamura Kash˘

Comments

36th edition of Koten Gein˘ Kansh˘ Kai (literally the "Classics Entertainment Appreciation Association"), a yearly performance produced by the National TV network NHK. The program includes one ky˘gen, one Kabuki play, one traditional dance and traditional music.

Ishikiri Kajiwara: the Heike general Kajiwara (Nakamura Kichiemon) is asked to test the sharpness of a sword by slicing two live human beings in half. He deliberately makes the sword fail the test to keep the sword, a priceless heirloom belonging to the enemy Genji clan, from falling into the hands of his Taira clan. A miracle has convinced Kajiwara to change sides. Kajiwara finally demonstrates the true power of the sword by cutting a large stone basin in two.

Source: Earphone Guide website