| | |
| --- | --- |
| Shibuya Bunkamura Theatre Cocoon (T˘ky˘) | |

Dates
3 ~ 27 June 2010
Program
Casting

Nakamura Kanzabur˘, Nakamura Hashinosuke, Nakamura Senjaku, Band˘ Yajűr˘, Kataoka Kamez˘, Sasano Takashi, Nakamura Shichinosuke

Comments

11th edition of the original Cocoon Kabuki performance, which recreates the atmosphere of the Edo koshibai and brings the actors closer to the audience.

Sakura Giminden: this play is rare among classics in having a political theme. It depicts a country landlord Kiuchi S˘g˘ (Nakamura Kanzabur˘) who cannot stand the suffering of the farmers around him. A series of bad harvests has made things very hard, but corrupt officials refuse to lower taxes or relent in any way. Finally, S˘g˘ decides to bring the case directly to the Sh˘gun, a move punishable by death. The play shows S˘g˘ as he persuades the old keeper of the river crossing to let him pass and says a final farewell to his wife Osan and children. Meanwhile, he is watched by a villainous informer, Maboroshi no Ch˘kichi. Finally, S˘g˘ brings his case directly to the Sh˘gun, knowing that whether he is successful or not, he will be executed.

Source: Earphone Guide website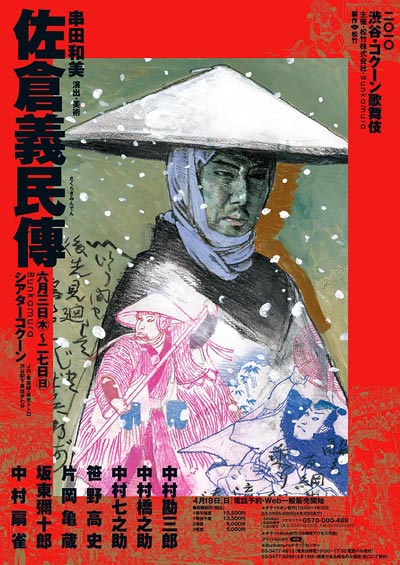 | | |
| --- | --- |
| Chűnichi Theatre (Nagoya) | |

Dates
5 ~ 27 June 2010
Program

Kanadehon Futae Z˘shi

Casting

Ichikawa Ukon, Ichikawa Danjir˘, Ichikawa Emisabur˘, Ichikawa Emiya, Ichikawa Monnosuke, Ichikawa En'ya, Ichikawa Shun'en, Ichikawa Juen, Ichikawa K˘tar˘

Comments

Kanadehon Futae Z˘shi: a combination of Kabuki's greatest classic of loyalty with a ghost play that is Kabuki's greatest classic of disloyalty. When "Kanadehon Chűshingura" (The Treasury of Loyal Retainers) first appeared in 1748 it was a tremendous hit because it dramatized a historical incident in 1703 that showed that feudal values were still alive. A samurai lord suddenly attacked a senior advisor to the Sh˘gun inside the Sh˘gun's palace and was punished by being forced to commit ritual suicide. After great hardship, forty-seven of his loyal retainers banded together to avenge their lord's death by attacking his enemy. But by 1825 when "Yotsuya Kaidan" first appeared, the world was a great deal more cynical about all the samurai values. "Yotsuya Kaidan" was actually performed together with "Kanadehon Chűshingura" and its characters are disloyal members of the clan. It is also the story of Iemon (Ichikawa Danjir˘), a former member of the clan who is in love with Oiwa (Ichikawa Emisabur˘), also a former member of the clan. But her father takes her away when he knows that lemon has stolen money from the clan. Iemon kills her father and then promises her to help her avenge her father's death. They live together in poverty, but at this point, the Oume, the granddaughter of a wealthy doctor who belongs to the enemy clan, falls in love with him. To get Iemon, the doctor gives Oiwa a poison that disfigures her horribly. Iemon decides to betray Oiwa and she becomes a vengeful ghost. Ennosuke has combined these two classics with his customary spectacle and speed with his trademark flight through the air as well. Ennosuke is not part of the cast but he has supervised the production, which stars Ichikawa Ukon in the roles of the ghost of Nitta Yoshisada, Naosuke Gonbŕ and Amakawaya Gihei. Featuring also Ichikawa Monnosuke in the roles of Akatsuki Hoshigor˘ (in reality Kiryűmaru), Sat˘ Yomoshichi and Gihei's wife Osono.

Source: Earphone Guide website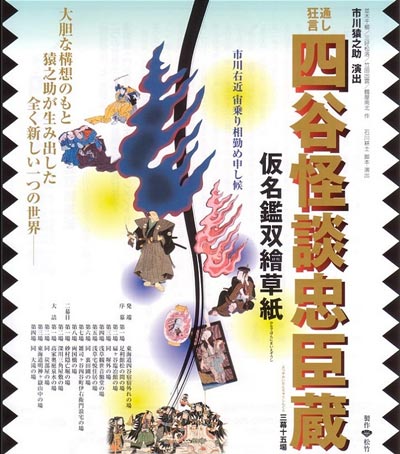 | | |
| --- | --- |
| Minamiza (Ky˘to) | |

Dates
1 ~ 6 June 2010 and 19 ~ 27 June 2010
(Band˘ Tamasabur˘ Tokubetsu Buy˘ K˘en)
Program

Yukari no Tsuki

Casting
Comments

A special Kabuki dance-program starring Band˘ Tamasabur˘ and Nakamura Shid˘.

Yukari no Tsuki:
(The moon of Karma)
A dance about a courtesan's sad mental state. While watching the moon, she is lamenting that she has to separate from her lover and to marry another man because of her poverty. Starring Band˘ Tamasabur˘.
Seki no To:
(The Snowbound Barrier)
A snow-covered barrier decorated by a mysteriously blooming cherry tree provides the background for the larger-than-life story of a traitorous aristocrat disguised as a barrier guard and the beautiful woman, actually a supernatural spirit in disguise, that will defeat him. Band˘ Tamasabur˘, Nakamura Shid˘ and Nakamura Hayato star in what is considered to be one of the greatest Kabuki dance-dramas.

Source: Earphone Guide website
| | |
| --- | --- |
| National Theatre (T˘ky˘) | |
Dates
2 ~ 24 June 2010 (Rokugatsu Kabuki Kansh˘ Ky˘shitsu)
Program

Kabuki no Mikata

Casting
Comments

Educational program at the National Theatre called Kabuki Kansh˘ Ky˘shitu ("Kabuki appreciation class"). This is a very interesting formula for the beginners because there is lively presentation on stage of Kabuki or some aspects of the art like music, stage tricks or fighting scenes, followed by the drama "Narukami".

Narukami: one of the most popular and universally appealing plays in the Kabuki Jűhachiban collection of plays featuring the bombastic aragoto style of acting. The holy man Narukami (Kataoka Ainosuke) is angry at the Imperial Court and has taken refuge in the mountains where he has imprisoned inside a waterfall the dragon that brings rain, bringing a severe drought to the country. Princess Taema (Kataoka Takatar˘) is sent by the Imperial Court to try to seduce Narukami, destroying his magical powers and release the rain. When he finds that he has been betrayed, anger transforms Narukami into a Thunder God.

Source: Earphone Guide website
Educational Kabuki tour in Kansai
Date
5 ~ 21 June 2010
Program

Kabuki-he no Goannai

Casting

Kataoka Gat˘, Kamimura Kichiya, Kataoka Shinnosuke, Band˘ Shinsha

Comments

35th edition of an educational Kabuki tour in Kansai. The first item is a speech about Kabuki and the second the drama "Ninokuchi-mura":

Ninokuchi-mura:
(Ninokuchi Village)
Chűbŕ (Kataoka Shinnosuke) and Umegawa (Kamimura Kichiya) couple on their way to love suicide goes through the snow covered landscape on their way to the man's home town where they will meet their end. They travel throughout the countryside with the stolen money, hoping for a few fleeting moments of happiness before the money runs out and they are captured and punished. Featuring Kataoka Gat˘ in the role of Magoemon.