| | |
| --- | --- |
| Kabukiza (T˘ky˘) | |
Dates
2 ~ 26 January 2018
Kotobuki Hatsuharu ďkabuki
Congratulation Early Spring Grand Kabuki
MatinÚe

Hakone Reigen Chikai no Adauchi (Izari no Adauchi)

Shichi Fukujin

Evening
Casting

Living National Treasure Sakata T˘jűr˘, Living National Treasure Nakamura Kichiemon, Living National Treasure Nakamura T˘z˘, Matsumoto Haku˘, Matsumoto K˘shir˘, Ichikawa Somegor˘, Nakamura Shikan, Nakamura Jakuemon, Nakamura Ganjir˘, Nakamura Senjaku, Kataoka Takatar˘, Ichikawa Sadanji, Band˘ Yajűr˘, Kataoka Hidetar˘, Ichikawa Ennosuke, Nakamura Shichinosuke, Kataoka Ainosuke, Nakamura Kankur˘, Nakamura Karoku, Nakamura Matagor˘, Ichikawa Monnosuke, Ichikawa Komaz˘

Comments

The traditional two programs for the New Year Grand Kabuki at the Kabukiza, which celebrate the first month of the 3-generation K˘raiya shűmei (K˘raiya Sandai Shűmei) of Matsumoto Haku˘ II, Matsumoto K˘shir˘ X and Ichikawa Somegor˘ VIII.
| | |
| --- | --- |
| Sh˘chikuza (ďsaka) | |
Dates
2 ~ 26 January 2018
Band˘ Tamasabur˘ Hatsuharu Tokubetsu Buy˘ K˘en
Band˘ Tamasabur˘ Early Spring Special Dance Performances
Program

Genroku Hanami Odori

Aki no Irokusa

Keisei

Casting

Living National Treasure Band˘ Tamasabur˘, Nakamura Kazutar˘

Comments

A special Buy˘ program at the Sh˘chikuza starring Living National Treasure Band˘ Tamasabur˘.

K˘j˘: the close relationship between the actors and the audience is shown by these stage announcements, lavish ceremonies to commemorate various important events.
Genroku Hanami Odori:
(Viewing the Cherry Blossoms in the Genroku Period)
It is in the Genroku period (late 17th century) and the cherry blossoms are in full bloom on the hill of Ueno in Edo (present day T˘ky˘). Men and women dressed up in showy outfits gather to view cherry blossoms and begin to dance. After the song about the custom of flower viewing in Kyoto, the drunken people start a lively dance. The dance under the cherry blossoms continues endlessly. Starring Living National Treasure Band˘ Tamasabur˘ and Nakamura Kazutar˘.
Aki no Irokusa:
(Various Flowers of Autumn)
This work was originally composed in 1845 as Nagauta music to celebrate the completion of the retreat for the lord of the Nanbu clan in Edo, and it was performed as a dance later. The lyrics include various plants of autumn such as wild bush clover, pampas grass and patrinia scabiosaefolia in its verse and is known as an excellent piece about that season. It is autumn. Various flowers of autumn bloom and the chirping of pine crickets is heard. A lady who stands quietly listening to the chirping insects, remembers the old story that King Xiang of the ancient Zhou (Shű in Japanese) dynasty had an affair with the goddess of the Wu Mountains (Fuzan in Japanese) in a dream, and she compares it to her own love. Having thought about her lover, she realizes that the pleasure of the four seasons does not change after many years and begins to dance. Starring Living National Treasure Band˘ Tamasabur˘ and Nakamura Kazutar˘.
Sagi Musume: one of the most famous dances in Kabuki, this figure is familiar through pictures and Japanese dolls. A beautiful young woman all in white appears in the snowy landscape. She dances lightly of love, but then reveals that she is the spirit of a bird, a magnificent heron that struggles wounded through a snowstorm. Starring Nakamura Kazutar˘ in a dance that he has made famous through performances around the world.
Keisei: a beautiful top-rank courtesan (keisei) with her attendants makes parade along the Nakanoch˘ Boulevard of the Yoshiwara pleasure quarter in Edo. She enters a room in the brothel and expresses her pure love for her lover in a graceful manner, though complaining that he does not come how long she waits for him. Then she expresses in dance the scenic beauty in each season and the elegant atmosphere in the pleasure quarters, and her love for him grows stronger. A scene from a seven-transformation hengemono "Nijirigaki Nanatsu Iroha", this is an old-fashioned, tasteful dance. Enjoy the cultured elegance of the top-rank courtesan in the pleasure quarters acted by Living National Treasure Band˘ Tamasabur˘ with his new direction in the performance at Nissay Theatre in October 2011.

Sources: Earphone Guide Website or Sh˘chiku Kabuki Official Website
| | |
| --- | --- |
| National Theatre (T˘ky˘) | |
Dates
3 ~ 27 January 2018
Program

Sekai no Hana Oguri Hangan

Casting

Living National Treasure Onoe Kikugor˘, Nakamura Tokiz˘, Onoe Kikunosuke, Onoe Sh˘roku, Ichikawa Danz˘, Band˘ Rakuzen, Kataoka Kamez˘, Band˘ Hikosabur˘, Band˘ Kamez˘, Kawarasaki Gonjűr˘, Ichimura Manjir˘, Nakamura Baishi, Nakamura Mantar˘, Onoe Ukon, Band˘ Shűch˘, Ichimura Takematsu, Ichimura Kitsutar˘

Comments

"Sekai no Hana Oguri Hangan" is a revival and a revised version of Chikamatsu Tokuz˘ and Nagawa Tokusuke I long-forgotten drama "Hime Kurabe Futaba Ez˘ji", which was premiered more than 217 years ago, in the 10th lunar month of 1800 in ďsaka at the Kado no Shibai.

Sekai no Hana Oguri Hangan:
(Oguri Hangan, the Flower of the World)
The legend of Oguri Hangan has been handed down since the Medieval Period. The story of Oguri Hangan and his sweetheart Princess Terute, how they overcome hardships after passing each other, was taken into sermon ballad and recited, connected with the origin or the tales of miracles of temples and shrines in each place. This story of the sermon ballad was adapted for Kabuki and Bunraku many times to fit the circumstances and taste of each period. The definitive version is "Hime Kurabe Futaba Ez˘ji" which took in the ideas and settings of preceding works placing unique characters with changing seasons as a background. This monthĺs performance is based on this version. It is under the rule of Asikaga Yoshimitsu, the third Sh˘gun of the Muromachi shogunate. Kazama Hachir˘, a robber who plans to avenge himself on the Ashikaga clan and control the nation, robs Kachidoki no Kutsuwa (the bits commemorating the shout of victory) and Suiseimaru no Tsurugi (the sword Suiseimaru), the heirlooms of the Ashikaga clan. Hosokawa Masamoto, the regent of the Ashikaga clan, tries to stop Kazamaĺs ambition. Oguri Hangan whose father was killed by Kazama searches the lost heirlooms and his whereabouts. There are many highlights in this play in which you can realise how interesting kabuki is: the intrigue by the notorious and impressive robber Kazama Hachir˘, a stunt horse riding by a good horseman Oguri Hangan, strategic politics between Kazama and Masamoto, the desperate loyalty and fierce fight scene by Namishichi, a former retainer of Oguri clan, who saves the crisis of Princess Terute, the reunion of Oguri and Princess Terute which causes tragedy to Omaki, the widow of a wealthy man, and her daughter Okoma, and the miracle worked by Kumano Gongen deity to Oguri and Princess Terute. Please enjoy the flamboyant and joyful play perfect for the New Year featuring Living National Theatre Living National Treasure Onoe Kikugor˘ as Kazama, Nakamura Tokiz˘ as Masamoto and Omaki, Onoe Sh˘roku as Namishichi and Yokoyama Tar˘ and Onoe Kikunosuke as Oguri.

Source: National Theatre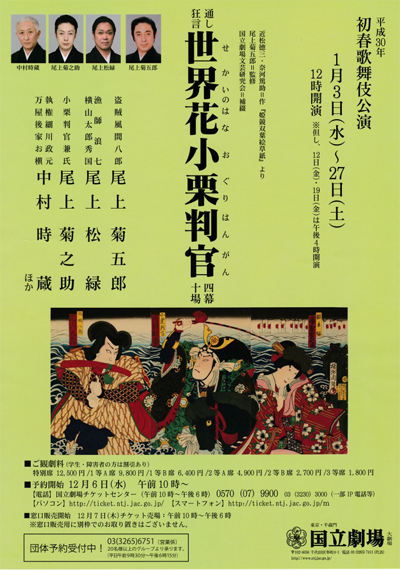 | | |
| --- | --- |
| Shinbashi Enbuj˘ (T˘ky˘) | |
Dates
3 ~ 26 January 2018
Hatsuharu Kabuki K˘en
Early Spring Kabuki Performances
Program A

Kamakura Hachimangű Shizuka no H˘rakumai

Program B

Nihon Mukashi Banashi

Casting

Ichikawa Ebiz˘, Ichikawa Udanji, Nakamura Shid˘, ďtani Tomoemon, Kataoka Ichiz˘, Ichimura Kakitsu, Ichikawa Sai'nyű, Ichikawa Emisabur˘, Ichikawa Emiya, Nakamura Matsue, Ichikawa Kudanji, Kamimura Kichiya, Nakamura Baika, Nakamura Kotar˘, ďtani Hiromatsu, Nakamura Takanosuke, Ichikawa K˘tar˘, Horikoshi Reika

Comments

The traditional New Year Kabuki at the Shinbashi Enbuj˘ with a troupe led by the young star Ichikawa Ebiz˘. His daughter makes his hatsubutai, playing the role of Princess Kaguya (as a child) in "Nihon Mukashi Banashi".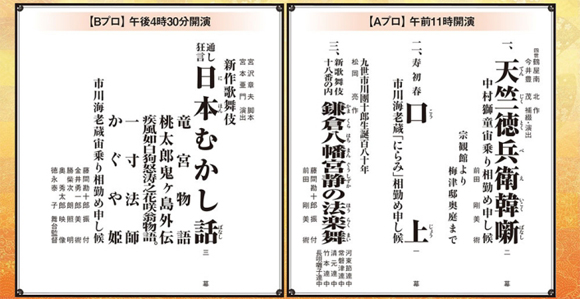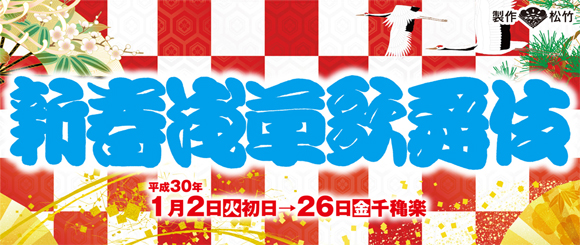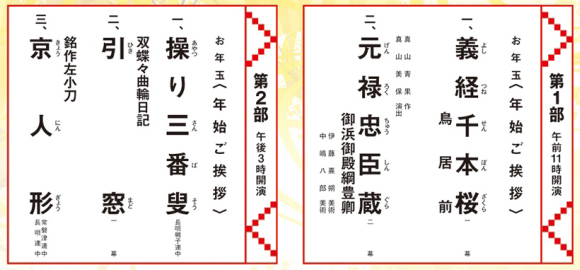 | | |
| --- | --- |
| Pontoch˘ Kaburenj˘ (Ky˘to) | |

Dates
11 ~ 23 January 2018
Zenshinza Hatsuharu Tokubetsu K˘en
Zenshinza Early Spring Special Performances
Program

Hatsusugata Ponto no Nigiwai

T˘nasuya

Casting

Fujikawa Yanosuke, Kawarasaki Kunitar˘, Yamazaki Tatsusabur˘, Yamazaki Ryűnosuke, Tadamura Shin'ya, Tamaura Yűnosuke, Anegawa Shinnosuke

Comments

The traditional Zenshinza New Year performances in Ky˘to. As the Minamiza is closed, it is staged at the Pontoch˘ Kaburenj˘, a venue in the famous hanamachi district of Pontoch˘.