| | |
| --- | --- |
| Sh˘chikuza (ďsaka) | |
Dates
2 ~ 26 January 2015 (Kotobuki Hatsuharu ďkabuki)
Congratulation Early Spring Grand Kabuki
MatinÚe
Evening
Casting

Living National Treasure Sakata T˘jűr˘, Nakamura Ganjir˘, Kataoka Nizaemon, Nakamura Baigyoku, Nakamura Hashinosuke, Kataoka Ainosuke, Nakamura Senjaku, Kataoka Gat˘, Band˘ Yajűr˘, Kataoka Hidetar˘, Band˘ Takesabur˘, Kataoka Kamez˘, Band˘ Shűch˘, Nakamura Kikaku, Kamimura Kichiya, Kataoka Shinnosuke, Nakamura Matsue, Kataoka Matsunosuke, Nakamura Kazutar˘, Band˘ Shingo, Nakamura Kunio, Nakamura Toranosuke, Nakamura Jűjir˘

Comments

Nakamura Kanjaku V takes the prestigious name of Nakamura Ganjir˘ IV in ďsaka at the Sh˘chikuza!

Sources: Earphone Guide Website or Sh˘chiku Kabuki Official Website
| | |
| --- | --- |
| Kabukiza (T˘ky˘) | |
Dates
2 ~ 26 January 2015 (Hatsuharu ďkabuki)
Early Spring Grand Kabuki
MatinÚe

Gion Sairei Shink˘ki (Kinkakuji)

Evening
Casting

Living National Treasure Nakamura Kichiemon, Living National Treasure Band˘ Tamasabur˘, Matsumoto K˘shir˘, Ichikawa Ennosuke, Nakamura Shibajaku, Nakamura Kaishun, Nakamura Kankur˘, Nakamura Shichinosuke, Nakamura Kinnosuke, Ichikawa Somegor˘, Nakamura T˘z˘, Ichikawa Komaz˘, Nakamura Karoku, Nakamura Matagor˘, Nakamura Utae, Ichikawa Omez˘

Comments

Young popular star Ichikawa Ennosuke performs for the very first time at the newly-built Kabukiza! Living National Treasure Band˘ Tamasabur˘ plays this month at the Kabukiza two spectacular and physically-demanding roles: the leading roles of "Kumo no Hy˘shimai" and "Onna Shibaraku".

Sources: Earphone Guide Website or Sh˘chiku Kabuki Official Website
| | |
| --- | --- |
| National Theatre (T˘ky˘) | |
Dates
3 ~ 27 January 2015
Program
Casting

Living National Treasure Onoe Kikugor˘, Nakamura Tokiz˘, Onoe Kikunosuke, Onoe Sh˘roku, Ichikawa Danz˘, Ichikawa Sadanji, Band˘ Hikosabur˘, Ichimura Manjir˘, Kawarasaki Gonjűr˘, Band˘ Kamesabur˘, Band˘ Kametoshi, Nakamura Baishi, Ichimura Kitsutar˘, Nakamura Mantar˘, Ichimura Takematsu, Onoe Ukon, Onoe Sakon

Comments

Revival in 5 acts (9 scenes) at the National Theatre of the spectacular drama "Nans˘ Satomi Hakkenden", with the Otowaya guild led by Living National Treasure Onoe Kikugor˘ and Nakamura Tokiz˘:

Hakkenden:
(The Eight Dog Warriors)
the original novel is an immense epic by 19th century novelist Takizawa Bakin published over many years, but eventually reaching one-hundred and sixty volumes. The Satomi clan is being attacked and its lord offers his daughter Princess Fuse to the warrior that will bring him the head of the enemy. It is his loyal dog that kills and beheads the enemy and, saying that her father must not go back on his word, Princess Fuse goes with the dog. Nevertheless, the Satomi clan is defeated and one of its loyal retainers goes to rescue Princess Fuse, shooting the dog, but unfortunately shooting Princess Fuse as well. The eight crystal beads of her rosary, each engraved with the Chinese characters of one of the Confucian virtues, goes flying through the air. Miraculously, each will be found with a newborn baby. These eight children, all of whom have the character inu for "dog" in their names, eventually meet and join together to restore the Satomi clan. The play features all the stars of the company and follows the adventures of the eight dog warriors as they meet and gradually join together, leading to a climactic fight on the roof of a dizzyingly high tower.

Source: Earphone Guide website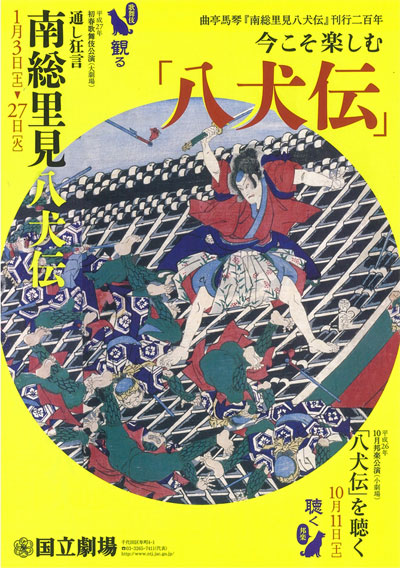 | | |
| --- | --- |
| Shinbashi Enbuj˘ (T˘ky˘) | |
Dates
2 ~ 25 January 2015 (Hatsuharu Hanagata Kabuki)
Early Spring Young Actors Kabuki
Program

Ishikawa Goemon

Casting

Ichikawa Ebiz˘, Kataoka Takatar˘, Ichikawa Ukon, Nakamura Shid˘, Ichikawa Unosuke, Ichimura Kakitsu, Kataoka Ichiz˘, Ichikawa Emisabur˘, Ichikawa En'ya, Ichikawa Kudanji, ďtani Hiromatsu

Comments

The 2009 drama "Ishikawa Goemon" is staged for the third time (previous time was June 2012 at the Misonoza) to spectacularly celebrate the new year at the Shinbashi Enbuj˘.

Ishikawa Goemon: a spectacular play full of keren about the larger-than-life king of thieves Ishikawa Goemon and his arch enemy Toyotomi Hideyoshi. The play starts in Ky˘to in Sanj˘ Kawaramachi on the execution ground, where Ishikawa Goemon is about to be boiled to death with his son. The scenario was written by the manga storywriter, novelist and screenwriter Kibayashi Shin, the author of the manga series "Kindaichi Case Files". This play was premiered in August 2009 at the Shinbashi Enbuj˘. The roles of Ishikawa Goemon and Toyotomi Hideyoshi are played by Ichikawa Ebiz˘ and Ichikawa Ukon.