| | |
| --- | --- |
| Kabukiza (T˘ky˘) | |
Dates
1 ~ 25 September 2013 (Kokera Otoshi Kugatsu Hanagata Kabuki)
Opening Ceremony September Young Actors Kabuki
MatinÚe

Evening

Onmy˘ji (Takiyashahime)

Casting

Ichikawa Ebiz˘, Onoe Kikunosuke, Kataoka Ainosuke, Nakamura Kankur˘, Ichikawa Somegor˘, Nakamura Shichinosuke, Onoe Sh˘roku, Ichikawa Danz˘, Kawarasaki Gonjűr˘, Ichikawa Unosuke, Ichimura Kakitsu, Kataoka Ichiz˘, Kataoka Kamez˘, Band˘ Kamesabur˘, Band˘ Kametoshi, Nakamura Matsue, Kamimura Kichiya, Nakamura Baishi, Band˘ Shingo

Comments

6th month celebrating the opening of the new Kabukiza within a 1-year long cycle of kokera otoshi programs.

Sources: Earphone Guide Website or Sh˘chiku Kabuki Official Website
| | |
| --- | --- |
| Kabukiza (T˘ky˘) | |
Dates
27 September 2013 (Kabukiza Tokubetsu Buy˘kai)
Kabukiza Special Dance Gala
Program

Yashima

T˘ge no Manzai

Casting

Fujima Kan'emon, Fujima Kanjűr˘, Hanayagi Jusuke, Onoe Bokusetsu, Inoue Yachiyo

Comments

The first special Buy˘ since the opening of the new Kabukiza in April 2013!
| | |
| --- | --- |
| Shinbashi Enbuj˘ (T˘ky˘) | |
Dates
1 ~ 25 September 2013 (Kugatsu ďkabuki)
September Grand Kabuki
MatinÚe

Genroku Chűshingura
(Ohama Goten Tsunatoyo-ky˘)

Evening

Okitsu Nami Yami no Shiranui (Shiranui Kengy˘)

Casting

Matsumoto K˘shir˘, Nakamura Hashinosuke, Nakamura Kanjaku, Kataoka Takatar˘, Nakamura Kaishun, Kataoka Gat˘, Band˘ Yajűr˘, Kataoka Hidetar˘, Ichikawa Sadanji, ďtani Tomoemon, Nakamura T˘z˘, Nakamura Kikaku, Band˘ Shűch˘, Matsumoto Kingo, Ichikawa Komaz˘, ďtani Keiz˘, Sawamura Yoshijir˘, Band˘ Minosuke, Nakamura Kazutar˘, Sawamura S˘nosuke, ďtani Hirotar˘, ďtani Hiromatsu, Ichimura Takematsu

Comments

Sources: Earphone Guide Website or Sh˘chiku Kabuki Official Website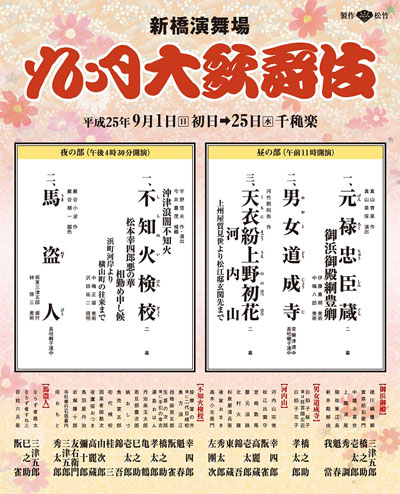 Kabuki Tour in the western provinces
Dates
31 August ~ 25 September 2013
Program

Igagoe D˘chű Sugoroku (Numazu)

Casting

Nakamura Kichiemon, Nakamura Shibajaku, Nakamura Karoku, Nakamura Matagor˘, Nakamura Kinnosuke, Nakamura Kash˘, Nakamura Yonekichi, Nakamura Tanenosuke, Nakamura Hayato, Nakamura Kichinosuke

Comments

Nakamura Matagor˘ III and his son Nakamura Kash˘ IV celebrate their shűmei touring in the western provinces!

Numazu: a dramatization of one of the most famous historical vendattas of the Edo period. "Numazu" is one act that tells of the sacrifices of those not directly involved in the vendetta itself but members of the same family who are indebted to the two opposing sides. The kimono merchant Jűbŕ (Nakamura Kichiemon) meets a porter Heisaku (Nakamura Karoku) as he travels west on business. They find that not only are they long-separated father and son, but that they also lie on opposite sides of the vendetta. Their loyalties prevent them from openly acknowledging their relationship. Heisaku sacrifices his life to get information from his son essential to his side's cause. Featuring Nakamura Shibajaku in the role of Heisaku's daughter Oyone.
K˘j˘: the close relationship between the actors and the audience is shown by these stage announcements, lavish ceremonies to commemorate various important events. In this case, all the stars of the cast assemble to celebrate the shűmei of Nakamura Matagor˘ III and his son Nakamura Kash˘ IV.
Renjishi: 2 entertainers dance a tale of the legendary shishi or lion-like spirits that live at the foot of a holy Buddhist mountain. There is a comic interlude with 2 Buddhist pilgrims. Then, the shishi themselves appear and perform their dance with wild shaking of their long manes. The dance shows a parent shishi forcing his cub to undergo harsh training in order to grow up strong. This theme is often associated with the training a parent actor gives his son. This performance features Nakamura Matagor˘ in the role of the parent shishi and his son Nakamura Kash˘ in the role of the cub.

Sources: Earphone Guide Website or Sh˘chiku Kabuki Official Website
| | |
| --- | --- |
| Hakataza (Fukuoka) | |

Dates
5 ~ 29 September 2013 (Band˘ Tamasabur˘ Tokubetsu K˘en)
Band˘ Tamasabur˘ Special Performances
Program

Amaterasu

Casting
Comments

Living National Treasure Band˘ Tamasabur˘ and the Kod˘ taiko drummers revive "Amaterasu", which was staged for the first time in May 2006 at the Minamiza [more details].