5 shows in T˘ky˘ (Kabukiza, National Theatre, Warehouse TERRADA, Shinjuku FACE) and 1 in Ky˘tango (Tango Bunka Kaikan)!
Living National Treasure Onoe Kikugor˘, Living National Treasure Nakamura Kichiemon, Ichikawa Ebiz˘, Nakamura Jakuemon, Nakamura Tokiz˘, Onoe Kikunosuke, Onoe Sh˘roku, Ichikawa Sadanji, Ichikawa Udanji, Ichikawa Danz˘, Band˘ Rakuzen, Nakamura Karoku, Nakamura Matagor˘, Nakamura Baishi, Onoe Matsuya, Kataoka Ichiz˘ and Band˘ Hikosabur˘ perform at the Kabukiza!
The Zenshinza troupe performs at the National Theatre!
Living National Treasure Band˘ Tamasabur˘ performs at the Tango Bunka Kaikan!
| | |
| --- | --- |
| Kabukiza (T˘ky˘) | |
Dates
3 ~ 27 May 2019
Dankikusai Gogatsu ďkabuki
Dankikusai May Grand Kabuki
MatinÚe
Evening

Ehon Ushiwakamaru

Casting

Living National Treasure Onoe Kikugor˘, Living National Treasure Nakamura Kichiemon, Ichikawa Ebiz˘, Nakamura Jakuemon, Nakamura Tokiz˘, Onoe Kikunosuke, Onoe Sh˘roku, Ichikawa Sadanji, Ichikawa Udanji, Ichikawa Danz˘, Band˘ Rakuzen, Nakamura Karoku, Nakamura Matagor˘, Nakamura Baishi, Onoe Matsuya, Kataoka Ichiz˘, Band˘ Hikosabur˘, Band˘ Kamez˘, Ichimura Manjir˘, Kawarasaki Gonjűr˘, Ichikawa Kudanji, Nakamura Yonekichi, Nakamura Kash˘, Nakamura Mantar˘, ďtani Hiromatsu, Onoe Ukon, Onoe Ushinosuke

Comments

The great yearly Dankiku festival for the Naritaya and Otowaya guilds, which commemorates 2 great stars of the Meiji era: Dan = Ichikawa Danjűr˘ IX and Kiku = Onoe Kikugor˘ V. This is also the hatsubutai of Onoe Kikunosuke's son Terajima Kazufumi, who is also the grandson of both Living National Treasures Onoe Kikugor˘ and Nakamura Kichiemon. This young boy receives the name of Onoe Ushinosuke VII, a name unheld for 23 years, in May 2019 at the Kabukiza. The new Ushinosuke performs in the dance-drama "Ehon Ushiwakamaru", which was written by the novelist Murakami Genz˘ and was premiered in February 1984 for the hatsubutai of Onoe Ushinosuke VI.

Sources: Earphone Guide Website or Sh˘chiku Kabuki Official Website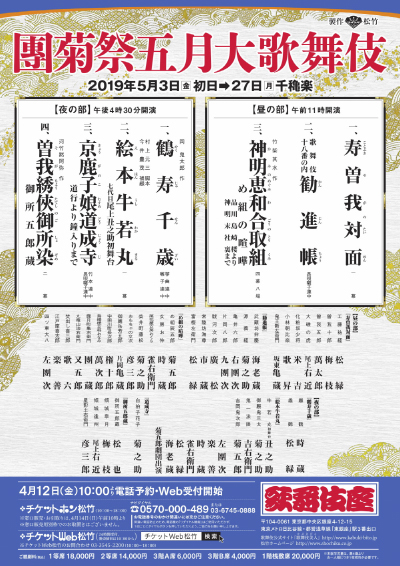 | | |
| --- | --- |
| National Theatre (T˘ky˘) | |
Dates
11 ~ 22 May 2019
Zenshinza Gogatsu K˘en
Zenshinza May Performances
Program
Casting
Comments

The usual Zenshinza May program at the National Theatre!

Sakura Giminden: this play is rare among classics in having a political theme. It depicts a country landlord Kiuchi S˘g˘ (Arashi Yoshisabur˘) who cannot stand the suffering of the farmers around him. A series of bad harvests has made things very hard, but corrupt officials refuse to lower taxes or relent in any way. Finally, S˘g˘ decides to bring the case directly to the Sh˘gun, a move punishable by death. The play shows S˘g˘ as he persuades the old keeper of the river crossing (Fujikawa Yanosuke) to let him pass and says a final farewell to his wife Osan (Kawarazaki Kunitar˘) and children. Meanwhile, he is watched by a villainous informer, Maboroshi no Ch˘kichi. Finally, S˘g˘ brings his case directly to the Sh˘gun, knowing that whether he is successful or not, he will be executed.

Source: Earphone Guide website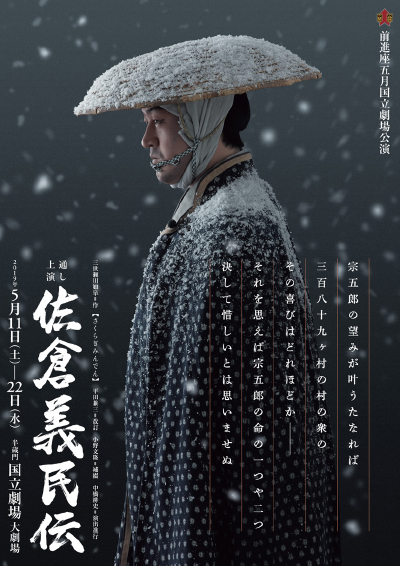 Tango Bunka Kaikan (Ky˘tango)
Dates
11 ~ 12 May 2019
Band˘ Tamasabur˘ Tokubetsu Buy˘ K˘en
Band˘ Tamasabur˘ Special Dance Performances
Program

Yuki

Kosunoto

Kurokami

Yukari no Tsuki

Casting

Living National Treasure Band˘ Tamasabur˘

Comments

A special Buy˘ program starring the amazing Living National Treasure onnagata Band˘ Tamasabur˘ in Ky˘tango at the Tango Bunka Kaikan (Tango Culture Center).

K˘j˘: the close relationship between the actors and the audience is shown by stage announcements, usually lavish ceremonies to commemorate various important events. This month at the Tango Bunka Kaikan, it is a stage speech done by Living National Treasure Band˘ Tamasabur˘.
Yuki:
(Snow)
Band˘ Tamasabur˘ appears as an ďsaka courtesan named Soseki, expressing her feelings of loneliness after having been jilted by her lover and who has decided to become a nun. This jiuta dance is performed in a restrained chamber style.
Kosunoto:
(Reed Screen)
A masterpiece of tsuyamono (love story) which sings about the sentiment of love. It begins with description of a woman's heart toward a man she loves and her attachment is described gracefully with the sound of wind blowing through the pine trees, the cry of little cuckoos and the moon in the background which remind us of summer night.
Kurokami:
(Black hair)
A woman's heart lamenting the painfulness and loneliness of sleeping alone is expressed with deep feeling. It is impressive that a woman's feeling of love and jealousy is skillfully expressed from the contrast of black hair, the symbol for the beauty of Japanese women, and white snow, as the words say.
Yukari no Tsuki:
(The moon of Karma)
A dance about a courtesan's sad mental state. While watching the moon, she is lamenting that she has to separate from her lover and to marry another man because of her poverty.

Sources: Earphone Guide Website or Sh˘chiku Kabuki Official Website