Cancellation of one Kabuki program in November 2021 due to coronavirus (COVID-19)!!!
| | |
| --- | --- |
| Kabukiza (T˘ky˘) | |
Dates
1 ~ 26 November 2021
Kichirei Kaomise ďkabuki
Annual Festive Face-Showing Grand Kabuki
1st program

K˘ no Tori

2nd program
3rd program

Hana Kurabe Gishi no Kaomise

Casting

Living National Treasure Onoe Kikugor˘, Living National Treasure Kataoka Nizaemon, Living National Treasure Nakamura T˘z˘, Matsumoto Haku˘, Nakamura Tokiz˘, Nakamura Jakuemon, Matsumoto K˘shir˘, Nakamura Kaishun, Kataoka Ainosuke, Ichikawa Ennosuke, Onoe Sh˘roku, Ichikawa Sadanji, Ichikawa Danz˘, Nakamura Karoku, Nakamura Matagor˘, Band˘ Hikosabur˘, Onoe Ukon, Ichikawa Monnosuke, Band˘ Minosuke, Nakamura Kazutar˘, Nakamura Baishi, Nakamura Hayato, Band˘ Kamez˘, Kawarasaki Gonjűr˘, Ichikawa Komaz˘, Kamimura Kichiya, Band˘ Shingo, Nakamura Yonekichi, ďtani Hirotar˘, Nakamura Kash˘, Kataoka Sennosuke, Nakamura Tanenosuke, Nakamura Mantar˘

Comments

The traditional November kaomise programs at the Kabukiza.

Sources: Earphone Guide Website or Sh˘chiku Kabuki Official Website
| | |
| --- | --- |
| National Theatre (T˘ky˘) | |
Dates
2 ~ 25 November 2021
Program

Casting

Nakamura Shikan, Nakamura Ganjir˘, Nakamura Kinnosuke, Kataoka Takatar˘, Nakamura Kotar˘, Nakamura Kikaku, Nakamura Matsue, Nakamura Hashinosuke, Nakamura Jűjir˘, Nakamura Kichinoj˘, Ichimura Takematsu, Ichikawa Otora, Nakamura Tamatar˘

Comments

The usual November Kabuki at the National Theatre.

Mikagehama Hamabe: The stonecutter Byakug˘ no Midaroku (Nakamura Ganjir˘) shows his neighborhood villagers a flute he was given by a young client for the gravestone that he built on the shore. Fuji-no-Kata (Nakamura Kotar˘) then appears and claims the flute is the aoba no fue ('flute of green leaves'), the treasure of her son Taira no Atsumori. The Genji-side pursuers then arrive, led by Banba no Chűta (Nakamura Kikaku), running after Fuji-no-Kata. In the furious brawl, the villagers knock Chűta dead. In bewilderment, they begin drawing lots to decide who is to blame for the incident. While this remains unsettled, Midaroku comes forward and says that he will turn himself in.
Kumagai Jin'ya: At the encampment, Kumagai (Nakamura Shikan) recounts to his wife, Sagami (Kataoka Takatar˘), and Fuji-no-Kata the last moments of Atsumori, who Kumagai killed on the battlefield. Yoshitsune (Nakamura Kinnosuke) soon appears to inspect the head, which is supposed to be that of Atsumori. Prior to the inspection, Kumagai shows the official notice board to Yoshitsune, indicating that he faithfully followed the secret order from Yoshitsune to save Atsumori. Yoshitsune declares that it is the head of Atsumori, but in fact it is the head of Kumagai's son, who was killed in place of Atsumori. Noticing that it is indeed her son, Sagami collapses in tears, lifting the head up in her arms. Meanwhile, Midaroku appears and is identified as Yaheiby˘e Munekiyo, a former Heike retainer who once rescued the young Yoshitsune. Munekiyo expresses his deep appreciation to Yoshitsune, who repaid an obligation by handing over a certain person hiding in an armor chest to him. Kumagai, who changes his name to Rensh˘ to become a priest, leaves the encampment holding back his tears.

Sources: National Theatre Official Website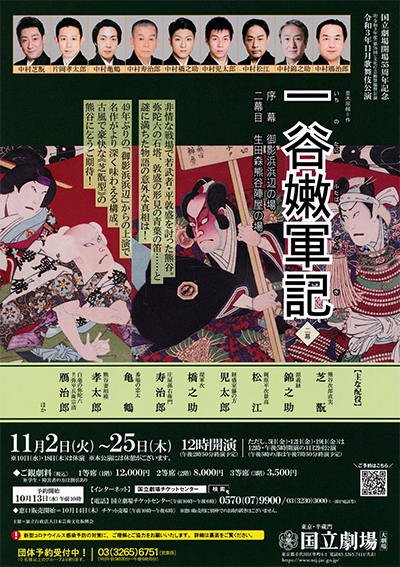 | | |
| --- | --- |
| TBS Akasaka Act Theater (T˘ky˘) | |
| | |
| --- | --- |
| Eirakukan (Toyooka) | |
Dates
??? ~ ??? November 2021

[CANCELLED]


Eirakukan ďkabuki
Eirakukan Grand Kabuki
Program

???

Casting

???

Comments

Cancellation of the 13th Kabuki program at the Eirakukan, a renovated traditional theater built in the city of Toyooka (prefecture of Hy˘go).