| | |
| --- | --- |
| Shinbashi Enbuj˘ (T˘ky˘) | |
Dates
1 ~ 25 September 2011 (Shűzan Matsuri Kugatsu ďkabuki)
Shűzan's Festival September Grand Kabuki
MatinÚe
Evening
Casting

Nakamura Kichiemon, Sakata T˘jűr˘, Nakamura Shikan, Nakamura Baigyoku, Nakamura Shibajaku, Nakamura Matagor˘, Nakamura Kash˘, Nakamura Kaishun, Nakamura Fukusuke, Nakamura Kinnosuke, Ichikawa Danshir˘, Nakamura Karoku, Onoe Sh˘roku, Ichikawa Somegor˘, Nakamura T˘z˘, Kamimura Kichiya, Nakamura Utae, Nakamura Matsue, Sawamura Yoshijir˘, Band˘ Kametoshi, Matsumoto Kingo, ďtani Keiz˘, Nakamura Tanenosuke, Nakamura Kotar˘, Nakamura Tamatar˘, ďtani Hirotar˘, Nakamura Yonekichi, Nakamura Hayato

Comments

This is the 5th edition of a special program called "Shűzan Matsuri" (the festival of Shűzan), which is produced at the Shinbashi Enbuj˘ to commemorate the great actor Nakamura Kichiemon I, whose's haimy˘ was Shűzan. The star of this program is his adopted son Nakamura Kichiemon II. this is also a great opportunity to celebrate two shűmei: Nakamura Kash˘ III and his son Nakamura Tanetar˘ IV take the respective names of Nakamura Matagor˘ III and Nakamura Kash˘ IV.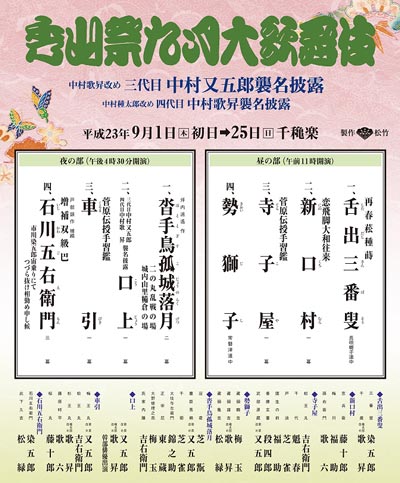 | | |
| --- | --- |
| Sh˘chikuza (ďsaka) | |
Dates
1 ~ 25 September 2011 (Kugatsu ďkabuki)
September Grand Kabuki
MatinÚe
Evening

K˘suke Mochi

Casting

Ichikawa Danjűr˘, Ichikawa Ebiz˘, Nakamura Kanjaku, Ichikawa Sadanji, Ichikawa Danz˘, Ichikawa Unosuke, Kataoka Ichiz˘, ďtani Tomoemon, Ichikawa Ukon, Ichikawa Emiya, Ichikawa Emisabur˘, Ichikawa Shun'en, Ichikawa En'ya, Nakamura Kazutar˘, Ichikawa Omez˘, Nakamura Kikaku, Band˘ Kamesabur˘, Ichikawa K˘tar˘

Comments
| | |
| --- | --- |
| Shinkabukiza (ďsaka) | |
Dates
2 ~ 26 September 2011 (Kugatsu Sh˘chiku ďkabuki)
September Sh˘chiku Grand Kabuki
MatinÚe

Gohiiki Kanjinch˘ (Ataka no Seki)

Evening

Futatsu Ch˘ch˘ Kuruwa Nikki (Hikimado)

Casting

Nakamura Kanzabur˘, Nakamura Senjaku, Nakamura Hashinosuke, Nakamura Shichinosuke, Nakamura Kantar˘, Kataoka Kamez˘, Onoe Matsuya, Nakamura Shinobu, Nakamura Kamenoj˘

Comments

This program, led by the Nakamuraya guild, celebrates the first year of business of the newly-relocated ďsaka Shinkabukiza, which was moved in 2010 from Nanba (Chű˘ Ward in ďsaka) to a mixed-use building in Uehonmachi.