2 shows in Ky˘to (Minamiza) and 3 in T˘ky˘ (Kabukiza, National Theatre)!
Living National Treasure Sakata T˘jűr˘, Kataoka Nizaemon, Matsumoto K˘shir˘, Nakamura Baigyoku, Nakamura Hashinosuke, Nakamura Senjaku, Nakamura Kaishun, Kataoka Gat˘, Kataoka Takatar˘, Nakamura Kankur˘, Nakamura Shichinosuke and Kataoka Hidetar˘ perform at the Minamiza!
Living National Treasure Nakamura Kichiemon, Onoe Kikunosuke, Nakamura Shibajaku, Nakamura Kinnosuke, Nakamura T˘z˘, Nakamura Karoku and Nakamura Matagor˘ perform at the National Theatre
Living National Treasure Band˘ Tamasabur˘, Ichikawa Ebiz˘, Kataoka Ainosuke, Nakamura Shid˘ and Onoe Matsuya perform at the Kabukiza!
| | |
| --- | --- |
| Minamiza (Ky˘to) | |

Dates
30 November ~ 26 December 2014 (Kichirei Kaomise K˘gy˘)
Annual Festive Face-Showing Performances
MatinÚe
Evening
Casting

Living National Treasure Sakata T˘jűr˘, Kataoka Nizaemon, Matsumoto K˘shir˘, Nakamura Baigyoku, Nakamura Hashinosuke, Nakamura Senjaku, Nakamura Kaishun, Kataoka Gat˘, Kataoka Takatar˘, Nakamura Kankur˘, Nakamura Shichinosuke, Kataoka Hidetar˘, ďtani Tomoemon, Nakamura Kikaku, Ichikawa Komaz˘,Nakamura Matsue, Kataoka Shinnosuke, Nakamura Kazutar˘

Comments

The traditional kaomise in Ky˘to at the Minamiza:

Sources: Earphone Guide Website or Sh˘chiku Kabuki Official Website
| | |
| --- | --- |
| National Theatre (T˘ky˘) | |
Dates
3 ~ 26 December 2014
Program

Adauchi

Casting

Living National Treasure Nakamura Kichiemon, Onoe Kikunosuke, Nakamura Shibajaku, Nakamura Kinnosuke, Nakamura T˘z˘, Nakamura Karoku, Nakamura Matagor˘, Arashi Kitsusabur˘, Nakamura Kash˘, ďtani Keiz˘, Nakamura Tanenosuke, Nakamura Yonekichi, Nakamura Hayato

Comments

"Igagoe D˘chű Sugoroku" is staged as a t˘shi ky˘gen (5 acts, 6 scenes) at the National Theatre with Living National Treasure Nakamura Kichiemon as zagashira. The contents is different from the November 2013 revival: it includes the rarely-staged "Fujikawa Shinseki" and "Okazaki" acts. "Okazaki" was staged for the last time more than 44 years ago, in September 1970 at the National Theatre. Karaki Masaemon, which used to be the most famous role of "Igagoe D˘chű Sugoroku" in the past, is back on stage in his main act!

Igagoe: during Japan feudal period, from time to time, there were people that could not be punished due to clan loyalties and highly fragmented authority. Under certain conditions, retainers and family members were empowered to take the law into their own hands and conduct an official vendetta. Written by Chikamatsu Hanji and first presented in the Bunraku puppet theater in 1783, "Igagoe D˘chű Sugoroku" is an epic based on a true incident in 1634 in which Watanabe Kazuma killed the murderer of his younger brother, a man named Kawai Matagor˘ at Iga Ueno, with the aid of Araki Mataemon. In the final fight, Mataemon killed several people, which has made him legendary as a master swordsman celebrated in theatre (under the name Karaki Masaemon), k˘dan storytelling and popular novels. Kazuma's search for Matagor˘ takes him throughout Japan and the success of the vendetta is due to the help he gets from others. This month's performance focuses on Masaemon..
Yukie Goroshi:
[The Mansion of Wada Yukie in Kamakura]
Sawai Matagor˘ (Nakamura Kinnosuke) lusts after Otani (Nakamura Shibajaku), the daughter of Wada Yukie (Arashi Kitsusabur˘), and a precious sword belonging to the family, for which he has tempted Yukie's son Wada Shizuma (Onoe Kikunosuke) into disgracing the family name. Yukie rejects all of Matagor˘'s requests, but suddenly, Yukie is killed by a sword coming through the floor, part of a plot by the treacherous Matagor˘.
H˘sho Jiai:
[The Castle of the Konda Family in Yamato]
Otani's husband Karaki Masaemon (Living National Treasure Nakamura Kichiemon) loses the fencing match in the presence of the lord so that he can travel in search of Matagor˘ and avenge the death of Otani's father Yukie. But the lord (Nakamura Matagor˘) sees that he is the superior swordsman due to the excellence of his stance. The lord lets him meet Shizuma and gives him leave immediately to participate in the vendetta.
Fujikawa Shinseki:
[The Barrier and the Bamboo Forest at Fujikawa in Mikawa Province]
Pursuing Matagor˘, the killer of his father, Shizuma comes to a barrier at Fujikawa, but hoe does not have a certificate to let him through. Osode (Nakamura Yonekichi), the daughter of Yamada K˘bŕ who initiated Masaemon into fencing, meets Shizuma. She distracts a footman Sukehei (Nakamura Matagor˘) by showing him the telescope used to watch travelers approaching the barrier. Shizuma takes the certificate and documents from Sukehei while he is absorbed in peeping. Sukehei also helps Masaemon to break through the barrier.
Okazaki:
[The House of Yamada K˘bŕ in Okazaki]
Shizuma presents a letter addressed to Osode's father K˘bŕ (Nakamura Karoku) from the stolen travel documents and the letter asks him to protect Matagor˘, who has been betrothed to marry Osode. She has never met Matagor˘, so Shizuma immediately poses as him from the stolen documents and pretends to be Matagor˘. Afterwards, Masaemon, who has been attacked, is rescued by K˘bŕ. K˘bŕ was once Masaemon's fencing teacher and recognizes him immediately. But at that time, Masaemon was still using his childhood name and so K˘bŕ does not realize that Masaemon is now the enemy of his family and even requests his help in protecting Matagor˘. Masaemon's wife Otani has followed him with her newborn baby hoping to unite it with him. Masaemon drives her back and kills the baby to keep his true identity a secret and to find out where Matagor˘ is. Now K˘bŕ realizes that his old student is actually Masaemon by the hidden tears in his eyes when he killed his own son. He has already seen through the true identity of Shizuma. Impressed by Masaemon's resolution, K˘bŕ tells Shizuma and Masaemon where Matagor˘ is.
Adauchi:
[The Revenge at Iga Ueno]
Shizuma and Masaemon overtake Matagor˘ at Iga Uemon, halfway between Nara and Nagoya. They kill Matagor˘ to avenge the death of Shizuma's father.

A big "thank you very much!" to Kaneko-san

Sources: Earphone Guide Website or Sh˘chiku Kabuki Official Website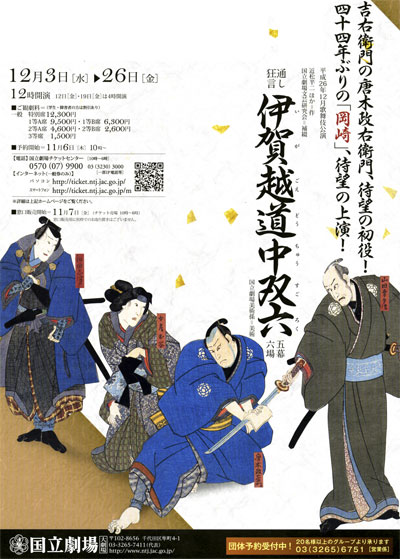 | | |
| --- | --- |
| Kabukiza (T˘ky˘) | |
Dates
2 ~ 26 December 2014 (Jűnigatsu ďkabuki)
December Grand Kabuki
MatinÚe

Genpei Nunobiki no Taki
(Yoshikata Saigo)

Maboroshi Musashi

Evening
Casting

Living National Treasure Band˘ Tamasabur˘, Ichikawa Ebiz˘, Kataoka Ainosuke, Nakamura Shid˘, Onoe Matsuya, Kataoka Ichiz˘, Ichimura Kakitsu, Ichikawa Unosuke, Ichikawa Monnosuke, Ichikawa Ukon, Ichikawa Emiya, Ichikawa Emisabur˘, Ichikawa En'ya, Ichikawa Michiyuki, Band˘ Kamesabur˘, Band˘ Kametoshi, Nakamura Baishi, Nakamura Mantar˘, Nakamura Kotar˘, Onoe Ukon

Comments

This December, the Grand Kabuki at the Kabukiza stars Living National Treasure Band˘ Tamasabur˘ and Ichikawa Ebiz˘. They play the roles of the courtesan Matsuyama and Wankyű in "Ninin Wankyű" and the roles of Princess Kumo-no-Taema and the evil priest Narukami in "Narukami Fud˘ Kitayama Zakura". The other highlight this month is Kataoka Ainosuke performing the leading role of the drama "Yoshikata Saigo" which has one of the most spectacular tachimawari. "Maboroshi Musashi" is a newly-created drama.

Sources: Earphone Guide Website or Sh˘chiku Kabuki Official Website