| | |
| --- | --- |
| Kabukiza (T˘ky˘) | |
Dates
2 ~ 26 April 2017 (Shigatsu ďkabuki)
April Grand Kabuki
MatinÚe

Daigo no Hanami

Ai no Yama/Yadoya/Okkake/Jiz˘-mae/Futami-ga-Ura

Evening

Keisei Hangonk˘ (Domo Mata)

Katsuragawa Renri no Shigarami (Obiya)

Casting

Living National Treasure Sakata T˘jűr˘, Living National Treasure Nakamura Kichiemon, Living National Treasure Nakamura T˘z˘, Matsumoto K˘shir˘, Onoe Kikunosuke, Nakamura Ganjir˘, Nakamura Senjaku, Ichikawa Sadanji, Ichikawa Ennosuke, Ichikawa Somegor˘, Nakamura Kinnosuke, Kataoka Hidetar˘, Nakamura Karoku, Nakamura Matagor˘, Ichikawa Komaz˘, Nakamura Kazutar˘, Nakamura Baishi, Onoe Matsuya, Ichikawa Udanji, Ichimura Manjir˘, Ichikawa Monnosuke, Ichikawa Emisabur˘, Ichikawa Emiya, Kamimura Kichiya, Matsumoto Kingo, Nakamura Kash˘, Sawamura S˘nosuke, Sawamura Yoshijir˘, ďtani Keiz˘, Nakamura Matsue, Arashi Kitsusabur˘, Nakamura Jűjir˘, Ichimura Kitsutar˘, Nakamura Kichinoj˘, Ichikawa K˘tar˘, Nakamura Tanenosuke, Nakamura Mantar˘, Nakamura Yonekichi, Nakamura Hayato, Ichimura Takematsu, Ichikawa Otora, Ichikawa Ukon, ďtani Ryűsei

Comments

The highlights of the two programs for the April Grand Kabuki at the Kabukiza are:

Moreover, ďtani Ryűsei, the son of ďtani Keiz˘, makes his hatsubutai. He performs in the dance "Yakko D˘j˘ji". He will perform in the dance "Yakko D˘j˘ji". Here are below the details of the April Grand Kabuki Programs at the Kabukiza:

Sources: Earphone Guide Website or Sh˘chiku Kabuki Official Website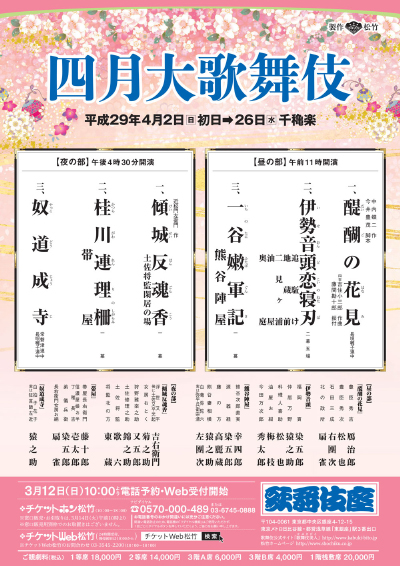 | | |
| --- | --- |
| Kanamaruza (Konpira) | |
Dates
8 ~ 23 April 2017 (Shikoku Konpira Kabuki ďshibai)
MatinÚe

Shinrei Yaguchi no Watashi (Tonbŕ Sumika)

Shinobi Yoru Koi no Kusemono (Masakado)

Evening

Ashiya D˘man ďuchi Kagami (Kuzu-no-Ha)

Casting

Living National Treasure Kataoka Nizaemon, Nakamura Jakuemon, Band˘ Yajűr˘, Kataoka Takatar˘, Band˘ Takesabur˘, Onoe Sh˘roku, ďtani Tomoemon, Band˘ Shingo, ďtani Hirotar˘, ďtani Hiromatsu, Kataoka Matsunosuke

Comments

33rd edition of the Spring Kabuki performance Shikoku Konpira Kabuki ďshibai at the Kanamaruza on Shikoku Island! Nakamura Jakuemon V celebrates his shűmei at the Kanamaruza!

Sources: Earphone Guide Website or Sh˘chiku Kabuki Official Website
| | |
| --- | --- |
| Akasaka Act Theater (T˘ky˘) | |
Dates
6 ~ 25 April 2017 (Akasaka ďkabuki)
Akasaka Grand Kabuki
Program

Yume Maboroshi-ka Koi Z˘shi (Akame no Tensei)

Casting

Nakamura Kankur˘, Nakamura Shichinosuke, Kataoka Kamez˘, Ichikawa En'ya, Nakamura Kikaku, Nakamura Tsurumatsu, Nakamura Ich˘

Comments

5th edition of the Akasaka Grand Kabuki, which was started in September 2008 by Nakamura Kanzabur˘ XVIII, the head of the Nakamuraya guild.

Akame no Tensei:
(Fantastic Love Story Ś Reincarnation of the Red-Eye)
This newly-created drama tells the tale during the Edo period of Tar˘ (Nakamura Kankur˘) and Uta (Nakamura Shichinosuke), a young couple whose marriage fails due to Tar˘ĺs weak character. However, Tar˘ loves Uta so much that he strives to make her happy through repeated reincarnations in which his personality changes and his eye gets redder each time [more details].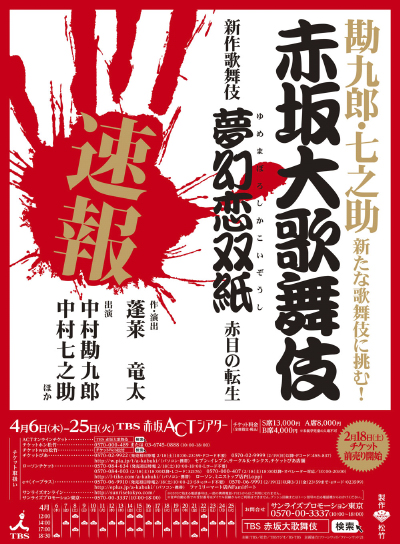 Classics Tour
Dates
1 ~ 23 April 2017 (Koten he no Izanai)
Invitation to the Classics
Program

Otokodate Hana no Yoshiwara

Casting

Ichikawa Ebiz˘, Kataoka Ichiz˘, Ichikawa Kudanji, Ichikawa Botan

Comments

A special tour in 14 cities for the heir of the Naritaya guild. The dance-drama "Otokodate Hana no Yoshiwara" was created and premiered in 2014.
Shimonoseki Shimin Kaikan (Shimonoseki)
Dates
7 ~ 9 April 2017 (Band˘ Tamasabur˘ Tokubetsu Buy˘ K˘en)
Band˘ Tamasabur˘ Special Dance Performances
Program

Keisei

Casting

Living National Treasure Band˘ Tamasabur˘

Comments

A special Buy˘ program starring the amazing Living National Treasure onnagata Band˘ Tamasabur˘ in Shimonoseki at the newly-renovated Shimonoseki Shimin Kaikan (Shimonoseki Civic Center).

K˘j˘: the close relationship between the actors and the audience is shown by stage announcements, usually lavish ceremonies to commemorate various important events. This month at the Yachiyoza, it is a stage speech done by Living National Treasure Band˘ Tamasabur˘.
Keisei: a beautiful top-rank courtesan (keisei) with her attendants makes parade along the Nakanoch˘ Boulevard of the Yoshiwara pleasure quarter in Edo. She enters a room in the brothel and expresses her pure love for her lover in a graceful manner, though complaining that he does not come how long she waits for him. Then she expresses in dance the scenic beauty in each season and the elegant atmosphere in the pleasure quarters, and her love for him grows stronger. A scene from a seven-transformation hengemono "Nijirigaki Nanatsu Iroha", this is an old-fashioned, tasteful dance. Starring Living National Treasure Band˘ Tamasabur˘.
Fuji Musume: the spirit of wisteria blossoms dances of love in the form of a beautiful young maiden. One of Kabuki's most famous and colorful dances, it will feature the dancing skills of Living National Treasure Band˘ Tamasabur˘.

Sources: Earphone Guide Website or Sh˘chiku Kabuki Official Website
Dates
29 ~ 30 April 2017 (Ch˘kabuki)
Ultra-Kabuki
Program

Kuruwa Kotoba Awase Kagami

Casting
Comments

The world of Kabuki and the world of otaku collide for the second time in Kabuki history! Resulting from this spectacular collision, a new genre, the Ch˘kabuki (literally Ultra-Kabuki), was born in 2016 [more details]. Nakamura Shid˘ shares the stage with the virtual 3D creature Hatsune Miku. They perform "together" in a newly-created Ch˘kabuki drama. It is staged at the Makuhari Messe as part of the Niconico Ch˘kaigi 2017 event, an important yearly event for the otaku tribes.