Cancellation or postponement of all the Kabuki performances in April 2020 due to coronavirus (COVID-19)!!!
| | |
| --- | --- |
| Shinbashi Enbuj˘ (T˘ky˘) | |
Dates
3 ~ 27 April 2020

[CANCELLED]


Shigatsu ďkabuki
April Grand Kabuki
MatinÚe

Evening

Sarashi Sanbas˘

Casting

Living National Treasure Onoe Kikugor˘, Living National Treasure Nakamura Kichiemon, Living National Treasure Nakamura T˘z˘, Onoe Kikunosuke, Nakamura Kinnosuke, Onoe Sh˘roku, Ichikawa Sadanji, Ichikawa Danz˘, Nakamura Karoku, Nakamura Matagor˘, Nakamura Baishi, Band˘ Hikosabur˘, Band˘ Kamez˘, Kawarasaki Gonjűr˘, Onoe Ukon, Nakamura Kash˘, Nakamura Yonekichi, Nakamura Mantar˘, Nakamura Tanenosuke

Comments

As the Kabukiza is closed for maintenance and building repairs this month, the April Grand Kabuki performances are staged at the nearby Shinbashi Enbuj˘.

Sources: Earphone Guide Website or Sh˘chiku Kabuki Official Website
| | |
| --- | --- |
| Kanamaruza (Konpira) | |
Dates
11 ~ 26 April 2020

[CANCELLED]


Shikoku Konpira Kabuki ďshibai
Shikoku Konpira Kabuki Grand Theatre
MatinÚe
Evening
Casting

Matsumoto Haku˘, Matsumoto K˘shir˘, Nakamura Jakuemon, Nakamura Ganjir˘, ďtani Tomoemon, Ichikawa Komaz˘, Kataoka Kamez˘, Matsumoto Kingo, ďtani Hirotar˘, Ichikawa Otora, Kamimura Kichitar˘

Comments

36th edition of the Spring Kabuki performance Shikoku Konpira Kabuki ďshibai at the Kanamaruza on Shikoku Island! Matsumoto Haku˘ II and his son Matsumoto K˘shir˘ X celebrate their shűmei at the Kanamaruza!
| | |
| --- | --- |
| Misonoza (Nagoya) | |
Dates
4 ~ 26 April 2020

[CANCELLED]

Program

NARUTO

Casting
Comments

Kishimoto Masashi's internationally popular manga "NARUTO" got its Kabuki adaptation in August 2018 at the Shinbashi Enbuj˘, under the supervision of G2 (both writer and director). This month it is staged in Nagoya at the Misonoza. The roles of Uzumaki Naruto and Uchiha Sasuke are played by Band˘ Minosuke and Nakamura Hayato. The guest star Nakamura Baigyoku plays the role of Uchiha Madara.

NARUTO: Once upon a time, a monstrous fox demon called Nine-Tails controlled by a mysterious masked man visited the Land of Fire and created chaos and disaster. In the Land of Fire, there was a village of ninjas called Konohagakure Village. In an attempt to save the land, the chief of the village, the 'Fourth Hokage', sacrificed his own life to seal Nine-Tails into the stomach of his newborn son, Uzumaki Naruto (Band˘ Minosuke). Naruto attends the Ninja Academy with the aim of becoming a mature Ninja, but instead he proves a problem child. He has been lonely throughout his life due to the hatred everyone feels towards him for having Nine-Tails sealed within him. After graduating the Ninja Academy, together with Uchiha Sasuke (Nakamura Hayato) and Sakura Haruno, he joins the team commanded by Kakashi Hatake and works as a Ninja of Konohagakure Village. Naruto works hard to be accepted by the villagers, but at the same time he feels a sense of rivalry with Sasuke who is always ahead of him. Yet, somehow, he also has sympathy with the shadow Sasuke casts over him and feels a bond of friendship. On the other hand, Sasuke himself has a dark past. When he was just a child, his elder brother Itachi Uchiha killed the whole Uchiha clan including his own parents. Since that time, Sasuke has built an emotional barrier between himself and others and has trained to become stronger than anyone else with the sole intention of killing his brother who had escaped the village. Naruto and Sasuke face many challenges but soon meet Jiraiya, who will become Naruto's master, and Tsunade, who will become the Fifth Hokage. He also has a fight with Orochimaru, a fugitive Ninja who tries to destroy Konohagakure Village. Eventually, Naruto's battle against his powerful earth-shaking enemy Uchiha Madara (Nakamura Baigyoku) begins.

Sources: Sh˘chiku Kabuki Official Website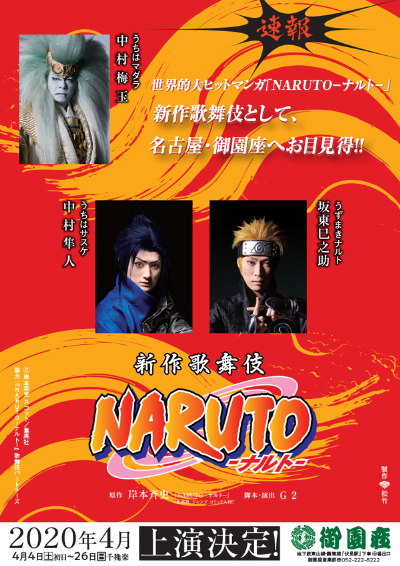 Kabuki Tour in the western provinces
Dates
1 ~ 26 April 2020

[CANCELLED]


Sh˘chiku ďkabuki
Sh˘chiku Grand Kabuki
Program

Casting

Living National Treasure Kataoka Nizaemon, Band˘ Yajűr˘, Kataoka Takatar˘, Nakamura Kazutar˘, Kamimura Kichiya, Ichikawa Omez˘, Sawamura S˘nosuke, Nakamura Hashinosuke, Kataoka Matsunosuke, Band˘ Kamez˘

Comments

The usual Grand Kabuki Tour in the western provinces, in April and not in September this year.

Kusazuri:
(the Tug-of-War Over the Armor)
A short dance in the oldest style of Kabuki, leisurely and full of humor, combining the charm of an onnagata female role specialist with the larger-than-life heroism of the bombastic aragoto style of acting. The strong woman Maizuru stops the powerful, but rash, warrior Soga no Gor˘ from rushing to a fight by pulling on the set of armor he is carrying. Starring Nakamura Kazutar˘ and Nakamura Hashinosuke as Maizuru and Gor˘.
Ko-no-Mi/Kokingo Uchijini: (The Chestnut Tree and the Death of Kokingo)
Wakaba-no-Naishi(Sawamura S˘nosuke), the wife of the Heike commander Koremori, travels with her young son and their retainer Kokingo (Nakamura Hashinosuke), searching for her husband. While resting in a small mountain village, they are met by Gonta (Living National Treasure Kataoka Nizaemon), a local bully who skillfully cons them out of their money. Later they are set upon by Genji forces, and in a spectacular fight scene, Kokingo sacrifices himself to save his mistress and her son.
Sushiya: (The Sushi Shop)
Gonta's father Yazaemon (Band˘ Yajűr˘) runs a sushi shop, but was formerly a retainer of Taira no Koremori. With his clan defeated, Koremori (Kataoka Takatar˘) now lives with Yazaemon's family disguised as a humble apprentice. Innocently, Yazaemon's daughter, Osato (Nakamura Kazutar˘) is in love with him. But knowing of the bounty on Koremori's head, her brother Gonta kills him and turns his wife and child over to the Genji commander. Furious at his son, Yazaemon stabs him, but before his death, Gonta reveals that he only pretended to kill Koremori and sacrificed his own wife and son to save the real Koremori and his family.

Sources: Sh˘chiku Kabuki Official Website
Dates
18 ~ 19 April 2020

[CANCELLED]


Ch˘kabuki
Ultra-Kabuki
Program

Otogi Z˘shi Koi no Sugatae []

Casting
Comments

The world of Kabuki and the world of otaku collide for the 6th time in Kabuki history! Resulting from this spectacular collision, a new genre, the Ch˘kabuki (literally Ultra-Kabuki), was born in 2016 [more details]. Nakamura Shid˘ shares the stage with the virtual 3D creature Hatsune Miku. They perform "together" in a newly-created Ch˘kabuki drama. It is staged at the Makuhari Messe as part of the Niconico Ch˘kaigi 2020 event, an important yearly event for the otaku tribes.
Nagame Yoky˘j˘ (Midori)
Dates
12 April 2020

[POSTPONED]


Yű no Kai
Program

Yuki no Sato Himeru Chűshin

Sukeroku (Buy˘)

Casting

ďtani Keiz˘, ďtani Ryűsei

Comments

2nd edition of the Yű no Kai, a gala which stars ďtani Keiz˘ and his son ďtani Ryűsei, at the Nagame Yoky˘j˘ (Nagame Entertainment Theater), a traditional wooden-built theater (1937) in the city of Midori in Gunma Prefecture.