| | |
| --- | --- |
| Kabukiza (T˘ky˘) | |
Dates
2 ~ 26 June 2016 (Rokugatsu ďkabuki)
June Grand Kabuki
MatinÚe

Yoshitsune Senbon Zakura (Ikari Tomomori)

Hototogisu Hana Aru Sato

Afternoon

Yoshitsune Senbon Zakura (Igami no Gonta)

Evening

Yoshitsune Senbon Zakura (Kitsune Tadanobu)

Casting

Matsumoto K˘shir˘, Nakamura Baigyoku, Nakamura Kaishun, Ichikawa Somegor˘, Ichikawa Ennosuke, Onoe Matsuya, Nakamura T˘z˘, Matsumoto Kingo, Ichikawa Komaz˘, Ichikawa Unosuke, Band˘ Hikosabur˘, Kataoka Hidetar˘, Ichikawa Monnosuke, Ichikawa Emiya, Nakamura Kikaku, Nakamura Kash˘, Band˘ Minosuke, Ichikawa Ukon, Ichikawa En'ya, Nakamura Tanenosuke, Takeda Takeru

Comments

The classic "Yoshitsune Senbon Zakura" is staged in 3 parts and Ichikawa Ukon's son Takeda Takeru makes his first stage appearance (omemie) in the role of Rokudai. Each part of "Yoshitsune Senbon Zakura" is dedicated to one hero of this drama: Taira no Tomomori in the first part, Igami no Gonta in the second part and Tadanobu in the third part. In the first part, Masuyama Kinpachi I's Nagauta-based drama "Hototogisu Hana Aru Sato" is revived. This dance-drama is commonly called "Tadanobu" and it stars Nakamura Baigyoku and Nakamura Kaishun in the roles of Minamoto no Yoshitsune and the shiraby˘shi Miyoshino.

Ikari Tomomori: the roles of Tomomori, Suke-no-Tsubone and Minamoto no Yoshitsune are played by Ichikawa Somegor˘, Ichikawa Ennosuke and Onoe Matsuya.
Igami no Gonta: the roles of Gonta, Kokingo, Osato and Yasuke (in reality Taira no Koremori) are played by Matsumoto K˘shir˘, Onoe Matsuya, Ichikawa Ennosuke and Ichikawa Somegor˘.
Kitsune Tadanobu: the role of Tadanobu (in reality the fox Genkur˘) are played by Ichikawa Ennosuke. The role of Shizuka Gozen is played by Ichikawa Somegor˘ in "Michiyuki Hatsune no Tabi" and Ichikawa Emiya in "Kawatsura H˘gen Yakata". The role of Minamoto no Yoshitsune is played by Ichikawa Monnosuke. This program ends with a spectacular chűnori, which is a trademark of the Omodakaya guild.

Sources: Earphone Guide Website or Sh˘chiku Kabuki Official Website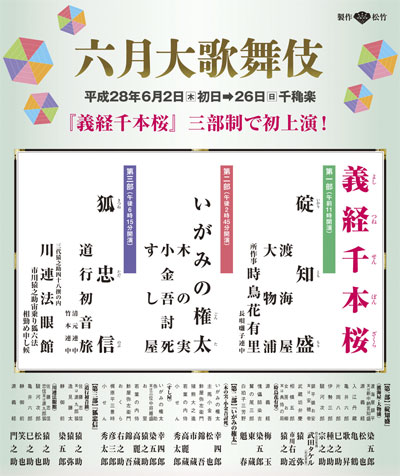 | | |
| --- | --- |
| Hakataza (Fukuoka) | |

Dates
2 ~ 26 June 2016 (Rokugatsu Hakataza ďkabuki)
June Hakataza Grand Kabuki
MatinÚe

Kimi-ga-Yo Sh˘chikubai

Ichi-no-Tani Futaba Gunki (Kumagai Jin'ya)

Evening
Casting

Nakamura Jakuemon, Living National Treasure Sakata T˘jűr˘, Living National Treasure Kataoka Nizaemon, Living National Treasure Onoe Kikugor˘, Nakamura Tokiz˘, Onoe Kikunosuke, Kataoka Takatar˘, Onoe Sh˘roku, Ichikawa Danz˘, ďtani Tomoemon, Nakamura Kinnosuke, Ichikawa Sadanji, Nakamura Karoku, Band˘ Takesabur˘, Kawarasaki Gonjűr˘, Band˘ Kamesabur˘, Band˘ Kametoshi, Nakamura Yonekichi, ďtani Hirotar˘, ďtani Hiromatsu, Kataoka Matsunosuke, Onoe Ukon

Comments

Nakamura Jakuemon V celebrates his shűmei in Fukuoka at the Hakataza!

Sources: Earphone Guide Website or Sh˘chiku Kabuki Official Website
| | |
| --- | --- |
| Shibuya Bunkamura Theatre Cocoon (T˘ky˘) | |

Dates
6 ~ 29 June 2016
Program
Casting

Nakamura Kankur˘, Nakamura Shichinosuke, Nakamura Senjaku, Nakamura Shid˘, Kataoka Kamez˘, Nakamura Tsurumatsu, Sasano Takashi, Manako Keiji, ďmori Hiroshi

Comments

15th edition of the original Cocoon Kabuki performance, which recreates the atmosphere of the Edo koshibai and brings the actors closer to the audience. The play "Yotsuya Kaidan" is revised by the playwright Kushida Kazuyoshi and this new production is based on the second version (kitaban), which was staged in March 2006/April 2006 in the same theater and included the rarely-staged act IV, with its 2 scenes "the Misumi House in Fukagawa" and "the Refuge of the Oshioda Family" [more details].

Yotsuya Kaidan: this play is a famous ghost story and at the same time a story written as the microcosms of human society under the historical background that the warrior class is falling down. Tamiya Iemon (Nakamura Shid˘), a masterless samurai and ex-retainer of the En'ya family, asks his father-in-law Yotsuya Samon to allow his wife Oiwa (Nakamura Senjaku) to come back to him whom Samon took back to his house. But as he sees his wish not accepted and himself blamed for embezzling public money in the past, he kills Samon with his sword. Naosuke (Nakamura Kankur˘) who fell in love with Oiwa's sister Osode (Nakamura Shichinosuke) bears a grudge against Osode's husband Yomoshichi (Nakamura Senjaku) and murders him cruelly. Oiwa and Osode hurry to the place where Samon and Yomoshichi were murdered. Iemon promises Oiwa to avenge her father while Naosuke promises Osode to avenge her husband. A few months later as Oiwa is doing poorly after childbirth, Iemon is tired of his poverty and becomes bitter to her. At the moment a medicine and a present for their child's birth is sent from Iemon's neighbor It˘ Kihŕ (Sasano Takashi). As Iemon visits It˘ to express his gratitude, Ito Kihŕ's granddaughter Oume (Nakamura Tsurumatsu) pines for Iemon and Kihŕ appeals to him to marry Oume. As Kihŕ is a retainer of K˘ family, the enemy of the En'ya family, Iemon once declines the offer, but finally agrees to marry her. Taking the medicine from It˘ not knowing it is a poison Oiwa's face becomes disfigured. Finally Oiwa knows the truth and dies having a grudge. Osode who has lived with Naosuke as a provisional couple finally gives herself to him. Her husband Yomoshichi who should have died earlier appears there. Oiwa's spirit torments Iemon while Naosuke and Osode fall by the irony of fate. What will become of them in the end?

Source: Sh˘chiku Kabuki Official Website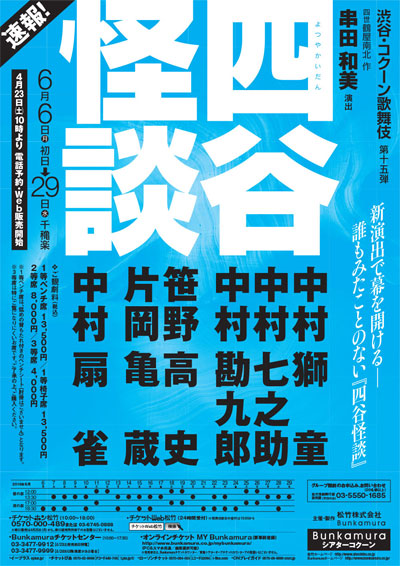 | | |
| --- | --- |
| National Theatre (T˘ky˘) | |
Dates
2 ~ 24 June 2016 (Rokugatsu Kabuki Kansh˘ Ky˘shitsu)
June Kabuki Appreciation Class
Program
Casting

Nakamura Hashinosuke, Nakamura Baishi, Nakamura Mantar˘, Nakamura Muneo

Comments

Educational program at the National Theatre called Kabuki Kansh˘ Ky˘shitu ("Kabuki appreciation class"). This is a very interesting formula for the beginners because there is lively presentation on stage of Kabuki or some aspects of the art like music, stage tricks or fighting scenes. It is followed by the drama "Sakanaya S˘gor˘".